We will keep in touch with you every step of the way … through the offer process, the acceptance process, and the onboarding process. This page, along with email communications from UT Southwestern, will be your go-to resource for information about what to expect for your transition to medical school. We will update this page with dates, links, and to-do items as you progress toward enrolling at UT Southwestern this Fall.
Mark Your Calendar
School Starts: August 1, 2022
Orientation Program: August 1-6, 2022
White Coat Celebration: October 1, 2022 (tentative)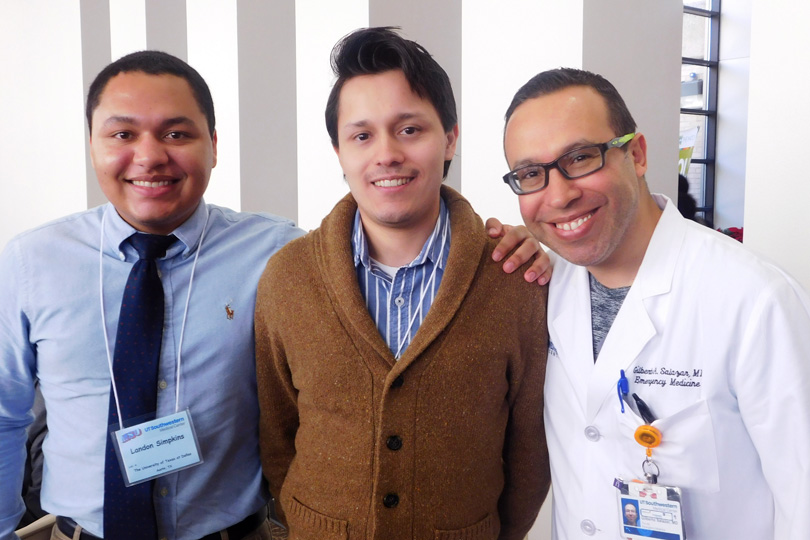 Enrollment Checklist
We are thrilled you will be joining the Class of 2026! Between now and the start of school, there will be quite a few tasks and items you will need to complete as part of your preparation for enrollment into medical school. In the new year, will provide a helpful roadmap that will allow you to keep these requirements and deadlines in mind.
Don't panic! You don't need to complete these items all at once! More information with specific instructions for each task will be available throughout the summer, and you will receive a series of emails with further information on how to complete enrollment checklist items in a timely fashion. Starting in June you will also receive access to our online orientation course (D2L), which will provide many more details on completing the enrollment checklist!
Download/Print
The Enrollment Checklist will be updated throughout the season. Dates subject to change. Please check back regularly for updated dates & deadlines.
Enrollment Checklist 2022
Due Date
Submit FAFSA, Complete Financial Aid Processing

ASAP

Update Contact Information in Self-Service & Verify UT Southwestern Email Address
ASAP
Start Apartment Hunting
ASAP
Resolve Multiple Offers of Admissions
April 30, 2022
Transition to Your UT Southwestern Email Account
May 1, 2022
Send in Final College Transcript(s)
ASAP;
July 22, 2022
Submit Immunization Documentation
ASAP;
July 14, 2022
If Applicable, Submit Deferral Request
June 1, 2022
Access Orientation Course/Website in D2L
June 1, 2022
Complete AAMC Matriculating Student Questionnaire (MSQ)
June 1, 2022
Complete Orientation and PRE+OP Retreat RSVP
June 10, 2022
What is Your DISC Style? Complete Assessment
June 10,

2022

Review Medical Instrument Guide
June 30, 2022
Submit Laptop Verification Form and Purchase Laptop

July 1, 2022

Sign Up for Direct Deposit (Highly Recommended)

July 1, 2022

Submit Immunization Documentation

July 14, 2022

Sign Documents Through Docusign

July 14, 2022

Send in Final College Transcript(s)

July 22, 2022

Send in Say Your Name/Complete Phonetic Spelling

July 22, 2022
Complete Drug Screen and Background Check
July 22, 2022
Complete all Training Modules

July 22, 2022

Complete HIPAA (PHI) Training

July 22, 2022

Complete Children's CART Training Module

July 22, 2022

Complete Parkland's EPIC Training

July 22, 2022

Complete Veterans Affairs Training

July 22, 2022

Compete Title IX/Campus SaVE Act Training

July 22, 2022

View Computer, Information Security Info

July 22, 2022

Complete ORCID Training

July 22, 2022

Financial Aid Release

July 29, 2022

Complete Careers in Medicine Assessments

August 1, 2022

Pay Tuition/Fees

August 1, 2022

Submit Health Insurance Waiver, Purchase Disability

August 1, 2022

Create UT Southwestern Zoom Account

August 1, 2022

Bring Your Passport, DL, and Social Security Card to School (Visa or Green Card, if applicable)

August 1, 2022

Review Orientation Handouts on D2L

August 1, 2022

Bring Money on First Day to Purchase Supplies

August 1, 2022
*Please note that these dates are subject to change.
Laptop & Medical Instrument Requirements 2021-22
It is time to start thinking about the options for obtaining the laptop and medical instruments you will be using during school. All incoming medical students are required to bring a laptop to access educational materials and examinations. Now, the biggest decision confronting you is whether you wish to purchase a laptop from the University Store, buy a laptop elsewhere, or use a laptop you already own. Please closely review the following resources.
Laptop Requirements 2021-22
Please review the laptop requirements and FAQ documents to determine how you would like to obtain your laptop. If purchasing your laptop from the University Store, you can fill out a Laptop Purchase Form via the link below.
Medical Instrument Requirements 2021-22
Clinical Rotations and Transportation
Medical Students are assigned to clerkships and clinical rotations in our various clinical partners around the Dallas-Fort Worth Metroplex. On the Family Medicine rotation, some students are assigned to more distant clinical sites in Austin, Waco, Tyler, and Jacksboro. Please note that students are responsible for transportation to and from these varied sites. Having a vehicle is ideal as public transportation is not always available based on the time of day various rotations begin and end.