Foundation for Excellence Curriculum
Perspective for Change
UT Southwestern has a long tradition of graduating outstanding medical students who excel by various objective measures, and our undergraduate medical education program has many strengths and successes. In order to keep pace with the rapid evolution taking place in medicine and clinical practice, and indeed the health care landscape in general, we recently revised our educational approaches to maintain our educational excellence.
Our efforts were driven with the overarching view that each medical student should be intellectually and personally challenged to be the best physician possible. This vision is based on a core curriculum that provides myriad opportunities for students to grow in diverse areas and have novel career opportunities that excite and inspire.
The new curriculum builds on the excellent scientific and clinical foundations at UT Southwestern to provide students with an educational experience that fully integrates basic sciences and clinical disciplines throughout the four-year experience. The new curriculum also builds on the institution's commitment to treat each student as a unique member of a learning community, providing students with mentoring by faculty members, enhanced opportunities for active learning, and the opportunity to pursue individualized learning pathways.
Ultimately, we strive to create the best clinicians and physician-scientists, professionals whose knowledge, compassion, and leadership will serve as examples of excellence both to peers and patients alike. Implicit in this goal is a desire to ensure that our trainees will enthusiastically embrace these opportunities for growth to become true lifelong learners.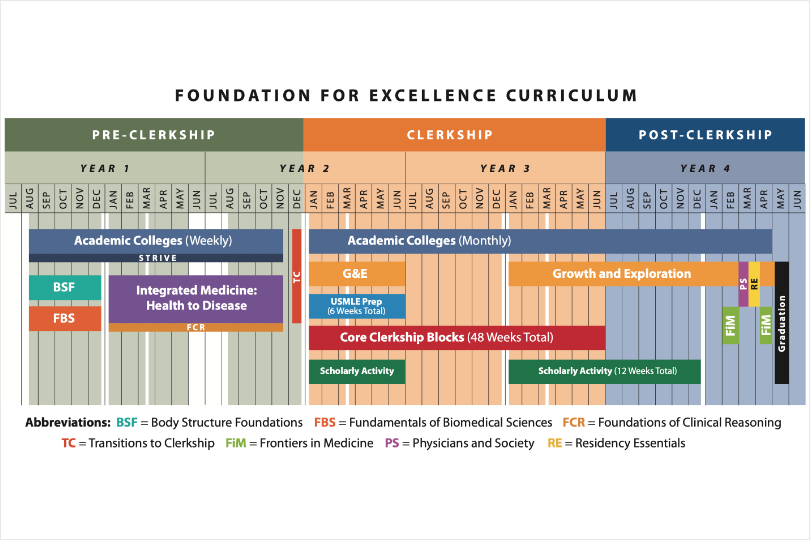 Curriculum Overview
We have developed a curriculum plan (see above) that focuses on the fundamentals of biomedical sciences and the foundations for human body structure while integrating the normal and abnormal structures and functions of the primary organ systems. We have extended our successful Academic Colleges system so that its educational roles will play a part throughout all four years of a student's course of study.
By eliminating unnecessary redundancies in educational material, and by more fully integrating topics in the pre-clerkship period, the clerkships are now able to start in January of the second year. This has the advantage of providing students more flexibility and diversity in subsequent educational activities, thereby giving them opportunities to explore different clinical areas before making decisions about residency training.
A Frontiers in Medicine course following the clerkships provides novel perspectives on the importance of biomedical sciences as a foundation for clinical medicine. Additionally, we have added a required 12-week scholarly activity that all students will complete by producing a product for evaluation. Opportunities also exist for added activities that would lead to an M.D. degree with Distinction as well as combined degrees such as the M.D./Ph.D., M.D./M.B.A., and M.D./M.P.H. Teaching activities in all years involve lectures, small-group sessions, team-based learning, simulations, laboratories, and clinical activities.