Dhruba Deb, Ph.D.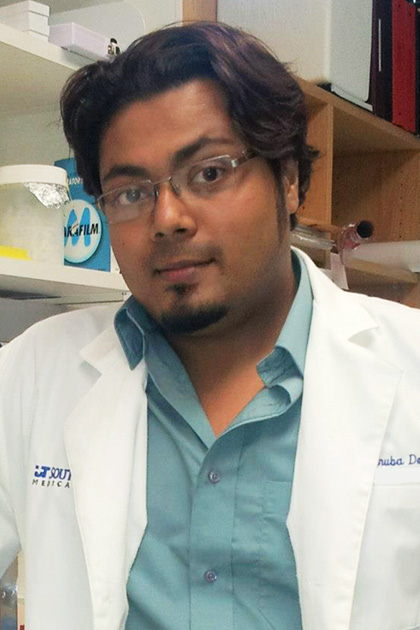 Dhruba Deb, Ph.D.
Postdoctoral Program
Mentor: John Minna, M.D.
Hometown: Kolkata, India
Awards/Fellowships: Postdoctoral Association Travel Award 2017, International Association for the Study of Lung Cancer 2016 Meeting Award, "On My Own Time" regional competition first prize in Visual Art 2016, National Academies Keck Futures Initiative 2015 Meeting Award, BCA Creative Nonfiction Writing Winner 2014, CCSB Memorial Sloan-Kettering Cancer Center Young Scientist Award 2013
As a child, I always enjoyed looking at complex problems from multiple perspectives and identifying new strategies to solve them. As a teenager, I grew up reading science fiction stories written by Oscar-winning filmmaker, writer, and music composer Satyajit Ray. Later in college, medical thrillers by Dr. Robin Cook got me excited about biomedical research. After joining grad school, I read about the scientific and artistic merits of polymaths such as Leonardo da Vinci and Dr. Alfred L. Copley. Together these trailblazers and their work from the history of humanity interested me about scientific research.
In 2018, at least 234,030 people in the United States are living with lung cancer. I identify novel therapeutic strategies to target a gene responsible for 20 percent of these cases, thus to help at least 46,806 new lung cancer patients. UT Southwestern has some of the best resources in the world to study lung cancer. So, I feel like I am in the right place at the right time.
I came to UT Southwestern for three major reasons:
Stellar research in a highly collaborative and friendly atmosphere
Excellent training programs for not only U.S. citizens and permanent residents, but also international trainees
Widely successful and diverse alumni profiles in a variety of career paths
There is always someone who can help the postdocs:
Scientific protocols – Collaborators and core facilities
Scientific and life advice – Primary and secondary mentors
Visa-related matters – International office
Health – Student health and wellness
Diversity and affinity – Several student organizations
Career advice – Graduate Career Development Office
A sense of community – Postdoctoral Association
---
Lindsay Case, Ph.D.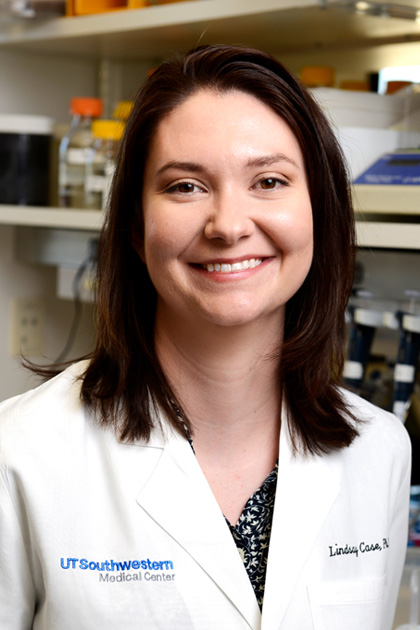 Lindsay Case, Ph.D.
Postdoctoral Program
Mentor: Michael Rosen, Ph.D.
Hometown: Rockwall, Texas
Awards/Fellowships: Damon Runyon Postdoctoral Fellowship
I was always interested in science and math in school, and supportive teachers encouraged me to try working in a research lab at the end of high school. After my first taste of research, I was hooked. Research provided a way to never stop learning, and I loved that it allowed me to combine my analytical and creative instincts.
The recent discovery that biological molecules can undergo liquid-liquid phase separation to form membraneless compartments, much like oil droplets in water, has caused a paradigm shift in our understanding of eukaryotic cellular organization. My research seeks to understand the molecular mechanisms that control protein phase separation and how phase separation can regulate biochemical activity. For my experiments, I use purified proteins to reconstitute protein phase separation on supported lipid bilayers.
I chose to come to UTSW because I wanted to join the Rosen lab and work in the new and exciting field of biological phase separation. I also interviewed in labs in Europe and California, but ultimately decided that UTSW was the best fit for me. I felt that both the lab and the University could provide me with all the resources and support I needed to be successful during my postdoc.
UT Southwestern is an institution with amazing technological resources available for postdocs. We have awesome core facilities with knowledgeable and helpful staff, computational support through BioHPC, and state-of-the-art cryo-EM facilities, to name a few. UT Southwestern is a wonderfully collaborative environment, and people are often willing to take the time to help you learn a new technique or collaborate on a project. We also have diverse career development resources available through the Postdoctoral Affairs Office and the Postdoctoral Association.
---
Donghoon Lee, Ph.D.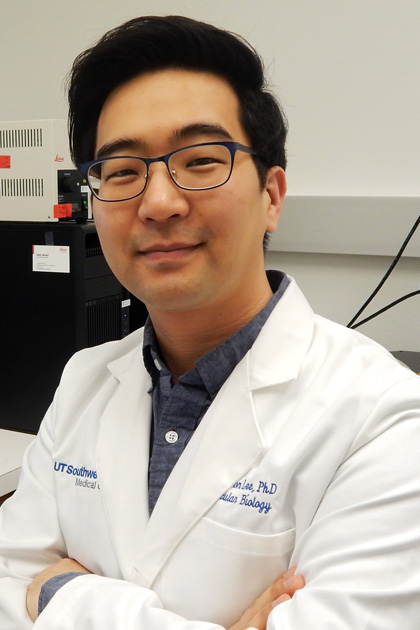 Donghoon Lee
Postdoctoral Program
Mentor: Elizabeth Chen, Ph.D.
Hometown: Seoul, South Korea
Awards/Fellowships: Canadian Institute of Health Research Postdoctoral Fellowship, Ontario Graduate Scholarship, University of Toronto Fellowship
I took an undergraduate course on human embryology at the University of Toronto, where I became fascinated in developmental biology. It led me to take on an undergraduate thesis project in a cell/developmental biology laboratory, where I fell in love with cell biology and microscopy. Subsequently, I pursued a doctoral degree in the same lab, and here I am today getting further trained as a postdoctoral fellow still in the same discipline.
Currently, I am investigating how cells fuse with each other, which is a fundamental cellular process required in fertilization, skeletal muscle formation and regeneration, immune response, bone remodeling, and placenta development. Failure in cell-cell fusion could result in human health issues, including infertility, congenital myopathy, immune deficiency, and osteoporosis.
I initially joined Elizabeth Chen's lab at Johns Hopkins University School of Medicine. In my first year there, she decided to relocate to UTSW. Not knowing too much of UTSW at the time, I searched the internet and found that it is a fantastic place to do science. My experience in the last couple of years here only solidified my first impression if not more.
UTSW provides an excellent research environment with cutting-edge, collegial research programs and high-quality resources. For example, I have been able to apply super-resolution and light-sheet microscopy techniques for my research through collaborations and the imaging core facility. I also find balanced support for basic, translational, and clinical research at UTSW. It is very easy for any trainee to find relevant seminars hosting internationally renowned experts from a wide range of biomedical disciplines.