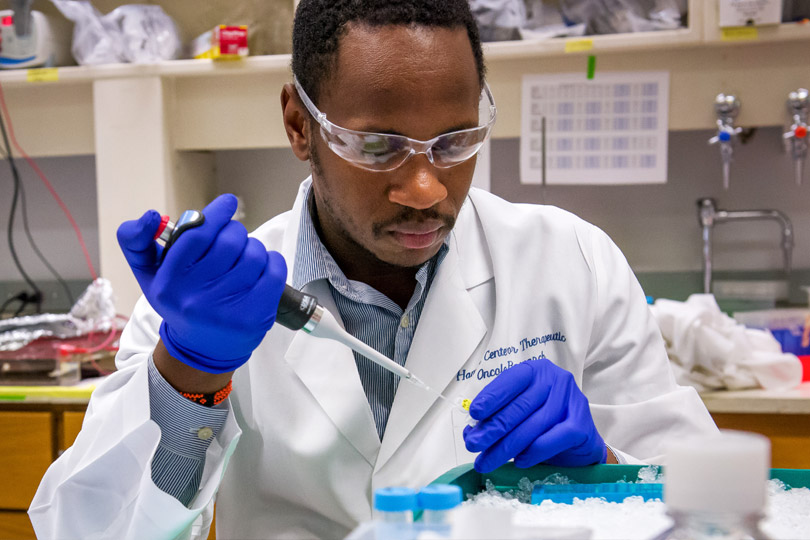 The Graduate School of Biomedical Sciences, in partnership with the Postdoctoral Affairs Office, supports and sustains a postdoctoral experience at UT Southwestern Medical Center emphasizing scholarship and research as well as unique training beyond the bench.
Postdoctoral scholars develop a solid foundation of research knowledge, experimental skills, scientific communication, leadership, and ethics in preparation for independent careers as scientific professionals. Dynamic and collaborative, our postdoctoral scholars keep UT Southwestern at the forefront of biomedical research through their cross-disciplinary knowledge of principles and techniques that empower them to work alongside our faculty of world-renowned scientists as we continue striving for new ways of preventing and treating disease. Postdoctoral scholars are expected to publish their research findings in peer-reviewed journals during the period of their appointment.
Why UT Southwestern for Postdoctoral Research?
Virtual visit of UT Southwestern
Current Postdoctoral Scholar Demographics
Supporting our Postdoctoral Scholars
UT Southwestern is committed to providing our postdoctoral community with ample resources related to faculty mentorship, certificate training programs, international postdoctoral assistance, and fellowship application assistance. We invite you to learn more about resources offered through the Postdoctoral Association (PDA) at UT Southwestern and the UT Southwestern Postdoctoral Affairs Office (PDO) by visiting their pages (links below).
Available Postdoctoral Positions
Contact faculty members directly regarding postdoctoral training positions in their laboratories. Many faculty post available positions here:
Additional opportunities may be identified by searching your specific field of interest:
UT Southwestern Postdoctoral Affairs Office (PDO)
The Postdoctoral Affairs Office assists postdoctoral scholars and their faculty mentors in many areas including policies, the postdoctoral certificate training program, recruitment, and career development. The PDO also provides fellowship application assistance, works closely with the Office of International Affairs on travel and visa concerns, and co-sponsors the annual UT Southwestern Postdoctoral Research Symposium.
UT Southwestern Graduate Career Development Office
The Career Development Office provides a range of services, including résumé and CV preparation, evaluation of seminars, as well as information on both academia and careers beyond the bench. We are committed to helping our postdoctoral scholars achieve their ultimate goal: a promising and successful career in science.
Postdoctoral Association at UT Southwestern (PDA)
An active and vibrant association, the Postdoctoral Association (PDA) at UT Southwestern is composed of a strong community of postdoctoral scholars who sponsor and promote scientific and social events. The association addresses a wide range of issues including, but not limited to, training, career development, the transition into a postdoctoral position, and the concerns of our international postdoctoral scholars.
National Postdoctoral Association (NPA)
UT Southwestern is a member of the National Postdoctoral Association (NPA). This participation entitles UT Southwestern postdoctoral scholars to a free affiliate membership that includes subscriptions to NPA publications, access to members-only web content, and eligibility for NPA committee service.
NPA International Postdoc Survival Guide
Contact Postdoctoral Affairs