Student Profiles
Aakanksha Jain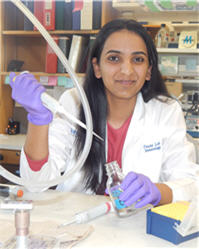 Aakanksha Jain
Immunology Graduate Program
Mentor: Chandrashekhar Pasare, Ph.D.
Hometown: Jaipur, India
Award: Streilein Award for best performance in the IGP qualifying exam
I believe that research in basic science has all the qualities that one can ask for in a dream job. The pursuit to find the unknown is not only highly engaging and thrilling but also gives you a real shot at making a difference on a large scale.
The outstanding faculty including many Nobel laureates, National Academy members and Howard Hughes investigators at UTSW put it on top of my list. The umbrella program at UTSW was another very attractive feature to me. Coming in from an engineering background I wanted the opportunity to explore different fields of research before joining a specific program. The graduate school curriculum is designed for such open minded people, which is something not many schools offer.
"There is a deep seated culture of collaboration that helps projects move forward faster and equips us to take new directions."
In my research, I am trying to understand how our immune system, specifically T cells, start attacking our own cells in diseases like rheumatoid arthritis, multiple sclerosis, etc. I have identified the immune checkpoints that keep the T cell responses restricted in a non-pathogenic scenario while making sure to mount a rapid response during infections. The idea is to unravel basic biology of T cell responses in order to inspire improved therapeutic options for both autoimmune diseases as well as immune suppression.
The research labs associated with the program have made significant contributions to the field of innate sensing, autoimmunity, as well as host-commensal interactions. The faculty is very friendly and focused on quality training. Having access to cutting edge technology like a highly advanced sequencing core, germ-free mouse facility, etc. allows us to ask challenging questions that have never been possible to be answered before.
Mihir Pendse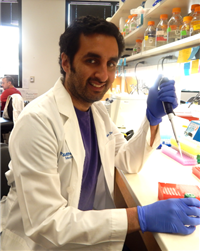 Mihir Pendse
Immunology Graduate Program
Mentor: Lora Hooper, Ph.D.
Hometown: Sacramento, CA
Awards/Fellowships: Immunology T32 Training Grant
I grew up with a fondness for medicine and the biological sciences; however what drew me to basic research was the emphasis on problem solving and critical thinking. I believe that the rigorous attention-to-detail taught in scientific research is invaluable not only professionally, but also as a translatable soft skill outside of science.
I chose to come to UT Southwestern because of the ability to participate in cutting edge biomedical research in a very warm and collaborative environment. The accelerated curriculum also allows students to focus on their thesis work relatively quickly. As a bonus, UT Southwestern is nestled in a very affordable part of Dallas that allows students to live comfortably outside of the lab and have a great work-life balance.
"The Immunology program leadership encourages a high level of camaraderie between students, postdoctoral trainees, and faculty.""
My work in the Hooper lab centers on the mechanism by which our innate immune system metabolizes retinol (vitamin A) and the ability of our intestinal microbes to augment this process. Given the abundance of retinol in our diets and its ability to exert specific functions in almost every system in our bodies, my project is an exciting opportunity to add another layer of complexity to the biological intersection of host and microbe.
The Immunology program at UT Southwestern is a melting pot of high impact research that focuses on a wide variety of topics, which gives students a unique opportunity to tailor their skill-sets to specific interests. The program is also composed of a mix of young and senior faculty that provides students with exposure to a diverse array of expertise and mentoring styles. In addition, the program has the good fortune of progressive leadership that is constantly working to ensure a positive student experience.
Another great aspect of the GDD program is that it provides many opportunities for scientific growth. With a combination of work-in-progress seminars, poster sessions, presentations, student-run organizations (Science policy, creative art, journal clubs, among others), we are able to polish our communication skills, critical thinking, and expand our career options. Although these aspects are not unique to our program, the GDD student community knows how important these aspects are for our and future GDD students development. The Immunology program leadership encourages a high level of camaraderie between students, postdoctoral trainees, and faculty.
Vladislav Pokatayev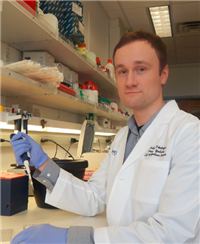 Vladislav Pokatayev
Immunology Graduate Program
Mentor: Nan Yan, Ph.D.
Hometown: Minsk, Belarus
Awards/Fellowships: Goldings Award for Best Immunology Student, Streilein Travel Award, and Nominata Candidate for Immunology Program
It was during my senior year of high school when I decided to pursue a career as a research scientist. My motivation came after a close family member was diagnosed with an autoimmune disease, as this event was life changing for our family. I became motivated to study immunology because I wanted answers as to what scientists are doing to cure autoimmune diseases. As an undergraduate, I took coursework in molecular biology and immunology and actively participated in immunology research as an assistant. I found immunology particularly exciting as it is on the cutting edge, blending multiple fields of scientific research in order to further our understanding of human health and disease. I knew that I needed to continue my education in immunology as this is my passion. To be at the forefront of such an endeavor is personally satisfying, as I am part of a global team effort aimed at improving the welfare of all people.
The immunology program at UTSW is composed of numerous investigators, both within the immunology department, as well as many more outside of the department. Laboratories in the program explore multiple aspects within the field of immunology and utilize different approaches in doing so; however, all laboratories collaborate and assist each other when needed. Students in the program are productive in their time here, as evidenced through the research output of the current students and the program's alumni.
"To be at the forefront of such an endeavor is personally satisfying, as I am part of a global team effort aimed at improving the welfare of all people."
A central concept in immunology is that our cells can sense viruses or microbes through sensors that detect non-self-molecular structures. After such detection occurs, cells reprogram themselves to mount immune responses and eliminate further spread of infection. In certain genetically-inherited diseases, our cells may actually wrongly react to our own molecular structures, thereby creating chronic immune responses which severely debilitate health and may often lead to premature mortality if no therapeutic intervention is offered. My graduate studies have focused on identifying which immune sensing pathway instigates a childhood auto-inflammatory disease, and how we can molecularly regulate this pathway in the hopes of providing future medicinal treatment for patients.
After my UTSW graduate school interview trip, the impression that I obtained was that UTSW is a state-of-the-art institute which is home to leading scientists in all fields. Such an environment is only able to exist if the institute is well-endowed, well-equipped, and most importantly, is a collaborative environment. To be a student at such an institute would be advantageous, as I would have all of the resources, both technical and career-related, that I would need to become a productive scientist. After several years at UTSW, I can confidently say that my initial impression was correct, in that the people in all departments and facilities at UTSW have been instrumental in helping me further my development as a scientist.
I think a primary advantage of the program is that it's structured in a way where students are able to progress efficiently through the various stages of graduate school, from qualifying for PhD candidacy to defending their graduate thesis. Students are taught the fundamentals of writing and presenting research proposals, and gain experience in public speaking by presenting their work annually before the program body, and at an annual joint symposium with immunology departments from several institutes across North Texas. All of this progress occurs because the professors always make time to meet with students and advance us to the next career stage post graduate school.