About the Immunology Program
The Immunology Graduate Program provides a broad-based education in the strategies and techniques of immunological research that prepares students for a broad range of career opportunities. Faculty members, drawn from both basic science and clinical departments of the medical school, offer research training opportunities in a variety of topics, including:
Molecular immunology
Cellular immunology
Immunology of infectious diseases
Autoimmune and inflammatory diseases
Tumor immunology
Neuroimmunology
Students work collaboratively across disciplines, which creates an environment for developing innovative strategies for researching complex health challenges.
Program faculty offer advanced course work in cellular and molecular aspects of immune system development, activation, and function, clinical immunology, and immunology of infectious disease. Works in progress seminars, journal clubs, and a course in grant writing provide students ample opportunities to hone their oral presentation and writing skills.
Students interested in joining the Immunology Ph.D. program should apply to the interdisciplinary umbrella program within the Division of Basic Science. First-year students complete a core curriculum that includes a core course, three or four laboratory rotations, and training in the responsible conduct of research. Students who perform satisfactorily in the first semester core course are qualified to enter the Immunology Graduate Program.
Message from the Program Chair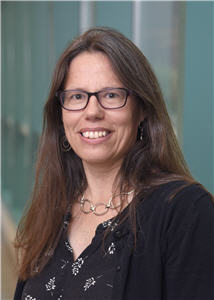 Anne Satterthwaite, Ph.D.
Associate Professor
Peggy Chavellier Professorship for Arthritis Research and Treatment; J. Wayne Streilein, M.D. Professorship in Immunology; Southwestern Medical Foundation Scholar in Biomedical Research
Graduate School: Ph.D., Harvard University, 1993
Postdoctoral Training: University of California, Los Angeles
The immune system protects the body from infection by pathogens such as bacteria, viruses, and parasites. However, inappropriate activation of the immune system can lead to a variety of autoimmune and chronic inflammatory diseases. Strategies that amplify immune responses are used to develop vaccines against infectious diseases and to treat several types of cancer. Conversely, immune suppression is used to treat autoimmune and inflammatory diseases. Understanding the complex mechanisms that maintain the balance between activation and suppression of immune responses is thus critical for our ability to maintain health and manipulate immunity for therapeutic advantage.

The Immunology Program trains students to become critical thinkers who apply cutting edge, interdisciplinary approaches to address important scientific questions. Our curriculum includes courses in both basic and clinical immunology and emphasizes oral presentation and writing skills. Our accomplished faculty represent multiple basic science and clinical departments. They and their trainees conduct research that has the potential to impact treatment of many human diseases including infectious diseases, lupus, arthritis, asthma, multiple sclerosis, inflammatory bowel disease, and many forms of cancer. Immunology Program graduates are well prepared for careers in research and a variety of related fields.