Student Profiles
Elisabeth Geyer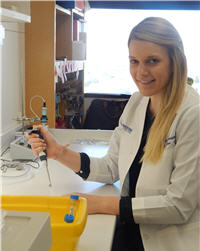 Elisabeth Geyer
Molecular Biophysics Graduate Program
Mentor: Luke Rice, Ph.D.
Hometown: Parma, Ohio
Awards/Fellowships: National Science Foundation Graduate Research Fellowship Program, On tenure, National Institutes of Health (NIH) T32 Training Grant GM008297, UTSW Molecular Biophysics Department Grant
I spent a good portion of my childhood constantly asking questions, being fascinated with how something was made, or why a process occurred the way it did. Entering college, I knew I wanted to eventually go into something science based, whether that be research in a lab setting or possibly heading off to medical school and becoming a doctor.
I decided to come to UTSW because I not only wanted to attend a top tier graduate school where I knew I would receive a great education, both on and off the bench, but because I wanted to attend a school where I felt like I could be a part of a community. During my interview, I was inspired and excited by all of the research going on in my department of interest and was impressed by how kind and passionate all of the faculty were.
"It was clear to me that the research going on at UTSW was some of the most cutting edge work being done."
The goal of my thesis project is to dissect the mechanism of a microtubule polymerase, Stu2p, that results in fast cellular microtubule dynamics using a combination of protein engineering, quantitative biochemistry, and in vitro reconstitution monitored by time lapse two color total internal reflection fluorescence (TIRF) microscopy. Having a deep and thorough understanding of microtubule dynamics, and the network of proteins that result in fast microtubule dynamics, will hopefully allow us to one day design and develop more specific cancer cell therapeutics.
What makes the Molecular Biophysics program at UTSW one of the top programs in the country is a rare and unique combination of energetic, enthusiastic faculty who come to work every day passionate about their research, in combination with some of the best resources and equipment that a scientist would need to be successful. On top of our faculty, the graduate students in the Molecular Biophysics program provide a wonderful network of engaging and hardworking young scientists who are passionate about their projects and always willing to lend help wherever it is needed.
Rashmi Voleti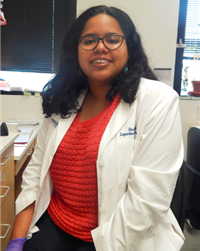 Rashmi Voleti
Molecular Biophysics Graduate Program
Mentor: Jose Rizo-Rey, Ph.D.
Hometown: Hyderabad, India
Awards/Fellowships: HHMI 2016 International Student Research Fellowship
As a kid, I was fascinated by how tiny cells in our body come together and give rise to complex behaviors. I wanted to gain a deeper understanding of how these cells worked and how they communicated with each other and this interest led me to pursue a career in biological sciences.
UTSW is one of the best schools in US for biomedical research. The umbrella program allows first year graduate students to explore their research interests by rotating in labs from different departments. I was looking for a university that allowed me gain exposure to different fields of biomedical research without being confined to one department. The umbrella program at UTSW offered this flexibility and it helped me to find a research problem that I am very excited about.
"I was looking for a university that allowed me gain exposure to different fields of biomedical research without being confined to one department."
Neurotransmitter release is essential for all neuronal communication. This is an extremely complex process that requires the concerted action of many proteins. In my current studies, I use structural biology techniques to understand the role of these proteins in neurotransmitter release. These insights will get us one step closer to figuring out how the human brain works.
The Molecular Biophysics program equips you with very powerful techniques that have the potential to provide key insights into many biological problems. The department of Biophysics has amazing core facilities such as the structural biology core, the Cryo-EM core and the NMR facility which provide excellent support and learning opportunities to students. In addition, the faculty in the program works on diverse sets of problems which keeps the departmental seminars and student WIPs very interesting. The cool thing about the biophysics program is that the techniques that you learn can be used to study any biological problem that interests you. It can be cancer research, drug design, nicotine addiction or fundamental cell biology.
Claudio Morales-Perez

Claudio Morales-Perez
Molecular Biophysics Graduate Program
Mentor: Ryan Hibbs, Ph.D.
Hometown: Bayamon, Puerto Rico
Awards/Fellowships: September 2015-Present – Howard Hughes Medical Institute (HHMI) Gilliam Fellow; May 2015 – Second place oral presentation, UT Southwestern Medical Center, Molecular Biophysics Department Retreat; May 2015 – Best poster presentation, UT Southwestern Medical Center, Neuroscience Department Retreat; July 2014-June 2015 – The Cellular Biophysics of the Neuron training program (NIH-T32NS069562-05); March 2014 – National Science Foundation (NSF) Honorable Mention for Pre-doctoral Fellowship
"I chose UT Southwestern for the variety of research, the collaborative environment, excellent faculty, and excellent graduate programs."
My interest for science began in my childhood. I always wanted to understand how the human body works, mainly because I was born with a congenital heart disease. During middle school, I was fortunate to have an excellent science teacher who motivated me to pursue a career in science. During my first year at the University of Puerto Rico, I had the mindset that I was going to Medical school but the biology program required for every student to get at least 3 credit hours in a research lab. That was when, in my first year, I started working with Dr. Lasalde whose passion for science motivated me to pursue a Ph.D.
The goal of my dissertation is to solve the 3D structure and understand the molecular mechanisms of the human Alph4Beta2 nicotinic acetylcholine receptor. This ligand gated ion channel is essential for proper synapses in the CNS and is implicated with neurodegenerative diseases and disorders. The atomic resolution structure and functional assays will reveal new insights into the gating mechanism, ligand specificity, ion selectivity, and subunit arrangement which will be used as a template to design new therapeutic treatments.
The faculty is very involved in the development of the students. They are very supportive, helpful, and are not afraid to give any feedback.