We accept referrals from all pediatricians and children's hospitals in the Dallas/Fort Worth metroplex, as well as from more distant areas within and beyond Texas. The Division's clinical activities at Children's Health℠ are focused in the following areas:
Metabolic Disease Clinic
The Metabolic Disease Clinic provides evaluation and testing for children with known or suspected inborn errors of metabolism (IEMs). IEMs are a family of hundreds of rare diseases caused by mutations in the genes that allow the body to produce energy and grow. We are a regional center of excellence in these diseases, establishing the diagnosis in affected children, counseling and educating their families about these conditions, and optimizing therapy tailored to the needs of each child. Blood, urine, enzyme, and DNA analyses are performed for diagnosis. Patients with a confirmed diagnosis are then provided with nutritional evaluation, genetic counseling, and psychosocial assessment as well as long-term care.
The Metabolic Disease Clinic is closely associated with the Newborn Screening Clinic. We are a major referral center for the Texas Newborn Screening Program. This statewide program seeks to identify newborn babies with any of 30 different treatable diseases, many of which are genetic/metabolic in nature. A large percentage of the approximately 400,000 babies born in Texas each year are evaluated through our Division. When a baby in North Texas is found to have a metabolic abnormality on the newborn screen, the family is referred to our team for definitive diagnosis, treatment, and long-term care if necessary. Through the Texas Newborn Screening Program, more than 75 children with genetic metabolic diseases are identified each year, and the coordinated care of these children by the Metabolic Disease Clinic at Children's Health significantly improves their development and survival.
Genetics/Dysmorphology Clinic
Children with conditions involving birth defects, developmental delay or developmental disabilities, or other known or suspected genetic disorders receive evaluation and testing in the Genetics/Dysmorphology Clinic. Chromosomal and DNA analysis for diagnosis of genetic disease is provided, as well as psychosocial assessment, counseling, and comprehensive case management with referral to medical specialists, community resources, and support groups. Family history analysis and risk counseling to discuss reproductive options also are available through a team of board-certified genetic counselors.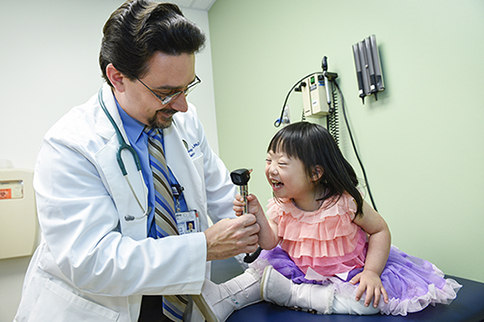 Down Syndrome Clinic
Faculty and staff with the Down Syndrome Clinic have more than 50 collective years of experience in caring for children with Down Syndrome and provide comprehensive treatment for children and their families, including medical management, genetic counseling, physical, speech and motor development evaluation and recommendations, psychosocial support, screening and referral for behavioral and psychiatric problems, and referral to community agencies for educational intervention or therapies.
Genomic Testing
Genetics clinicians and researchers at UT Southwestern recognize the positive potential of genetic and genomic testing in personalized medicine and presymptomatic disease management. We also understand that results of all such testing are complex and may have medical, psychological, social, and financial implications for patients and research subjects. We agree with the policies of the American College of Medical Genetics and Genomics regarding genetic and genomic sequencing. Specifically:
Genetic and genomic sequencing should be an adjunct, not an alternative, to appropriate medical history and physical exam.
The testing process should include appropriate pre- and post-test counseling and, for Whole Exome Sequencing and Whole Genome Sequencing, informed consent. Result reporting should take place within the context of a medical practice with adequate access to someone trained in interpretation and application of the test results such as a Medical Geneticist and/or a Genetic Counselor.
Predictive and carrier testing of minors is discouraged and should be carefully considered on a case-by-case basis as to whether it is in the best interest of the child.
As with all other aspects of medical testing performed through our Division, genetic information obtained through sequencing results is considered as a confidential component of the medical record, and will not be used for research or any other purpose without consent of the patient.
Interdivisional and Interdepartmental Collaborations
The genetic basis of many human diseases, and the broad utility of genetic testing across numerous subspecialties of Pediatrics and Internal Medicine, make the consultative services of our physicians essential to the clinical and academic missions of UT Southwestern.
Dr. Angela Scheuerle is a key contributor to the Children's Craniofacial program, participating in weekly care conferences involving Plastic Surgery, Dentistry, Otolaryngology, Medical Genetics, Psychology, and various ancillary services such as speech therapy and social work. She also attends the monthly FETAL conferences, a patient report and management planning meeting run by the department of Obstetrics & Gynecology and including Neonatology, Pediatric Surgery, Diagnostic Imaging, and Medical Genetics. Dr. Scheuerle sees adult patients as needed in the FETAL center. She also has joined the Stillbirth Committee, an organ of the Obstetrics & Gynecology department that reviews all the Parkland Hospital stillbirths.
Dr. Garrett Gotway provides Medical Genetics service in an outpatient clinic in the Aston Center, performing diagnostic evaluations and ongoing management of adult patients with Mendelian genetic disorders. This clinic is administered by the department of Internal Medicine and the Eugene McDermott Center for Human Growth and Development.