Message from the Chief Residents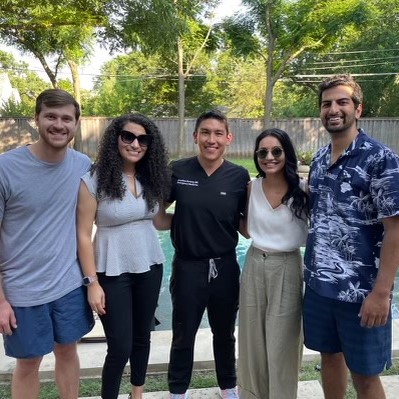 As the 2021-2022 Chief Residents, we welcome you to UT Southwestern's Emergency Medicine Residency Program!
The unique training we provide builds emergency medicine physicians who are:
Exceptionally well-rounded
Clinically competent
Capable of practicing emergency medicine in any environment
Our peers have grown into successful fellows and influential attending physicians across emergency medicine and its subspecialties.
The Heart of Dallas
Our residency program is in the heart of Dallas, a city that welcomes residents of all backgrounds and interests. Our mission is one of public service, community leadership, and education.
Rising to the Occasion
Our faculty, residents, and staff rise to the occasion when our community is in need:
When our city became the epicenter of the Ebola crisis, we organized to protect our citizens.
When a domestic terrorist attacked our citizens and police officers in 2016, we were there to care for them.
And today, we serve on the frontlines of the COVID-19 pandemic. Our team responds once more to the call to service.
Our residency program not only endures these tests but flourishes through unity, resilience, and a passion to serve our community.
Proud of Our Residents
We are incredibly proud of our residency program and our residents. Each individual is an essential part of what makes the UT Southwestern Emergency Medicine Residency a truly inspiring program.
We each underwent our own transformations and observed our peers become exceptional emergency medicine physicians. It is an honor to be able to give back to the program responsible for shaping each of us. We hope to create an experience as inspirational, transformative, and worthy of pride as the experience that prior Chief Residents created for us.
We are excited for your interest in the UT Southwestern Emergency Medicine Residency Program. We feel incredibly privileged to be here. We wish you the best of luck during interview season and look forward to meeting you!
Sincerely,
Deven Bhatia, M.D.
Jonathan Brewer, M.D.
Heath Garner, M.D.
Danielle Rucker, M.D.
Iqra Zakaria, M.D.
Current Residents