Parkland Health & Hospital System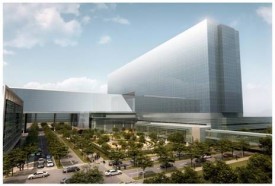 The Parkland Health & Hospital System (PHHS) is the Dallas County safety-net system responsible for more than a million county residents living at or under 200 percent of the poverty level. PHHS is an integrated delivery system that includes the hospital and 11 community-oriented primary care clinics located throughout Dallas.
Parkland Hospital is physically attached to both UT Southwestern and Children's Medical Center.
Construction is almost complete on a new $1.27 billion, 862-bed facility that is increasing bed space by 38 percent. Scheduled to be completed in 2015, the 2.5 million-square-foot campus is one of the largest public hospital construction projects in the country.