The UT Southwestern High-Throughput Screening Core works collaboratively with principal investigators on both chemical and genome-wide siRNA Screens.
About Our Core
UT Southwestern's High-Throughput Screening Core (HTS) was founded by Steven McKnight, Ph.D., in 2002. The Core supports the early, pre-clinical discovery and development of new small molecule therapeutics, and assists in identifying and characterizing novel biological targets and pathways for therapeutic intervention. Therapeutic areas include, but are not limited to, cancer, neurodegeneration, metabolic diseases, antivirals, and parasitic infections.
Goal 1 – Full-file and Subset Screening of Our Compound Library

The first goal is addressed through full-file and subset screening of our compound library (+390,000 compounds) and by supporting confirmation, dose-response studies, and secondary activity profiling of selected hit compounds as well as synthesized and purchased synthetic analogs. Advanced project support for hit-to-lead optimization is also provided by the HTS Core and encompasses structure-activity relationship (SAR) studies, bioassay-guided fractionation of natural products, computational chemistry, cheminformatics and bioinformatics support, and data storage and integration via our Laboratory Information Management System (LIMS).

Goal 2 – Discovery of Novel Therapeutic Targets and Biological Pathways

Our second principal goal, discovery of novel therapeutic targets and biological pathways, is accomplished by screening genome-wide siRNA libraries and supporting confirmation and characterization of genes and pathways identified as points of therapeutic intervention. We also offer an arrayed CRISPR library to further studies where a full knock out of a given gene is desired over a knock down, which is typically achieved with siRNA's.
We are highly valued collaborators for UTSW principal investigators and members of the Harold C. Simmons Comprehensive Cancer Center.
View Technologies & Instrumentation
Our Success & Impact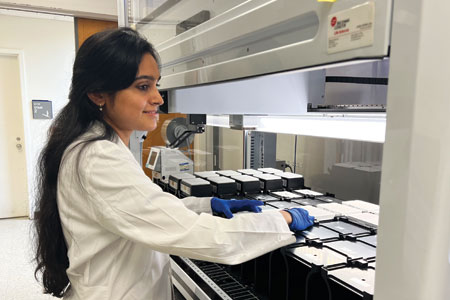 The success and impact of the High-Throughput Screening (HTS) Core can be measured in terms of the pre-clinical drug and target discovery activities that are enabled downstream of screening.
To date, the HTS has executed more than 340 screening projects (244 small molecule and 99 RNAi screens). From these efforts, more than 213 publications derived from high-throughput screening have appeared in high-profile journals and patent literature.
These results have provided the foundation for successful funding of more than 122 grant applications for screening programs and advanced characterization of established chemical leads and drug targets.
From Discovery to Commercial Licensing
Importantly, several discoveries from screening programs have led to commercial follow up via licensing.
Recent examples include:
Anti-cancer chemical leads licensed to Peloton Therapeutics (now Merck, Inc.)
Diabetes candidate licensed to Synalpha Therapeutics
Chemical leads for cardiac stem cell modulators licensed to Lone Star Heart
Partnership with Medicines for Malaria Venture which has a candidate (DSM265) in phase I clinical trials
Anti-colon cancer chemical leads licensed to Barricade Therapeutics
Chemical leads that potentiate tissue regeneration licensed to Amgen, Inc.
Integration with Medicinal Chemistry and ADME
One of the keys to our success has been the tight integration of HTS Core expertise with that in medicinal chemistry and ADME (Absorption, Distribution, Metabolism, and Excretion). In the case of the former, six faculty members in the Biochemistry Department enable lead optimization and development in pre-clinical drug discovery programs. Their efforts are supported and enhanced by the Pharmacology Core that carries out ADME, toxicity, and efficacy studies to help further define the properties of candidate compounds in vivo. Noelle Williams, Ph.D., directs the Pharmacology Core. More details regarding advanced support for chemical library screens can be found at Advanced Project Support for Chemical Screens.
About Our Funding
The HTS Core is supported through funding from the Simmons Cancer Center (an NCI-designated Cancer Center), National Cancer Institute, and UT Southwestern Medical Center.
Core Director