Residency Training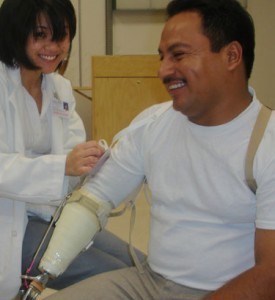 The American Board for Certification in Orthotics, Prosthetics & Pedorthics requires that Master's degree graduates complete a residency program at an ABC-accredited facility before they can apply for certification.
Accredited by the National Commission on Orthotic and Prosthetic Education, residency programs build on the foundation of your degree program with 12 months of structured clinical training and hands-on experience. As a resident, you'll earn a salary ranging from $26,000 to $32,000, depending on the region of the country. Although ABC currently requires separate 12-month residences in prosthetics and orthotics for certification, new standards are in development that will create an 18-month combined option.
UT Southwestern is one of 500 active, NCOPE-accredited residency sites that you may wish to consider as you complete your degree. Each year, residents here gain clinical experience in a variety of inpatient and outpatient rehabilitation settings. Because positions in our residency program and other programs in North Texas are limited, we'll help you explore residencies nationwide and secure one that's right for you. All of our students find satisfying residency positions, often before graduation.