Doctor of Physical Therapy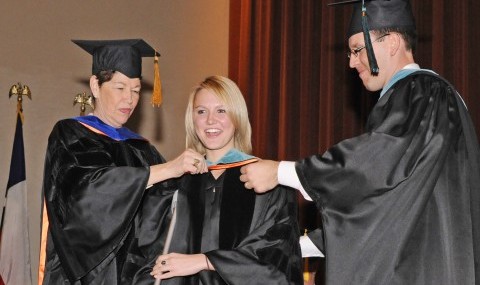 UT Southwestern's Doctor of Physical Therapy Program transforms dedicated students into expert physical therapists prepared to serve the health care needs of their communities with excellence.
If you're exploring physical therapy as a career after graduation from your bachelor's degree program, we invite you to take a closer look. You'll find advantages that will enrich your time as a student and position you for career success after graduation.
A highly skilled and credentialed faculty of researchers and clinicians
A powerful 31-month curriculum that blends theory and practice to teach you the science and the professional skills you need to succeed
The unmatched facilities and resources of UT Southwestern Medical Center
Expert clinical mentorship, including three hands-on experiences
An outstanding licensing-exam passing rate and employment rate after graduation
A location in one of the nation's most dynamic cities for business, health care innovation, and the arts
As a UT Southwestern graduate, you'll have the knowledge, skill, and experience to be an autonomous practitioner and build a rewarding long-term career.
About Physical Therapy
Physical therapy helps people recover from health problems caused by disease or injury. In regular treatments, physical therapists work with patients to increase their strength, reduce or eliminate pain, regain use of an affected limb, relearn activities of daily living, and return to work or sport activities.
Physical therapists evaluate, maintain, and improve the function of a wide range of body systems, including the musculoskeletal, neuromuscular, cardiovascular, and respiratory systems. As a physical therapist, you'll help your patients achieve realistic goals by improving joint function, building muscle strength, enhancing coordination, boosting endurance, regaining motor skills, and relieving or managing pain. You'll care for patients directly, work in partnership with family members and support staff, and consult and collaborate with other health care professionals.
According to the U.S. Bureau of Labor Statistics, more than 239,800 physical therapists were on the job in 2016. Fifty-nine percent of these professionals worked in hospitals or in the offices of other health care practitioners. Additional care settings include home health care agencies, nursing homes, outpatient care facilities, rehabilitation centers, adult day care programs, and schools. In the 2016 edition of its Occupational Outlook Handbook, the Bureau projects that employment for physical therapists will grow at a faster-than-average rate, and that job opportunities should be good.
Based on data updated in February 2018, PayScale Inc. reports that salaries for physical therapists with a Doctor of Physical Therapy degree range from $58,000 (title: Physical Therapist) to $115,000 (title: Rehabilitation Director.)