Alfred G. Gilman Symposium on Education
Dr. Alfred ("Al") Goodman Gilman (1941 – 2015) was a renowned biochemist and pharmacologist. In 1994 he shared the Nobel Prize in Medicine or Physiology with Martin Rodbell for their discovery of G proteins, that transformed the field of cell signaling. Here at the University of Texas Southwestern Medical Center in Dallas, he chaired the Department of Pharmacology from 1981 to 2004, becoming Dean of the Medical School in 2004 and Provost in 2006. In 2009, he was appointed first chief scientific officer of the Cancer Prevention and Research Institute of Texas (CPRIT). His multiple accomplishments included writing and editing several iterations of the definitive Pharmacological Basis of Therapeutics, a textbook first written in 1941 by Alfred Gilman, his father, with Louis Goodman. In addition, he placed a special emphasis on medical education and was instrumental in the formation of the Southwestern Academy of Teachers (SWAT) at UT Southwestern. On a personal level, he was an approachable, beloved and inspirational mentor, who taught generations of physicians and scientists.
Annual Symposium Set for 2022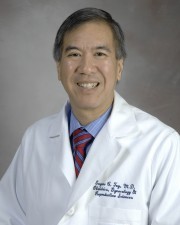 Save the date for April 7, 2022 (all-day event)
Hosted by the Southwestern Academy of Teachers, the event's topic is The Pillars of Education: Innovate, Build, Deliver. The symposium it will feature Dr. Eugene C. Toy, Assistant Dean for Educational Programs and Professor and Vice Chair of Medical Education in the Department of Obstetrics and Gynecology at the McGovern Medical School at UTHealth in Houston.
Event Information: