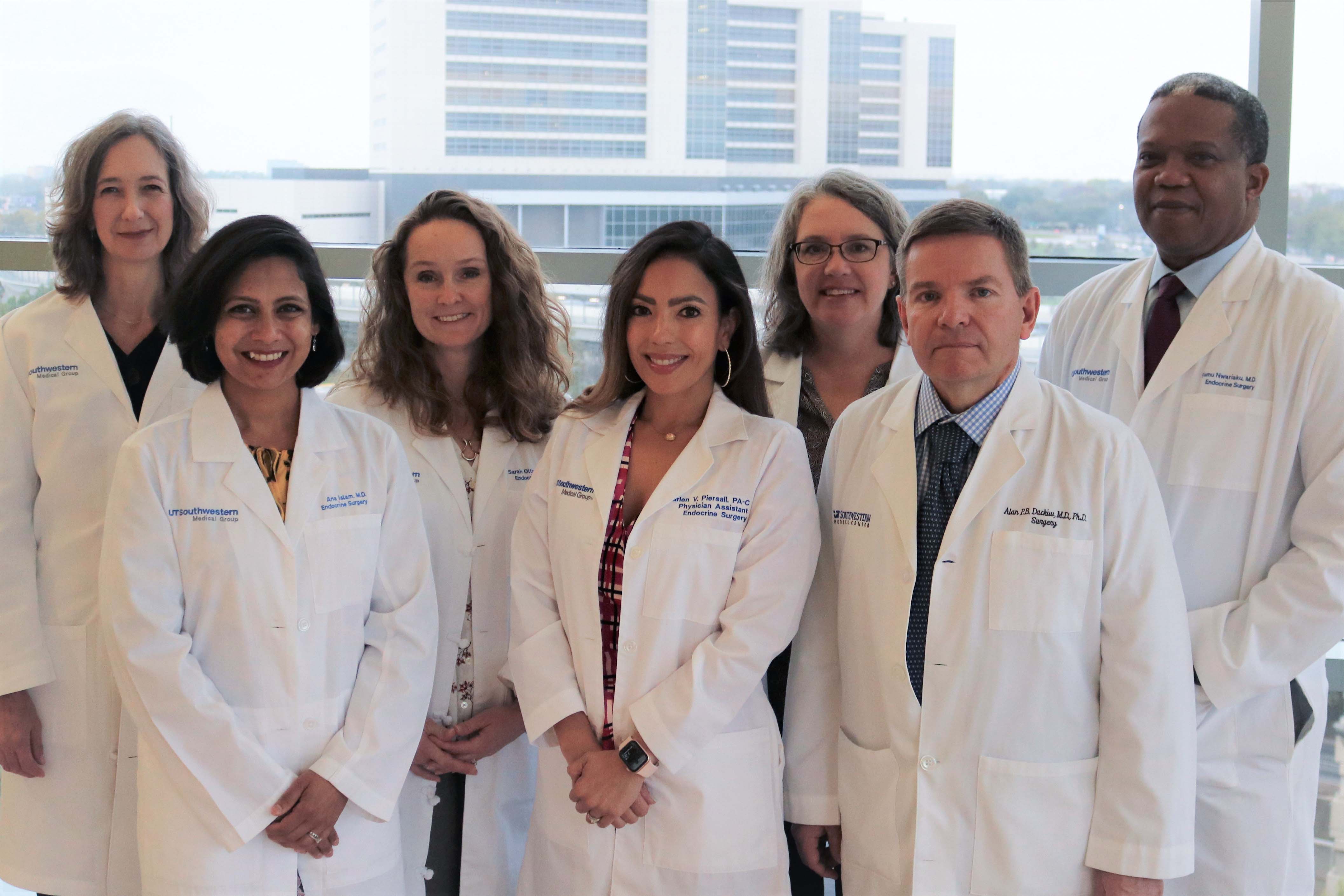 Endocrine surgery has a longstanding, rich tradition in the Department of Surgery at UT Southwestern Medical Center. Dr. William H. Snyder, III, started the endocrine surgery practice at UT Southwestern in 1971, building a legacy of high quality care until his death in 2010. Now almost 20 years later, the group has become its own division and is comprised of six out of the nine fellowship-trained endocrine surgeons in North Texas.
The Division of Endocrine Surgery at UT Southwestern Medical Center consists of endocrine surgeons Shelby Holt, M.D., Alan Dackiw, M.D., Ana Islam, M.D., Fiemu E. Nwariaku, M.D., and Sarah Oltmann, M.D. Their interests include thyroid surgery, minimally invasive parathyroidectomy, laparoscopic adrenal surgery, and neuroendocrine tumors of the pancreas and GI tract.
Clinical sites include the Multidisciplinary Surgery Clinic and Outpatient Surgery Center on West Campus, as well as William P. Clements, Jr. University Hospital, Moncrief Medical Center in Fort Worth, Parkland Hospital, the Dallas VA Medical Center, and UT Southwestern/Texas Health Resources Frisco. Over the past fifteen months, the division performed over 1,900 cases.
Endocrine surgery is an excellent example of a multidisciplinary practice. The group collaborates with dedicated specialists in endocrinology, mineral metabolism, radiology, and pathology to care for the breadth of disorders of the thyroid, parathyroid, adrenal, and neuroendocrine pancreas. An example of this collaborative effort is the Multidisciplinary Endocrine Tumor Clinic at Parkland. This clinic was started by Dr. Shelby Holt, Dr. Ildiko Lingvay in medical endocrinology, and Dr. Jeffrey Pruitt in radiology fifteen years ago, and the clinic continues to provide comprehensive care to thyroid cancer patients.
The division's current research activities include the following clinical projects: surgery versus radioactive iodine for the treatment of Graves disease (World J Surg. 2019 Mar;43(3):812-817), predictors of recurrent kidney stones after successful parathyroidectomy for primary hyperparathyroidism (recently accepted for publication in JACS), impact of the latest national guidelines on the use of RAI for thyroid cancer at a safety net hospital (abstract presented at the North Texas ACS Chapter meeting), impact of a consistent experienced team on robotic adrenalectomy performance, and utility of thyroglobulin measurements in lymph node aspirates in the management of thyroid cancer. A recent grant submission aiming to develop and validate a deep machine learning model to improve the detection and characterization of thyroid cancer was selected for the U-Hack Med 2019 event.