The Department of Physiology offers access to a wide range of advanced technology and services through its shared core facilities. These general facilities complement equipment in individual laboratories that are shared for more specialized research.
Some of our shared facilities (shown below) include:
Autoclaves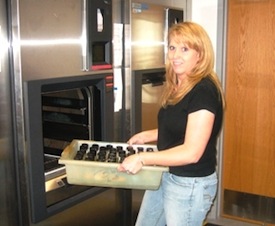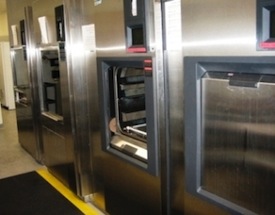 This facility contains two large glassware washing machines and two large autoclaves for sterilization, all of which are new, modern models from Steris.
Centrifuges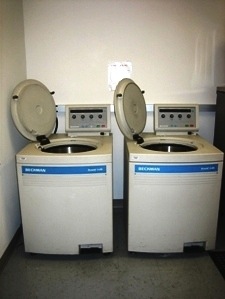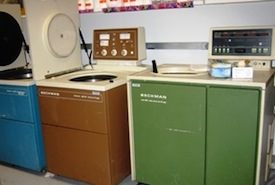 Within the departmental preparative rooms there are numerous centrifuges for use. There are seven mid-speed centrifuges, including three Beckman Avanti J-25s. There are also two conventional ultracentrifuges, as well as an additional two table-top ultracentrifuges available for departmental use but maintained within faculty laboratories. Finally, there is one lower-speed/high-capacity centrifuge for harvesting bacteria.
Gel and Phosphor Imaging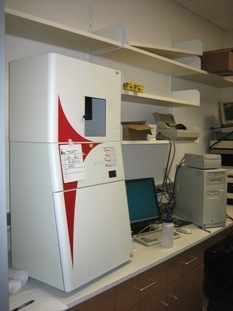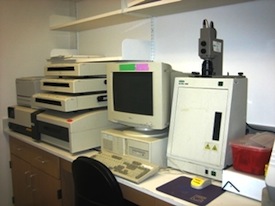 The department has several facilities for imaging DNA and protein gels, blots, and other miscellaneous needs. An Alpha Innotech FluorChem 8000 provides gel image acquisition by UV or white light, as well as Western Blot imaging capabilities. A light-tight cabinet will accommodate up to five individual color enhancement filters. Sensitivity of the CCD camera provides low, medium, and high resolutions, up to a 16-bit dynamic range (0-4OD). Free AlphaEase upgrade software can enhance and analyze captured images including functions such as lane autoscans, peak detection, 2-D spot densitometry, and automatic colony/cell counting. The department also has a Bio-Rad GS525 storage phosphor imager and attendant hardware, as well as a conventional X-ray film developer.
Incubators and Preparative Equipment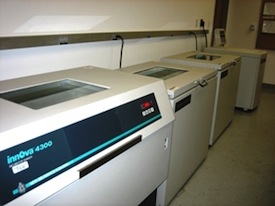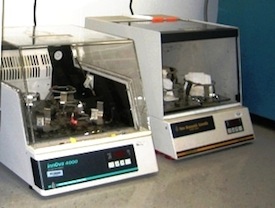 Within the departmental preparative rooms, there are five chest-style and two tabletop shaker incubators. Additional preparative equipment includes a low-speed but high-capacity centrifuge for bacterial harvesting, a tissue homogenizer, probe sonicater, speed vac, and lyophilizer. The department also has a scintillation counter and other miscellaneous equipment available for general use.
Microscope Imaging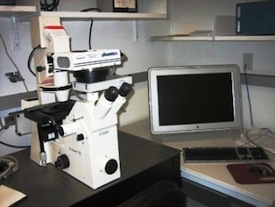 The imaging facilities contain a Zeiss LSM 510 Meta, multiphoton confocal microscope as well as three additional digital workstations for fluorescence studies. Microinjection apparatuses and a headstage warming device are also available. The LSM 510 Meta scanning module allows multifluorescence images to be collected without compromising resolution and efficiency. This system is ideal for FRET analysis.
Conference Rooms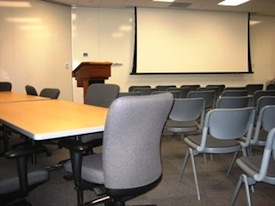 The department has a large conference room with a capacity of 80 people where departmental seminars and other larger meetings are held. This room has a built-in projection system and touch-screen controls for much of the A/V equipment. For smaller groups, there are two additional smaller conference rooms. The department also has two portable projection systems and two laptops for general use.