Post-Clerkship Period
The expansion of clinical training within the curriculum provides new opportunities for medical students to have unique and tailored experiences that enhance their preparation for residency and beyond.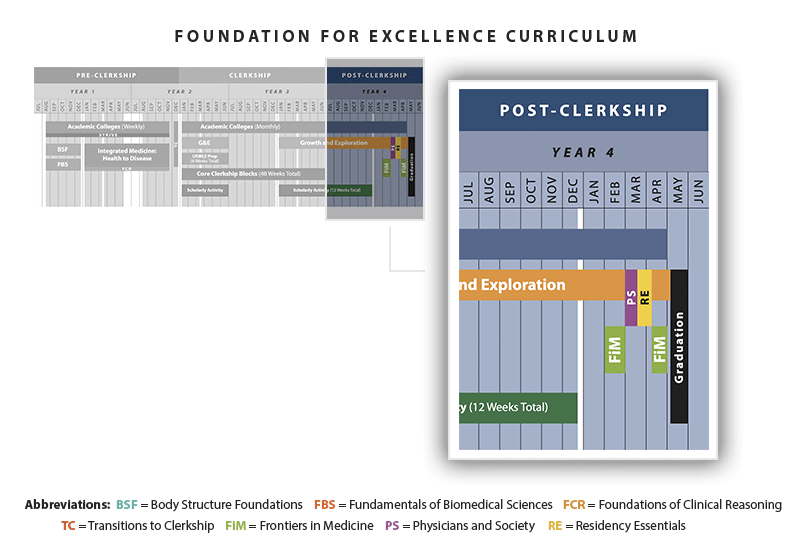 Scholarly Activity
Scholarly activity is an important component of the curriculum at UT Southwestern Medical School. It supports the overarching belief that each student should be intellectually and personally challenged to be the best physician possible based on a core curriculum, but should also have opportunities to grow in diverse areas with novel career opportunities that excite and inspire. We seek to develop clinical leaders through a rigorous experience that provides skills for scholarly inquiry based on ethical principles with a focus on discovery of new knowledge skillfully transmitted to others.
Scholarly activities will be scheduled during the Clerkship and Post-Clerkship periods. Each student will select a 12-week block to be completed between the start of the Clerkship period and the fall of the Post-Clerkship period. Other than participation in the Academic Colleges, this 12-week period will be solely devoted to scholarly activity. Students can choose from a variety of tracks that fit their individual interests.
Students choose one 12-week block for their scholarly work, selecting from a variety of tracks, such as:
These tracks are not all-inclusive; the curriculum allows for the development of additional topics based on student interest and faculty guidance. It is also possible for a small group of students to participate in a joint project. The completion of each activity involves a final "product" to be defined by the organizing committee of each track. There is flexibility in the schedule to allow for extension of students' scholarly activity if needed or desired.
Growth and Exploration
This component of the curriculum involves clinical rotations beyond the required 48-week core clerkships and includes:
Selectives: Sub-Internship, ICU, and Emergency Medicine type rotations (8 weeks required)
Electives: 18 weeks of electives (6 in the clerkship phase and 12 in the post clerkship phase weeks). There are a variety of two- and four-week electives across all medical disciplines. The electives offered for credit aid students who are undecided in career choice and offer all students the opportunity to build strengths in a chosen field.
Interview time: Students have up to eight weeks to interview for residency positions.
Frontiers in Medicine
This course brings together the vast expanse of UT Southwestern faculty members who share their expertise with medical students to enhance basic science and clinical exposures. Having an opportunity for students to return to the classroom environment after they have had clinical experiences is beneficial in a number of ways. First, students are presented with advanced topics that leverage both their basic science and clinical experiences. Second, this course gives students more choice and flexibility in tailoring their interests and career objectives to more advanced training. Basic science knowledge related to causation of disease symptoms can improve diagnostic accuracy.
Four different four-week Back to Basics courses are presented intermittently during the final year of medical school. All students are required to choose one of these four-week courses and may make their selection based on their interests. Some portion of a four-week course may be on a required topic such as advanced evidence-based medicine or biostatistics. The remaining portion of the four weeks includes distinct topics such as:
Genomics and Personalized Medicine
Ethical Dilemmas in Medicine
Advanced Therapeutics
Advanced Seminar Series
Emerging Infectious Diseases
Neoplasia and Neoplastic Disease
Surgical Life Sciences
Physicians and Society
This two-week course is scheduled toward the end of medical school to cover selected topics for all future physicians, regardless of residency or career path. The course weaves together a variety of subjects, including multiculturalism, health economics and systems, medicine and the law, art and medicine, ethics, and history. Many of these topics will be fully appreciated after the students have completed clinical rotations.
Transitions in Clinical Training
This final course recognizes that transitions in training for future physicians are taking on greater importance, including the transition from student to resident, resident to fellow, and fellow to practicing physician. Each passage has its own pitfalls and learning experiences. The transition from medical student to intern is typically a period of high stress in which new interns assume greater workloads and responsibilities while facing difficult clinical and social challenges that may affect the quality of care that patients receive. The period comprising a few weeks prior to graduation and after a student's residency match is an ideal time for transitional clinical training for all students. This training is customized to each of the main residency options that students select and provides them with basic clinical skills to facilitate their transition from student to resident.