Student Profile in Synthetic Chemistry
Jackson Gartman
Organic Chemistry Graduate Program
Mentor: Uttam Tambar, Ph.D.
Undergraduate Degree: Chemistry
Undergraduate Institution: Washington University in St. Louis
Hometown: Bellevue, Wash.
Awards/Fellowships: Graduate School: National Institutes of Health, Pharmacological Sciences Training Grant (2017-Present)
TexSyn IV Chemistry Conference, Best Poster (2019)
Medicinal and Bioorganic Chemistry Foundation Scholar (2019) and Best Graduate Student Poster
Undergraduate School: Merck Index Award (2016) – awarded to one student each year for excellence in research in organic chemistry and drug discovery
Best Poster in Chemistry and Physical Sciences, St. Louis Area Undergraduate Research Symposium (2016)
How did you become interested in science and/or research?
My initial interest in science came from my parents who were both involved in medicine. I pursued this through college, where I spent the first year expecting to graduate with a neuroscience degree and proceed to medical school. I was an intern over multiple summers at Swedish Hospital in Seattle to work on clinical data analysis on patients with aggressive brain tumors. To me, the most interesting aspects of this experience were those related to pharmacological treatments. Once I was exposed to organic chemistry, it quickly became my major interest, as it could explain the effects of the many medications that I had come across. I joined Professor Vladimir Birman's lab at Washington University and began exploring research in organic synthesis. Ever since, organic chemistry research has been a great way for me to tie together my interests in basic science and clinical drug discovery through developing new molecular transformations and the construction of complex molecules.
Please describe your research.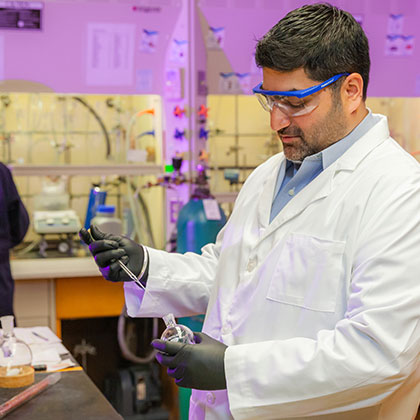 In the Tambar lab, I've been lucky to be involved in a variety of projects in the core fields of synthetic chemistry: methodology development, total synthesis of complex natural products, and medicinal chemistry collaborations. The core of my research has focused on the total synthesis of intricate bioactive molecules in a stereoselective fashion and the development of difficult reactions to access these structures.
Why did you choose UT Southwestern?
I was searching for a strong organic synthesis program for graduate school where I could combine my interests in the construction of complex molecules with the interests of physiology and medicine. At UT Southwestern, I found an exceptional organic chemistry program with many outstanding professors devoted to organic synthesis and medicinal chemistry, more than any other program I visited. The students were highly social, clearly devoted to their work, and had reasonable work-life balances with strong histories of publications and job potentials after graduation. All required course work is finished in the first year, we do not have an undergraduate population, so there are no required teaching duties, and students get to complete lab rotations to decide on the group they would like to join. Furthermore, UT Southwestern is a world-renowned institute with past major breakthroughs in the basic sciences and a strong belief in translation of basic science to the clinic.
What do you think makes the Organic Chemistry Program one of the best?
The Organic Chemistry Program at UT Southwestern is highly specialized in organic synthesis and organic materials development. All of the professors in our departments are highly trained experts in the field who eagerly pass on that information to students during classes and laboratory practices. Due to the program's presence at UT Southwestern, funding opportunities for projects are ubiquitous, and all work ties into biological and physiological significance in some way. Two other key factors that make this program strong are the small class size, giving students 1-on-1 interactions with professors and the independence to pursue their ideas, and the public speaking opportunities for graduate students that are not present in many other programs. These two elements train graduate students well in both understanding the field and in their presentation of research. Lastly, there is a strong comradery amongst the scientists in the program who are really passionate about their research.
What do you love about the Organic Chemistry Program?
The Organic Chemistry program taps into not only complex chemical synthesis and reaction development, but also the application of organic chemistry to biological systems for therapeutic potential. The scientists here strive to be experts in their specific fields with a strong understanding of the physiological relevance of their research, culminating in an exciting, collaborative environment of well-trained professionals.
– Jackson Gartman, Organic Chemistry Graduate Program