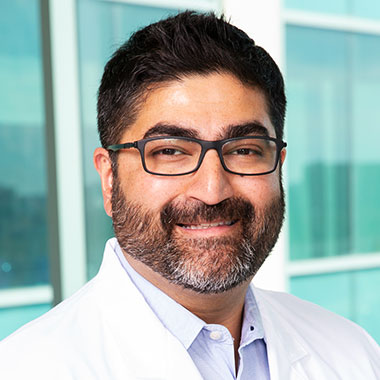 Uttam Tambar, Ph.D.
Professor
Graduate School: California Institute of Technology, 2006
Postdoctoral Training: Columbia University
The mission of the Organic Chemistry Program is to provide students with the experience and knowledge they need to address the most important problems in organic chemistry, chemical biology, natural products, and drug discovery. We place a particular focus on the scientific interface between chemistry and biology.
Training Methodology
Students receive training through rigorous courses taught by experts in their fields, through in-depth thesis projects, and through exposure to broader areas of science found at UT Southwestern Medical Center. All of the research groups are highly collaborative, and students emerge from their training having a strong foundation in organic chemistry complemented by a breadth of knowledge that results from collaborative projects.
Research projects focus on all topics of organic chemistry and generally impact biology in various ways. Some students focus on studying natural products with biological activity, while others develop synthetic methodology that could be useful in drug development. Some groups are focused on the mechanism of action of drugs, while others seek to develop new pharmaceutical agents.
Interactive Learning Environment
One of the major objectives of the Organic Chemistry Program is to ensure that all students learn from other scientists and research groups. To this end, we organize a weekly presentation by students, postdoctoral fellows, and faculty who are involved in the program. This mechanism allows for close interaction between students and faculty, and it broadens the knowledge base of all program participants.
Overall, our objective is to produce students who are independent scientists, capable of tackling the most important problems in chemistry and biology. To date, our students have been highly successful in obtaining postdoctoral fellowships, independent funding, and independent research positions. This is the most rewarding – and most important – reflection of the success of the Organic Chemistry Program.