Perot Family Scholars Program Fund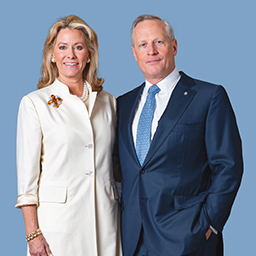 The Perot family has a long history of supporting UT Southwestern's basic and translational research endeavors, particularly the Medical Scientist Training Program (MSTP). In 2022, the Perots' generosity continues with the creation of the Perot Family Scholars Program Fund endowment, providing the program with funding for many years to come.
During the 1980s through the 2000s, the late Henry Ross Perot championed the MSTP by generously contributing both his time and financial support. To draw the best and brightest to UT Southwestern, he met with accepted applicants to promote the excellence of the program and the institution.
The Perot family endowment builds on Mr. Perot's legacy by offering a steady stream of funding to attract exceptionally talented students to UT Southwestern and train them as physician-scientists who will bring their intellectual curiosity to bear on the key translational questions of the future.
Vision for the Perot Family Scholars Program
The resources generously provided by the Perot family (through The Perot Foundation and The Sarah and Ross Perot, Jr. Foundation) to create this endowment will sustain and foster the growth of the MSTP, forwarding the legacy that began with the initial contribution from Mr. Perot.
The endowment will ensure that individuals are fully educated as both physicians and scientists to lead in advancing academic medicine in ways including:
Enhanced recruitment of young scientists worldwide who seek to join our highly competitive clinical and research programs and train alongside our distinguished faculty.
Curricular innovations that will develop leaders in biomedical science in both academic medicine and industry.
The Perot family endowment and Mr. Perot's enduring vision for the Program secures and advances our goal to train the very best and brightest physician-scientists to lead advances in biomedical research and clinical care as exemplars of UT Southwestern's mission to educate, discover, and heal.