Student Profile in Transcription Factor ZNF 165
Awards/Fellowships:
As an undergraduate, I was honored with the Exceptional Research Opportunities Program (EXROP) award from the Howard Hughes Medical Institute (HHMI). Being an HHMI-EXROP fellow allowed me to travel to Boulder, CO, for two consecutive summers to work in the laboratory of a leader in the cancer genomics field. This was my first introduction to mammalian genomics and a critical step in my career that led me to where I am today, here at UT Southwestern.
As a graduate student, I was awarded an appointment to our NIH T32 Pharmacology training grant, which has provided me with significant support over the years. I was also a recent recipient of the Graduate Student Organization travel award, which helped me to attend an international meeting in Canada that made a tremendous impact on my career path.
How did you become interested in science and/or research?
I became interested in science at an early age. I had a fantastic science teacher in middle school who would let us watch "X-Files" and other fun, sci-fi-type shows or movies, and he managed to make nearly every one of his students excited about science because he was so enthusiastic. At some point, in one of his classes, we watched the movie "Gattacca"" and I was so awe-struck by that experience that from there on I knew that I wanted to learn more about genes and become a "geneticist" or "genetic engineer" someday. When I later began college as a biology student, I happened to meet a wonderful mentor that introduced me to bacteriophage genetics. I immediately fell in love with laboratory research. I also received such a thrill from sequencing and annotating bacteriophage genomes that I knew, without a doubt, that I needed to pursue a career researching and studying the human genome.
Please describe your research.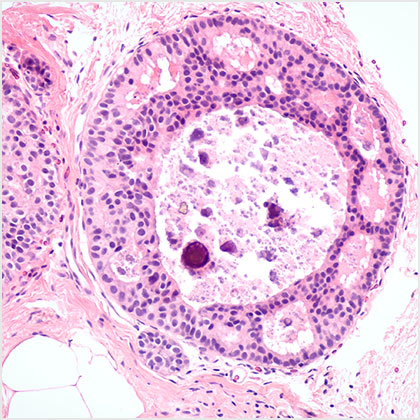 Keeping in line with my life-long interests, I study a transcription factor and the genes that it regulates in the context of triple-negative breast cancer (TNBC). This transcription factor, ZNF165, is normally only expressed in the testes but somehow becomes re-activated in TNBC where it is essential for tumor cell survival. I'm currently elucidating the exact mechanisms through which this transcription factor functions, with the ultimate goal of identifying novel therapeutic targets for a disease that has extremely limited treatment options.
Why did you choose UT Southwestern?
I grew up in DFW where everyone knows about UT Southwestern and how prestigious of an institution it is. So it was an easy choice to apply here, as well as a few other options. However, during my interview process here and at other universities, it quickly became very obvious that UTSW stood out among graduate programs. I believe it&rquo;s difficult for an academic institution to have both great science and supportive, down-to-earth people, but UTSW has both, and in large quantities. It was an easy choice.
What do you think makes the Cell and Molecular Biology Program one of the best?
The Cell and Molecular Biology Program has a long history of scientific excellence, originally developed under the guidance of the late Alfred G. Gilman, who won the 1994 Nobel Prize in Physiology or Medicine for his discovery of G proteins and their roles in signaling. Our program still has a strong focus on cellular signaling and physiology, which fortunately encompasses a broad range of diverse topics. The diversity within the program is one of its strongest attributes, as it makes everyone think outside the box more than they would otherwise and promotes scientific creativity. Our faculty within the program are also exceptional. They genuinely care about the development of students and provide us with feedback at every possible occasion, which not only makes us better scientists, but ultimately better colleagues in every way imaginable. Everyone within the program is also incredibly intelligent, and being surrounded by such people is truly the best way to learn as a scientist.
What do you love about the Cell and Molecular Biology Program?
The Cell and Molecular Biology Program is simply full of wonderful people who do high-quality, creative research. The faculty are all down-to-earth and extremely approachable, no matter the topic. We also have a lot of fun as a program and generally promote a laidback atmosphere that makes everyone feel comfortable around each other in any setting.
– Zane Gibbs, Cell and Molecular Biology Graduate Program