Research activities of the Division of Pediatric Nephrology are aimed at understanding the pathogenesis and treatment of kidney disease in children. The kidney starts developing at 10 weeks gestation, and the full complement of kidney units (called nephrons) is achieved at 35 weeks gestation. A healthy child is born with one million nephrons in each kidney. However, there are diseases of the kidney that occur because of insults that happen in utero, or because of inherited diseases of the kidney that result in mild to severe renal disease.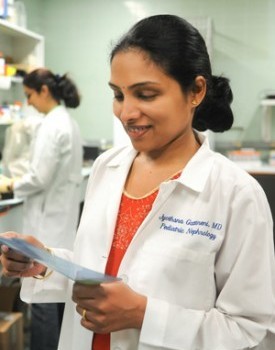 The faculty works to determine how prenatal insults result in kidney disease and hypertension in later life. They also examine inherited diseases that affect kidney development such as autosomal recessive polycystic kidney disease. Even if the kidney develops normally, it can be injured by nephrotoxic drugs or an interruption in the blood supply to the kidney that leads to acute kidney injury. The prognosis for acute kidney injury has not improved significantly over the past two decades, and acute kidney injury is a major cause of chronic kidney disease.
With funding for research provided by the National Institutes of Health (NIH), investigators are examining novel treatments to improve the outcome of acute kidney injury, using bone marrow stem cells. Sometimes renal disease causes permanent loss of kidney function and requires extensive therapy such as dialysis. The Division of Pediatric Nephrology conducts clinical studies examining how to improve the lives of children on dialysis and improve the likelihood that a kidney transplant will be successful. Finally, there is a connection between kidney disease and debilitating bone disease. Investigators have taken basic discoveries made at the bench to clinical studies in patients with bone disease.