Welcome Message
Hi! Welcome to the Pediatric Emergency Medicine Fellowship Program at UT Southwestern Medical Center. We are excited that you have decided to find out more about our program.
Our ACGME-approved, three-year training program with graduated autonomy aims to produce physicians that are:
Expert clinicians in the care of acutely sick and injured children
Outstanding educators who will teach the next generation of physicians
Competent researchers, who can design and conduct clinical research to develop new knowledge for our subspecialty and have the skills to disseminate this new knowledge.
Quality improvement specialists who can develop and lead projects that improve the care we provide
Representative of the diverse population we serve and who both appreciate and contribute to the rich diversity of our region, nation, and world
Passionate advocates for children in the region and beyond
In essence, the future leaders of PEM in the region and nation.
Most of our clinical training occurs in the fast-paced, high-acuity, and high-volume pediatric emergency department of Children's Health System in Dallas. This is the only level 1 Pediatric Trauma Center in North Texas, and it provides care for children with illnesses and injuries that range from relatively simple, common issues to those that are exceptionally complex. We have a full complement of all pediatric subspecialty disciplines, excellent and experienced 24-hour dedicated pharmacists, dedicated skilled nursing, 24-7 social work, respiratory therapists, language interpreters, child life, and numerous trainees at various levels and disciplines. Our fellows get to be part of and eventually lead these high functioning teams.
Our program currently supports 12 total fellows. Beginning in 2020, we expanded our program to also accept trainees who have completed an EM residency. Pediatric-trained physicians complete a 3-year fellowship program; EM-trained physicians complete a 2-year program.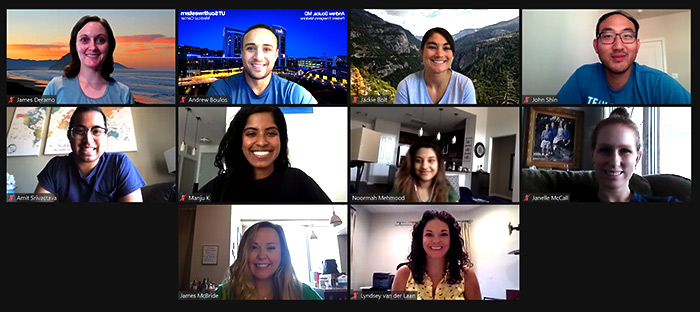 We have been flexible, nimble, and able to develop relationships and refine rotations at other hospitals in the region to give our fellows exposure to other settings, practice models, patient types, and experiences. These rotations provide opportunities for procedures less common in pediatric emergency medicine. Our program currently has rotations within the Dallas-Fort Worth (DFW) Metroplex at other Children's Health System sites including Parkland Hospital, Methodist Hospital, and Texas Health Resource – Harris Hospital. Our fellows rotate with Children's Health child abuse team (REACH), with Dallas County EMS system, and have experiences with Children's transport (ground, helicopter, fixed wing) teams.
Our fellowship has a rich didactic experience with a complete curriculum that prepares our trainees for success on the boards. The trainees receive didactics from faculty from all departments within the University of Texas Southwestern (UTSW) System, monthly simulation scenarios, monthly toxicology lectures, as well as numerous interdisciplinary seminars and workshops. An important part of our fellows' development is to nurture and expand their expertise. To that end, our fellows develop evidence-based lectures and hands-on workshops. They have numerous opportunities to present to various audiences, to become experts on certain topics, and to receive feedback to refine their teaching style. There are also opportunities to supplement that training based on an individual trainee's interest. They can take courses in quality improvement (UTSW Clinical Safety and Effectiveness program) and can audit courses (research design, biostatistics, epidemiology) at UTSW Center for Translational Medicine.
All fellows complete a scholarly project as part of their fellowship. Our division has a research coordinator and research assistants to help our fellows' endeavors. They are assigned mentors selected from seasoned active faculty with varied interests and areas of expertise, guided by pediatric emergency medicine division's Research Council and each fellow's own Scholarship Oversight Committee, and have access to biostatistical help. The Research Design Workshop Series – which takes a project from idea to IRB submission – and the fellowship's Detailed Expected Timeline for attaining Project Milestones help identify issues early and help keep projects on course. This has been the formula for success. There are multiple opportunities to presents the research within Children's Health System, in the department of pediatrics at UT Southwestern Medical Center, and at National Conferences.
Each fellowship class also identifies a quality improvement project(s) that they work on throughout their time here. It is through this that they help improve the care we provide and learn some of the skills necessary for continuous quality improvement that hopefully will be used throughout their career.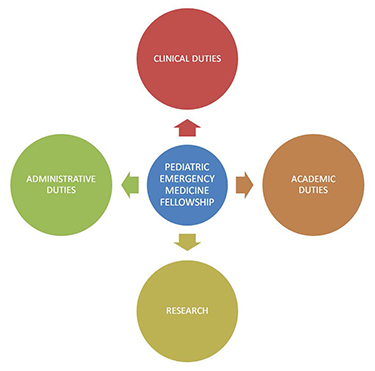 Fellows have varied administrative responsibilities and opportunities throughout their time in training. This provides exposure to components of leading a pediatric emergency department.
Overall, we believe our fellowship program provides the training necessary to become a very successful PEM physician able to practice in any PEM environment, in any institution, and in any career path they choose. Our program continues to adapt to changes and is flexible enough to take advantage of opportunities to improve the experience for our trainees and to make better PEM physicians. We practice "kaizen" – continuous improvement. We seek highly self-motivated individuals who will also take advantage of the numerous opportunities provided, who actively seek and develop their own opportunities, and who will continue to help make our program better. We seek individuals who will become the future leaders in pediatric emergency medicine.
Thank you for your interest in our program. We hope you consider UT Southwestern, Children's Health, and our fellowship program as the next step in your future career!
Check out our fellowship Instagram Instagram @utswpem for more information and current program happenings!
Jo-Ann Nesiama, M.D., M.S.
Fellowship Director
Sing-Yi Feng, M.D.
Associate Fellowship Director
Geoffrey Lowe, M.D.
Assistant Fellowship Director
Contact Us