Generous Benefactors Make an Impact
As heartbreaking as 2020 has been, the COVID-19 pandemic also brought out the best in the community.
More than 620 generous donors raised more than $4.9 million for UT Southwestern efforts this year, contributing more than 675 individual donations of funding, services, or products.

Community shows its giving spirit
Within weeks of COVID-19's spread in North Texas, members of the UT Southwestern community sprang into action. From individual to corporate donations of meals, face masks, and hand sanitizer for front-line health care workers, the community's generous heart was felt. One passionate giver, 15-year-old Valerie Xu, explained her activism: "This pandemic made me realize I should be giving back to UT Southwestern the same way they gave me proper treatment when I was sick."
"UT Southwestern Medical Center has been at the forefront of the COVID-19 battle. Our gift is a sincere expression of gratitude at having one of the nation's leading academic medical centers in our community. We consider ourselves extremely fortunate to be able to lend support to UT Southwestern as it pursues an essential mission of leading-edge research and clinical care, all the while keeping our community informed of what we can do to manage and overcome the current pandemic."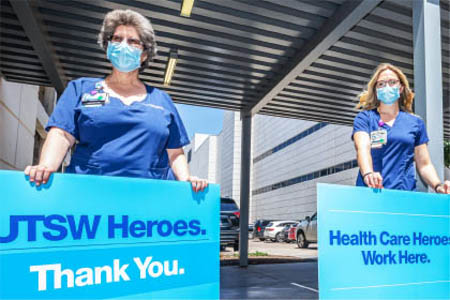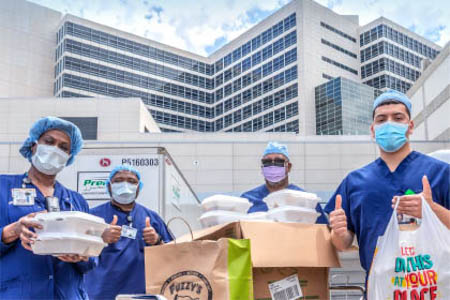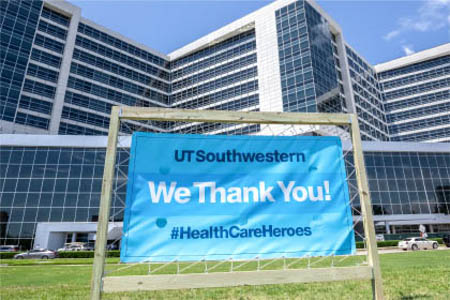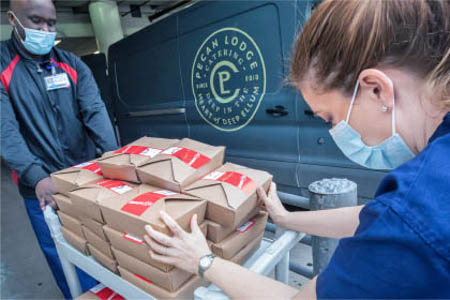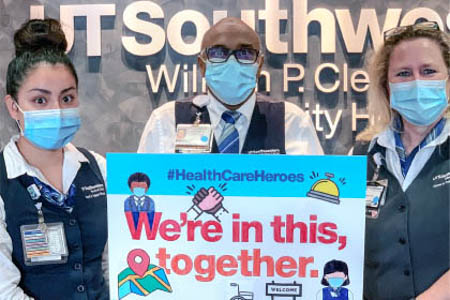 Showing support in a crisis 
Members of the UT Southwestern community have been supporting our health care heroes on the front lines of patient care in various ways during the coronavirus pandemic. Check out some of the poignant scenes of generosity, gratitude, and compassion captured this past year in a photo gallery – from inspiring singing performances to individual and corporate donations of hand sanitizer, face masks, and meals.
By the Numbers – 2020 Giving Impact
Generous gifts made extraordinary impact on fighting COVID-19, combating breast cancer, and supporting state-of-the-art clinical operations at William P. Clements Jr. University Hospital.

30,827
Meals donated to the front lines


21,000
Face shields donated

Every gift makes a powerful impact on the journey toward greater human health, global leadership in medicine, and pioneering scientific discovery. To find out more, contact the Office of Development & Alumni Relations at 214-648-2344 or go to engage.utsouthwestern.edu.
Continue the Journey in UT Southwestern's Annual Review