Giving spirit: Pandemic brings out generosity of the Dallas community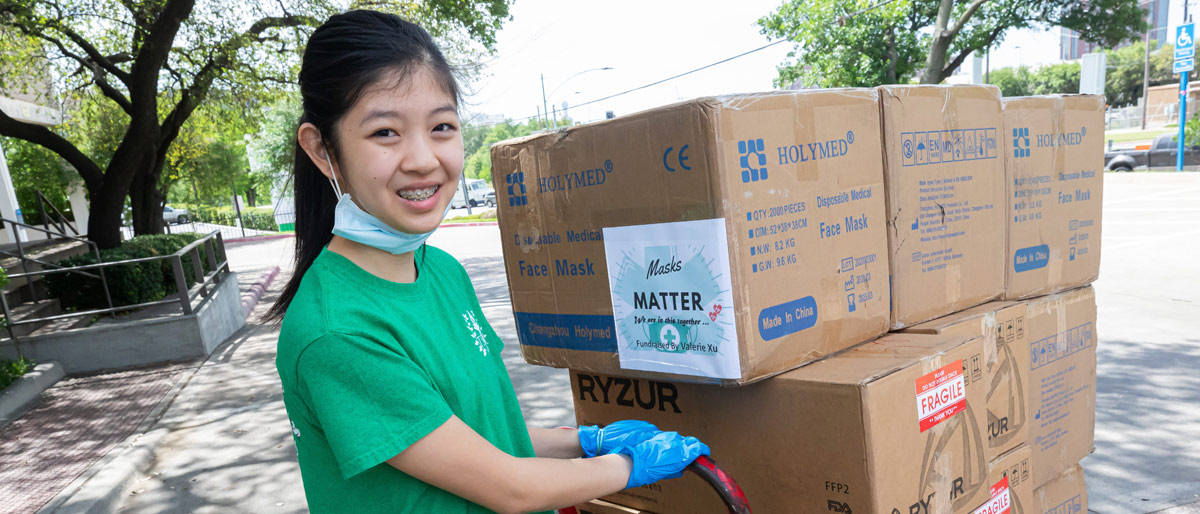 This story was updated on June 11.
Like many others, 15-year-old Valerie Xu's world was quickly consumed by the tidal wave of news related to COVID-19. But when she learned about a nationwide shortage of protective gear for health care workers, it was like a call to action.
"We have a family friend who is an emergency room doctor in Florida," she said. "He has needed to reuse masks to conserve supplies. Hearing about his experience helped me understand the dedication and sacrifices that health care workers are making now."
Watch: Teen shares her motivation to organize donation drive
While students across Dallas County hunkered down in their homes, Valerie, a Greenhill School freshman, was leading a crowdfunding campaign and making late night phone calls to manufacturers in China to find equipment she could get to Dallas. With help from her mother, she secured a shipment of masks for UT Southwestern.
"This pandemic made me realize I should be giving back to UT Southwestern the same way they gave me proper treatment when I was sick," Valerie said.
When she was in the third grade, UTSW doctors cared for Valerie when she had a high-grade fever. The memory of medical workers helping her scared family inspired her to give back to local front-line heroes battling COVID-19.
Valerie is just one of many community members and businesses across North Texas that have banded together to put needed supplies in the hands of health care workers. Valerie's "Masks Matter" campaign raised $7,500, including money contributed online, matching funds from a local business, and a personal donation of more than $1,000 from her savings. With the money, she was able to deliver 10,000 surgical masks and 1,200 FFP2 respirator masks on April 24.
On June 5, thanks to more contributions, she was able to make a second donation of 4,000 surgical masks and 1,400 FFP2 respirator masks to UT Southwestern. She also donated 6,000 surgical masks to the Austin Street Center to help people living below the poverty line stay safe during the pandemic. In all, Valerie has supplied UTSW and Austin Homeless Shelter​ with 22,600 masks with help from more than 200 donors.
Personal protective equipment (PPE) like face shields and N95 masks have remained in high demand at hospitals during the pandemic. The public has graciously stepped in to boost medical supply stockpiles at UT Southwestern, with more than 235,000 pieces of PPE donated as of May 8. The volume of contributions is making an impact in supporting COVID-19 response efforts.
"Our community has stepped up in profound ways and with remarkable generosity," said Dr. John Warner, Executive Vice President for Health System Affairs. "From donated meals and supplies to offsetting child care costs and providing notes of encouragement, this philanthropy is lifting the spirits of our employees who are working to further protect the health and safety of our patients and our workforce."
Philanthropic actions made by local businesses, restaurants, dental offices, churches, and countless individuals shine bright in the midst of a pandemic.
Donors are aiding UTSW health care workers in a variety of ways, from Toyota Motor North America, Southern Methodist University, and Parish Episcopal School in Dallas producing thousands of 3D-printed face shields to Mary Kay donating 10,000 units of hand sanitizer.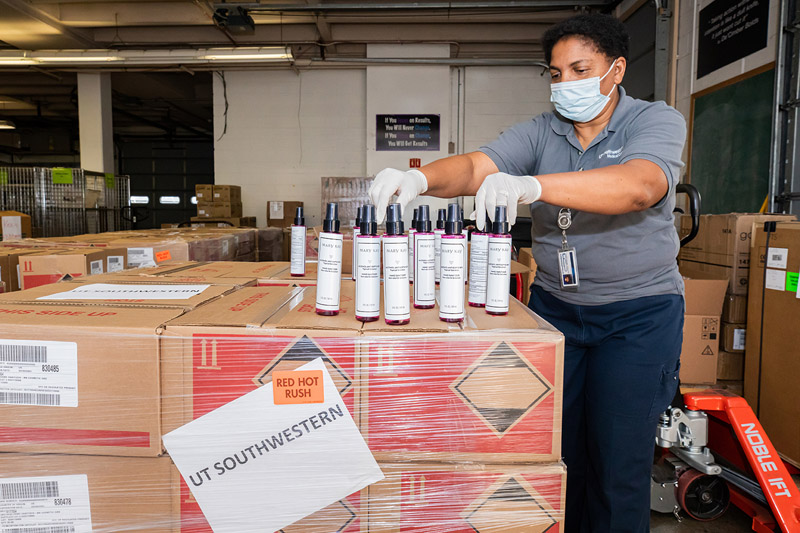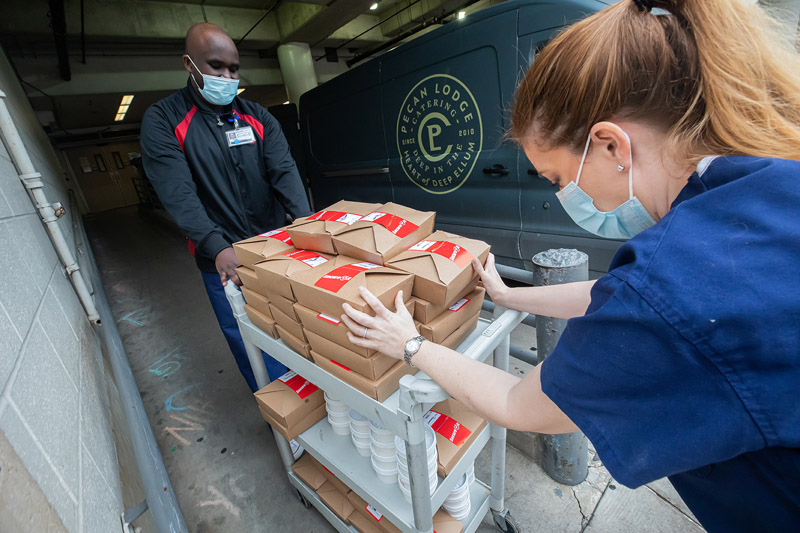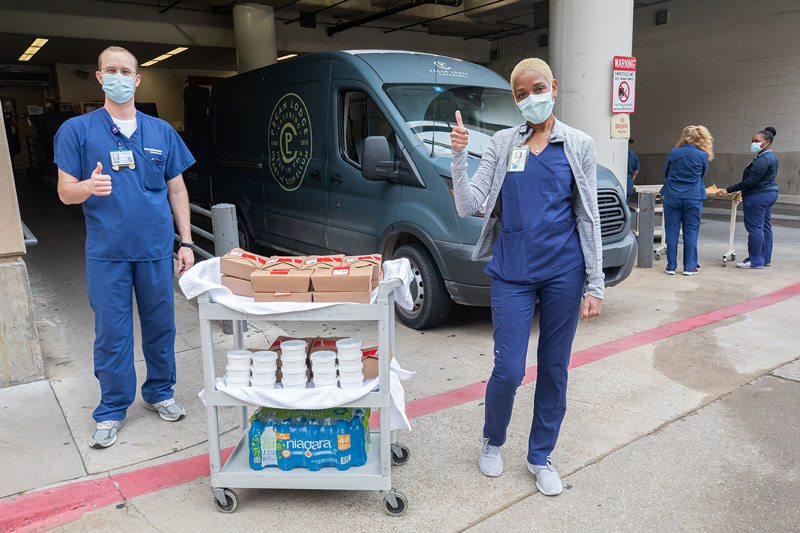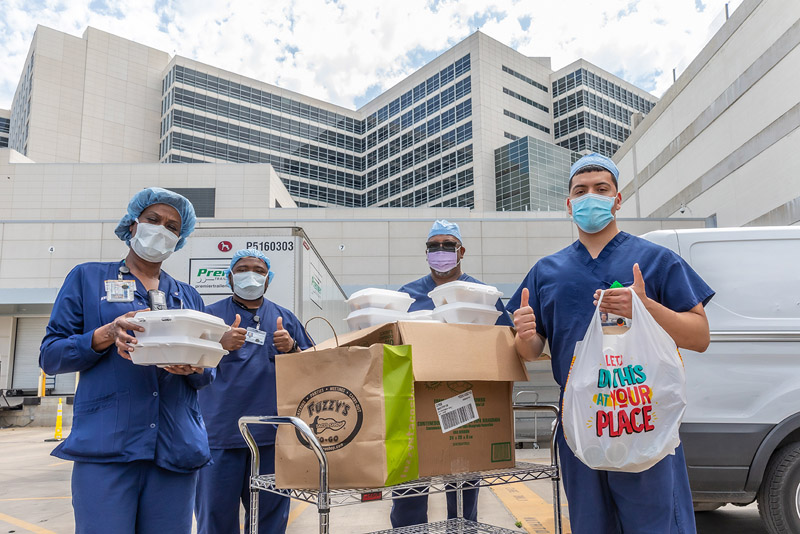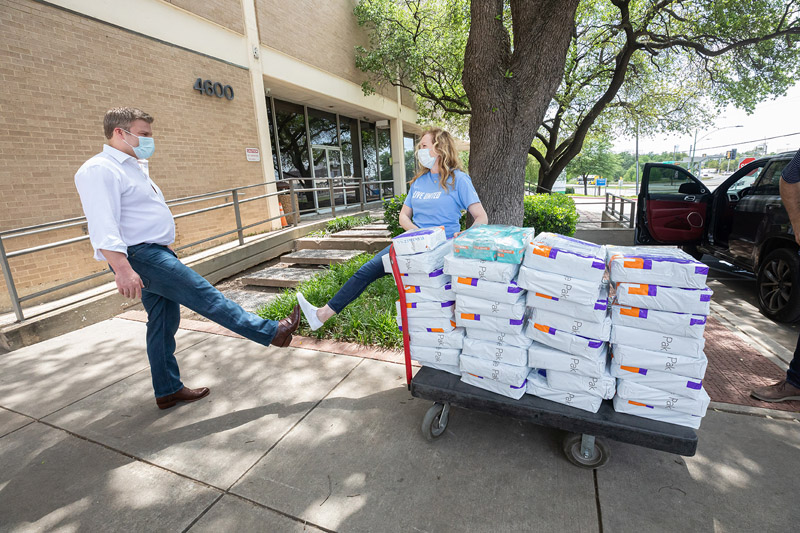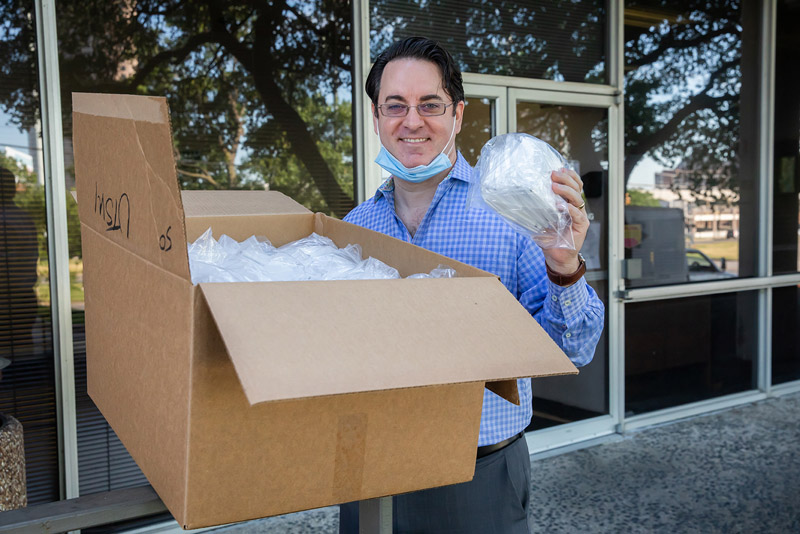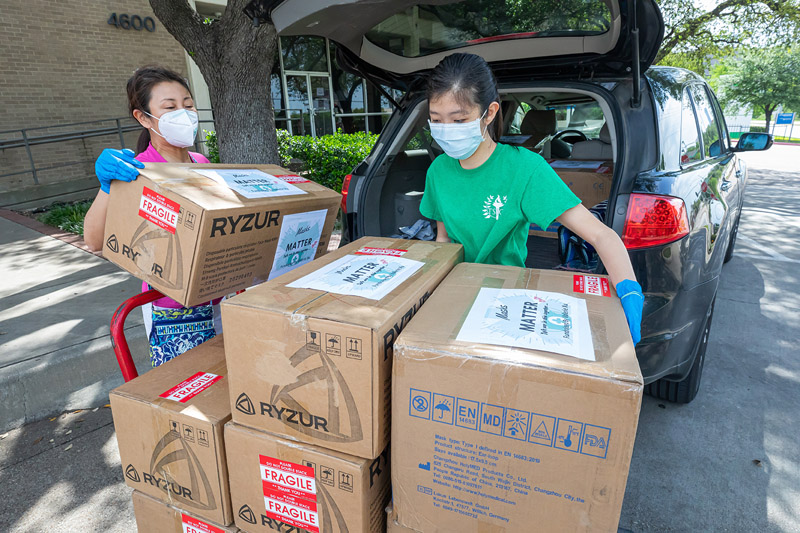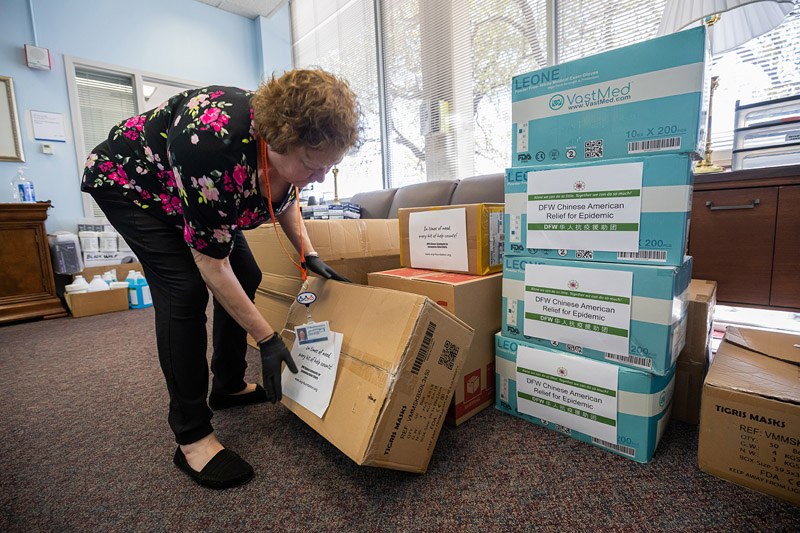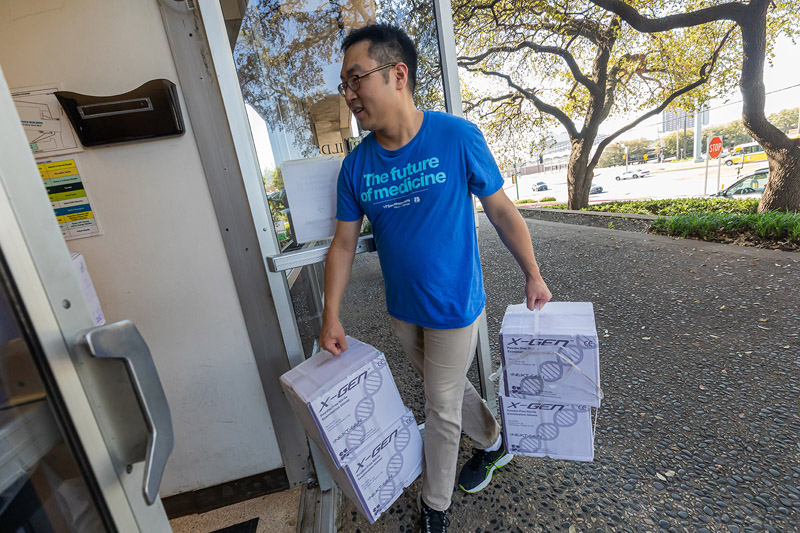 "Every donation, no matter what size, is like gold to UTSW," said Jamie Engle, Supply Chain Management Administrative Coordinator. "Donating a jug of hand soap is just as big as giving a case of gloves. Every contribution is so important."
Dallas Mavericks owner Mark Cuban and basketball players Luka Doncic and Dwight Powell teamed up with the Dallas Mavericks Foundation to donate $500,000 to UT Southwestern and Parkland Memorial Hospital to support the child care needs of health care workers.
To help feed our health care heroes, thousands of individually packaged meals have been donated. For example, the culinary team at Savor in Klyde Warren Park prepared 100 lunch meals on March 31 as a belated National Doctors' Day gift to the health care staff at William P. Clements Jr. University Hospital.
"The work hospital workers are doing is of vital importance," said Luke Rogers, Savor's Executive Chef. "As people in hospitality, we want to serve those who are serving others."
In recent weeks, Savor continued to show support with repeated donations. Mr. Rogers said his team is moved by the medical workers, doctors, nurses, janitors, and cooks at UT Southwestern. "They're all people who are striving every day for the person on their left and on their right, and those human connections are what make up the framework of the bigger picture," he said.
UTSW staff members overseeing the intake of donations said the outpouring of support has shown what communities are capable of accomplishing when people unite behind a common goal.
"In my role, sometimes you don't get to see or touch UTSW's mission as hands-on as we are doing right now," Ms. Engle said. "To know these donations are so needed and that we're being able to help our medical professionals is the best feeling in the world. I will forever remember this moment as one of the positive things about this whole thing."
UT Southwestern is still accepting donations from the public. An online donation form is available for community members wishing to make a financial or in-kind contribution to support our front-line care providers, patient care, and COVID-19 research efforts.
The Office of Development and Alumni Relations coordinates all donations of meals and medical supplies and can be reached by mailtogiving@utsouthwestern.edu or by phone at 214-648-8988. Drop-offs of donated items can be made by appointment weekdays from 8 a.m. to 4 p.m.