Institutional Advancement
Marc A. Nivet, Ed.D., MBA
Executive Vice President for Institutional Advancement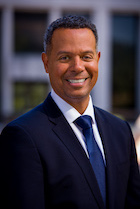 Marc A. Nivet, Ed.D., MBA, is the Executive Vice President for Institutional Advancement at UT Southwestern Medical Center, where he provides strategic vision and oversight in coordinating the areas of Development; Communications, Marketing, and Public Affairs; Government Affairs; Community and Corporate Relations; and Technology Development.
Prior to his role at UT Southwestern, Dr. Nivet served as a member of the executive leadership team of the Association of American Medical Colleges, where he provided leadership on issues surrounding community engagement, diversity, and health equity at medical schools and teaching hospitals across the United States and Canada. Dr. Nivet has spent over 20 years in academic medicine developing creative program initiatives and innovative approaches to advance the mission of excellence in research, education, and patient care.
Dr. Nivet earned his doctoral degree from the University of Pennsylvania and his MBA from George Washington University's School of Business. He is a fellow of the New York Academy of Medicine, and a former president of the National Association of Medical Minority Educators.
Amanda Billings
Vice President for Development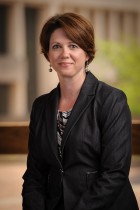 Amanda Billings was named Vice President for Development in November 2014. She leads UT Southwestern Medical Center's philanthropic strategies, which allow the Medical Center to continue to conduct world-class research, educate tomorrow's health care leaders, and deliver quality patient care. Previously, Ms. Billings was Interim Vice President for Development and Director of Development Communications at UT Southwestern, where she was highly involved in the Building the Future of Medicine campaign to support the construction of William P. Clements Jr. University Hospital.
Before joining UT Southwestern in 2010, Ms. Billings spent 13 years leading communication and marketing efforts for the American Red Cross, both regionally and nationally.
She holds a bachelor's degree in political science from Austin College in Sherman, Texas, and has done graduate work in English literature at the University of North Texas.
Ruben E. Esquivel
Vice President for Community and Corporate Relations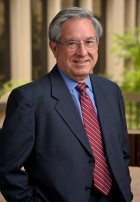 Vice President for Community and Corporate Relations of UT Southwestern Medical Center since 1995, Ruben E. Esquivel began his career as an assembler with AVO International Inc. While working, he attended college at night to earn a degree in electrical engineering from the New Jersey Institute of Technology. His work at AVO culminated in being named President and CEO of the company in 1985 and Vice Chairman in 1994.
Mr. Esquivel has served as Chairman of the Board of Managers of the Dallas County Hospital District (dba Parkland Health & Hospital System) and Chairman of the Board of Directors of the Dallas-Fort Worth Hospital Council Foundation. He currently serves on several local boards, including the Dallas Zoological Society, State Fair of Texas, Stemmons Corridor Business Association, and the YMCA of Metropolitan Dallas.
Angelica Marin Hill, MBA
Vice President for Government Affairs and Policy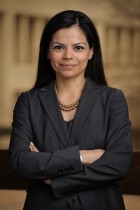 Angelica Marin Hill became Vice President for Government Affairs and Policy in March 2014. Focusing on analytical approaches to legislative issues and strategic communications, her office is responsible for state and federal appropriations that are crucial to UT Southwestern Medical Center's advancement as a world-class research institution.
Previously, Ms. Hill was Assistant Vice President for Legislative Budget and Policy at UT Southwestern, where for seven years she was involved in government relations, strategic planning, and legislative analysis. From 2001 to 2004, she served as a senior analyst for the Texas Senate Finance Committee, overseeing appropriations for higher education and health and human services agencies, among others, accounting for more than 70 percent of a $117 billion state budget. She has also worked in private industry, focusing on state and federal policy in health insurance reform.
Ms. Hill has an undergraduate degree in history from Harvard University and a Master of Business Administration from the University of Texas McCombs School of Business.