Feinstein Institutes' 2023 Ross Prize awarded to UT Southwestern geneticists
Drs. Helen H. Hobbs and Jonathan C. Cohen are to be honored May 31 during a symposium in New York City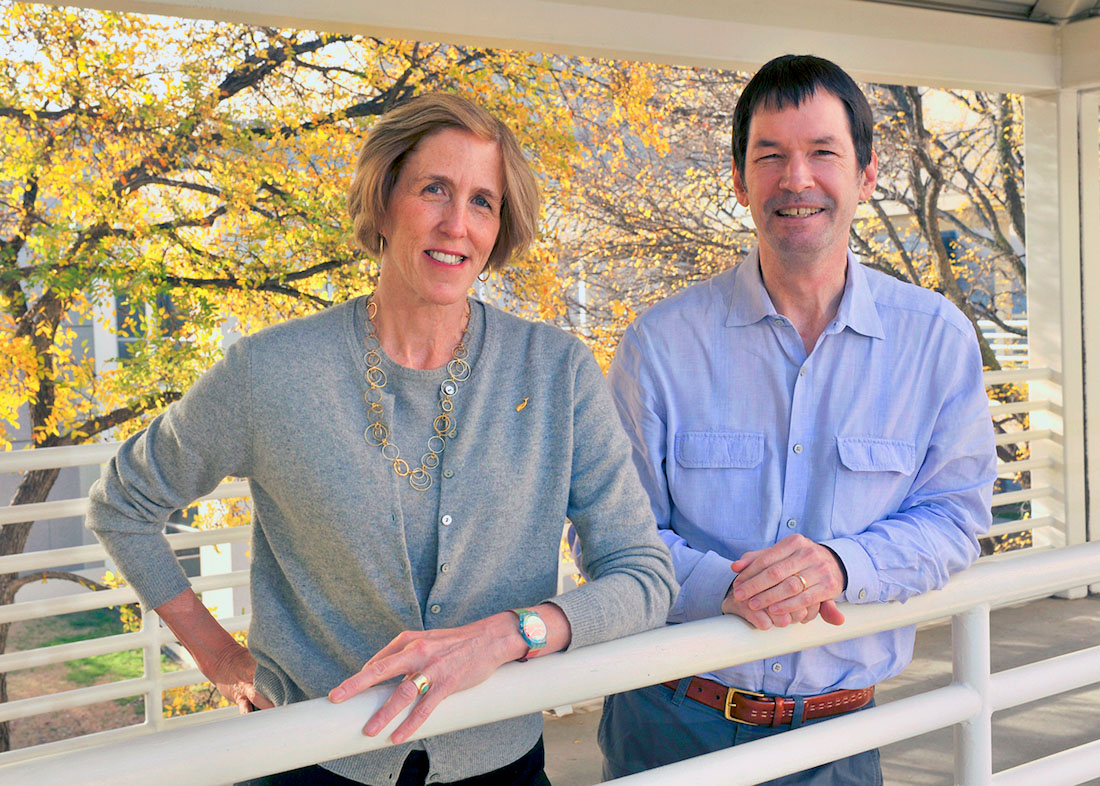 This news release was written by the Feinstein Institutes for Medical Research
DALLAS – May 08, 2023 – The Feinstein Institutes for Medical Research has selected two scientists from UT Southwestern Medical Center, Helen H. Hobbs, M.D., and Jonathan C. Cohen, Ph.D., to receive the 10th annual Ross Prize in Molecular Medicine for groundbreaking research in dyslipidemias and metabolic liver disease. The duo was the first to discover the genetic cause of fatty liver disease in humans, and their ongoing work has led to a new class of cholesterol-lowering drugs.
The prize will be presented on May 31 in conjunction with the New York Academy of Sciences (NYAS) at Cure, 345 Park Ave. S. in Manhattan, and will take place as part of a half-day research symposium.
Register (in person or virtual)
The Ross Prize is made possible by the generosity of Feinstein Institutes board vice chairman Jack Ross and his wife, Robin, senior principal gifts officer at the Northwell Health Foundation. Established in 2013, the Ross Prize is awarded annually through the Feinstein Institutes' peer-reviewed, open-access journal Molecular Medicine. The prize includes a $50,000 award for each recipient and is given to investigators whose research shows high potential for transforming how we treat and cure disease.
"Drs. Hobbs and Cohen identified genetic mutations that form the basis of important new therapies to reduce cholesterol levels and prevent cardiovascular disease," said Kevin J. Tracey, M.D., President and CEO of the Feinstein Institutes, the Karches Family Distinguished Chair in Medical Research and editor emeritus of Molecular Medicine. "This year's Ross Prize recipients are pioneering scientists who persisted until their discovery was translated into clinical use."
Drs. Hobbs and Cohen, both members of the National Academy of Sciences, discovered that mutations in a gene called PCSK9 were associated with reduced plasma levels of low-density lipoprotein (LDL) cholesterol and decreased risk of heart disease in a large prospective study. The Hobbs-Cohen laboratory continues to use human genetics to identify new therapeutic targets for treating cardiovascular and metabolic disorders and define key pathways in lipid metabolism.
"Gene identification is the starting point for any basic research and future therapy development," said Dr. Hobbs, Howard Hughes Medical Institute Investigator, Director of the Eugene McDermott Center for Human Growth and Development, and Professor of Internal Medicine and Molecular Genetics, who holds the 1995 Dallas Heart Ball Chair in Cardiology Research, Philip O'Bryan Montgomery Jr., M.D., Distinguished Chair in Developmental Biology and Eugene McDermott Distinguished Chair for the Study of Human Growth and Development. "With the support of our colleagues and the Ross Prize, we can continue our work to create even more effective translational treatments."
In the United States, at least 30% of Americans today have nonalcoholic fatty liver disease. And there may be as many as 4.5 million Americans with advanced-stage fatty liver disease – many of them undiagnosed. Beyond lifestyle changes, there is a need for more effective treatments to get people the help they need and back to health.
"Over the past two decades, Dr. Hobbs and I have worked together to understand the molecular basis and genetic variations that cause disease, particularly in the liver and lipid metabolism," said Dr. Cohen, Professor of Internal Medicine in the Center for Human Nutrition and the Eugene McDermott Center for Human Growth and Development, who holds the C. Vincent Prothro Distinguished Chair in Human Nutrition Research. "We are honored to receive the Ross Prize and look forward to a day of scientific discussion and thoughtful collaboration during the symposium."
During the event, after a brief award presentation, Drs. Hobbs and Cohen will each deliver a keynote address discussing their research. Throughout the day, renowned scientists who will share their research include Dr. Tracey, along with:
Aravinda Chakravarti, Ph.D., NYU Langone Health
Betty Diamond, M.D., The Feinstein Institutes for Medical Research
Rick Lifton, M.D., Ph.D., The Rockefeller University
Melanie Brickman Borchard, Ph.D., M.Sc., The New York Academy of Sciences
"Robin and I established the Ross Prize with the vision of pushing research forward into life-changing medical treatments," said Jack Ross. "We are honored to support the incredible scientific talent the prize has recognized over the past ten years."
Past recipients of the Ross Prize are: Katalin Karikó, Ph.D., University of Pennsylvania Perelman School of Medicine adjunct professor and senior vice president at BioNTech; Drew Weissman, M.D., Ph.D., University of Pennsylvania Perelman School of Medicine Roberts Family Professor of Vaccine Research; Adrian R. Krainer, Ph.D., Cold Spring Harbor Laboratory professor; Daniel Kastner, M.D., Ph.D., the National Institutes of Health's National Human Genome Research Institute scientific director; Huda Y. Zoghbi, M.D., professor, Departments of Pediatrics, Molecular and Human Genetics, Neurology and Neuroscience at Baylor College of Medicine; Jeffrey V. Ravetch, M.D., Ph.D., the Theresa and Eugene M. Lang Professor and head of the Leonard Wagner Laboratory of Molecular Genetics and Immunology at The Rockefeller University; Charles N. Serhan, Ph.D., D.Sc., Director of the Center for Experimental Therapeutics and Reperfusion Injury at Brigham and Women's Hospital, the Simon Gelman Professor of Anaesthesia at Harvard Medical School and professor at Harvard School of Dental Medicine; Lewis C. Cantley, Ph.D., the Meyer Director of the Sandra and Edward Meyer Cancer Center at Weill Cornell Medical College and New York-Presbyterian Hospital; John J. O'Shea, M.D., scientific director at the National Institute of Arthritis and Musculoskeletal and Skin Diseases; and Dan R. Littman, M.D., Ph.D., the Helen L. and Martin S. Kimmel Professor of Molecular Immunology in the Skirball Institute of Biomolecular Medicine at New York University School of Medicine.
To learn more about the Ross Prize celebration and symposium, please visit: Northwell.edu/RossPrize. If you would like to nominate a candidate for the 2024 Ross Prize, please make a submission here.
About the Feinstein Institutes
The Feinstein Institutes for Medical Research is the home of the research institutes of Northwell Health, the largest health care provider and private employer in New York State. Encompassing 50 research labs, 3,000 clinical research studies and 5,000 researchers and staff, the Feinstein Institutes raises the standard of medical innovation through its five institutes of behavioral science, bioelectronic medicine, cancer, health system science, and molecular medicine. We make breakthroughs in genetics, oncology, brain research, mental health, autoimmunity, and are the global scientific leader in bioelectronic medicine – a new field of science that has the potential to revolutionize medicine. For more information about how we produce knowledge to cure disease, visit http://feinstein.northwell.edu and follow us on LinkedIn.
About Molecular Medicine
Molecular Medicine sits at the forefront of its field, rapidly disseminating discovery in the genetic, molecular, and cellular basis of physiology and disease across a broad range of specialties. With over two decades of experience publishing to a multidisciplinary audience, and continually celebrating innovation through the 'Ross Prize in Molecular Medicine' and 'Anthony Cerami Award in Translational Medicine,' the journal strives towards the design of better molecular tools for disease diagnosis, treatment, and prevention. Molecular Medicine is published by BMC, part of Springer/Nature, in partnership with The Feinstein Institutes for Medical Research.
About the New York Academy of Sciences
The New York Academy of Sciences is an independent, not-for-profit organization that since 1817 has been committed to advancing science for the benefit of society. With more than 20,000 Members in 100 countries, the Academy advances scientific and technical knowledge, addresses global challenges with science-based solutions, and sponsors a wide variety of educational initiatives at all levels for STEM and STEM related fields. The Academy hosts programs and publishes content in the life and physical sciences, the social sciences, nutrition, artificial intelligence, computer science, and sustainability. The Academy also provides professional and educational resources for researchers across all phases of their careers. Please visit us online at www.nyas.org