UT Southwestern biochemist, molecular biologist named Howard Hughes Medical Institute Investigators
UT Southwestern is home to 14 HHMI Investigators – the most of any Texas institution

DALLAS – Sept. 23, 2021 – Two UT Southwestern Medical Center researchers – a biochemist and a molecular biologist – are among 33 distinguished scientists nationwide named Howard Hughes Medical Institute (HHMI) Investigators.
Vincent Tagliabracci, Ph.D., Associate Professor of Molecular Biology, and Benjamin Tu, Ph.D., Professor of Biochemistry, both members of UT Southwestern's Harold C. Simmons Comprehensive Cancer Center, were the only Texas scientists named this year and bring to 14 the number of HHMI Investigators at UT Southwestern. UT Southwestern has the most HHMI Investigators in Texas – home to more than three-quarters of Texas' 18 HHMI Investigators.
"We are delighted that Drs. Tagliabracci and Tu have been selected for this high honor on the basis of both their past work and especially their promise for important discoveries in the future," said Daniel K. Podolsky, M.D., President of UT Southwestern.
"Dr. Tagliabracci has uncovered an unexpected and novel family of pseudokinases that alter protein form and function in a way that's categorically distinct from canonical kinases. His work shines a new light on a diverse array of physiological processes that rely on these enzymes," said Dr. Podolsky, who holds the Philip O'Bryan Montgomery, Jr., M.D. Distinguished Presidential Chair in Academic Administration and the Doris and Bryan Wildenthal Distinguished Chair in Medical Science. "Dr. Tu's work linking cellular metabolism to critical cell functions is leading to a better understanding of a variety of diseases, including cancer."
Each investigator will receive roughly $9 million over a seven-year term, which is renewable pending a scientific review by HHMI, a philanthropic organization created to advance basic biomedical research and science education for the benefit of humanity.
Dr. Benjamin Tu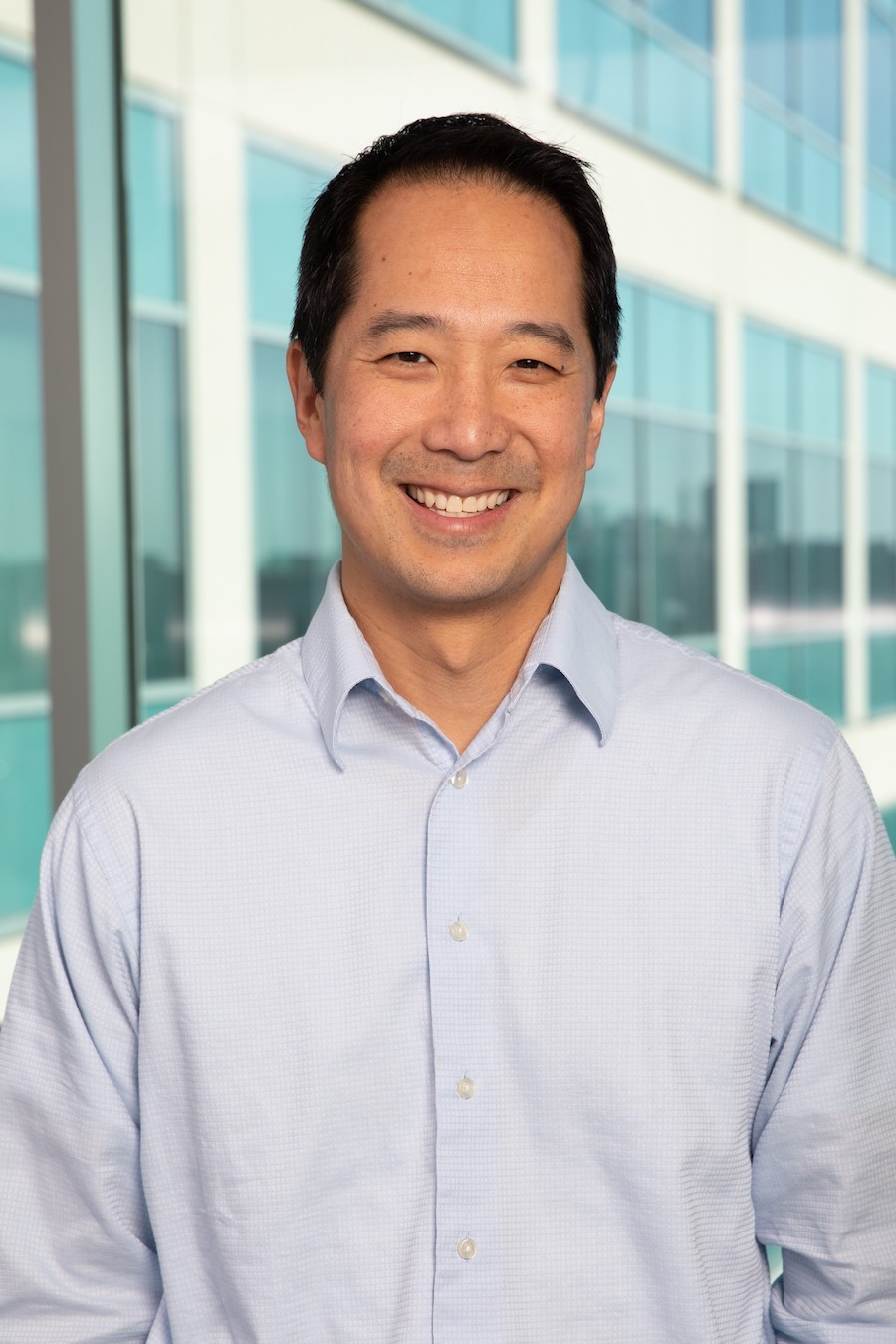 Dr. Tu's lab studies how fundamental cellular processes such as cell growth and division, transcription, translation, mitochondrial homeostasis, and autophagy are coordinated with the metabolic state of the cell. For many of their studies, Dr. Tu and his colleagues use the budding yeast Saccharomyces cerevisiae as a model organism to discover fundamental regulatory principles; they have also expanded some of their findings to mammalian systems.
"I am grateful to my past and present trainees for their dedication and perseverance in the process of scientific discovery. Seeing their excitement when the HHMI announcement came out was one of the nicest feelings," said Dr. Tu. "I would also like to thank my mentors – Steve McKnight, Jonathan Weissman, and Jim Wang – as well as my colleagues in the Department of Biochemistry and across UTSW for their support and company over the years. We've tended to do science a certain way. For our approach and work to be recognized by the HHMI is reassuring and truly an honor. And now, to have the freedom and resources to venture in new research directions, it's exhilarating to think of the possibilities."
Dr. Tu's research has shown that metabolites play underappreciated roles in the regulation of cell growth and homeostasis. For example, in a 2011 study published in Molecular Cell, Dr. Tu and his colleagues defined a key role for the metabolite acetyl-CoA in turning on the genes necessary for cell growth. This new understanding of the importance of acetyl-CoA led to a 2014 Cell paper, in which the team reported how the metabolite might also be important for the survival and growth of liver cancer cells. Dr. Tu's current research in mice is investigating if chemicals that inhibit acetyl-CoA synthesis may slow the growth of pancreatic cancer.
Dr. Tu came to UT Southwestern in 2004 after receiving master's and bachelor's degrees in chemistry from Harvard University, and a Ph.D. in biochemistry and biophysics from the University of California, San Francisco. He worked as a postdoctoral fellow with Steven McKnight, Ph.D., Professor and former Chair of Biochemistry, before joining the UTSW faculty in 2007. His previous honors include selection as a finalist for the Blavatnik National Award for Young Scientists. A UT Southwestern Presidential Scholar, Dr. Tu holds the Martha Steiner Professorship in Medical Research, and is a W.W. Caruth, Jr. Scholar in Biomedical Research.
Dr. Vincent Tagliabracci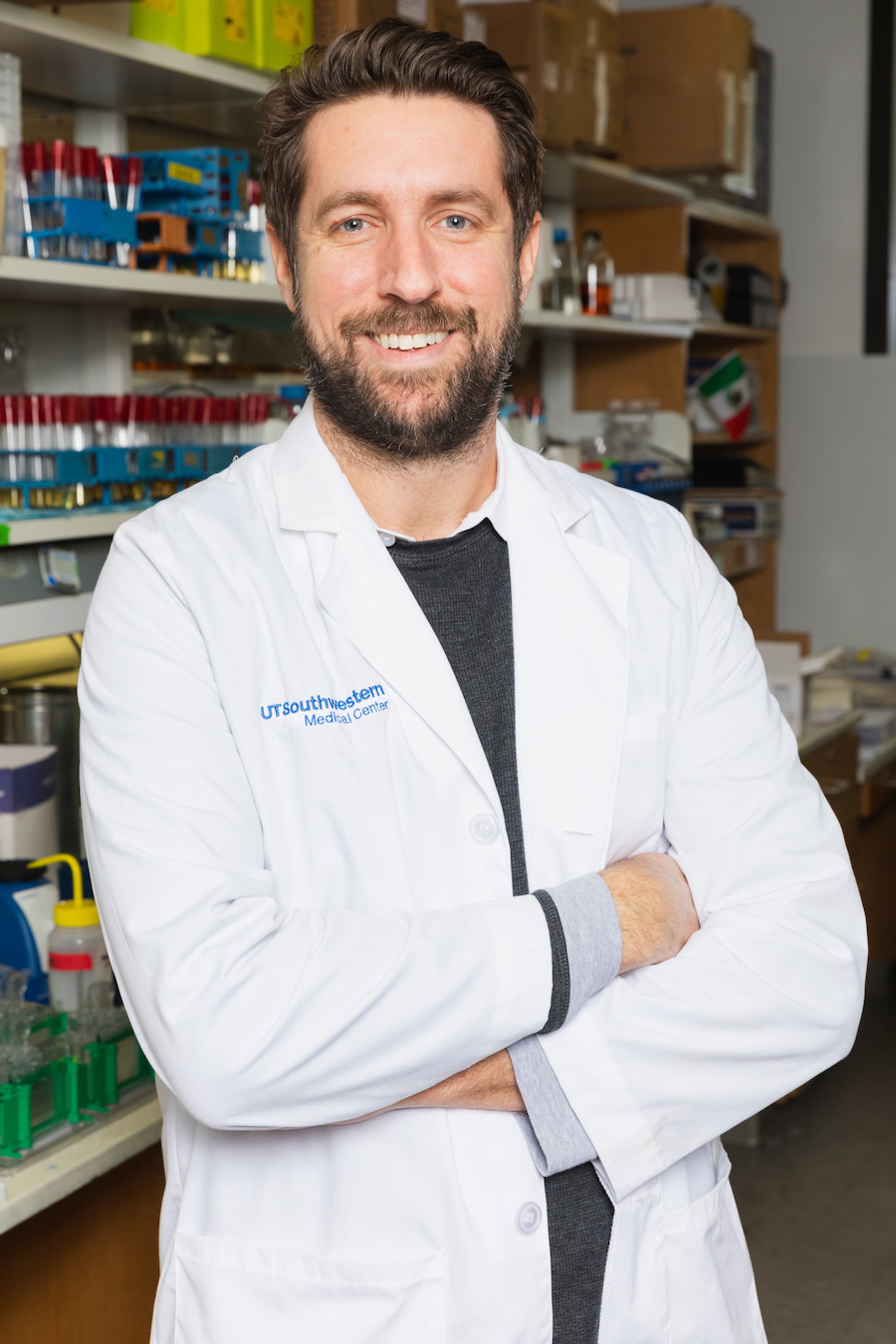 Dr. Tagliabracci's lab studies how extracellular proteins are modified by phosphorylation – the addition of a phosphate group that can change the proteins' activity – by a novel family of enzymes called pseudokinases that are secreted from cells. This branch of the kinase family is so different from canonical kinases that it was originally not included on the human kinome tree.
The pseudokinases were long considered to be nonfunctional; however, Dr. Tagliabracci's work has shown that these enzymes perform completely different kinds of chemical reactions than classical kinases. These reactions include a process called AMPylation, in which some pseudokinases transfer adenosine monophosphate, one of the nucleotides that makes up DNA, to proteins; and glutamylation, in which pseudokinases transfer the amino acid glutamate to proteins.
"I am honored to join the ranks of HHMI Investigators and thankful for my lab members, collaborators, departmental colleagues and Chair, Eric Olson, for helping to push this research in new directions," said Dr. Tagliabracci, who is a Michael L. Rosenberg Scholar in Medical Research. "This support will allow us to continue to unravel the mysteries of pseudokinases and their relevance to human health."
Pseudokinases appear to play key roles in a broad array of physiological processes important to human health, including lipid metabolism, wound healing, cell migration, biomineralization, inflammation, and nervous system development, Dr. Tagliabracci said.
He received his B.S. in Chemistry and Biology from the University of Indianapolis, and his Ph.D. in Biochemistry and Molecular Biology from Indiana University. In 2010, he joined the laboratory of Dr. Jack Dixon as a postdoctoral fellow at the University of California, San Diego, where he identified the pseudokinase Fam20C as the long-sought kinase that phosphorylates a milk protein. In 2015, he joined the faculty at UT Southwestern as an Assistant Professor in the Department of Molecular Biology.
Dr. Tagliabracci is the recipient of the Pathway to Independence Award from the National Institutes of Health, the Norman Hackerman Award in Chemical Research from The Welch Foundation (2020), an NIH Director's New Innovator Award (2019-2024), and a Cancer Prevention and Research Institute of Texas (CPRIT) recruitment of first-time, tenure-track faculty member award.
Other Howard Hughes Medical Institute Investigators at UT Southwestern are:

Dr. McKnight holds the Distinguished Chair in Basic Biomedical Research.
About UT Southwestern Medical Center
UT Southwestern, one of the nation's premier academic medical centers, integrates pioneering biomedical research with exceptional clinical care and education. The institution's faculty has received six Nobel Prizes, and includes 25 members of the National Academy of Sciences, 16 members of the National Academy of Medicine, and 14 Howard Hughes Medical Institute Investigators. The full-time faculty of more than 2,800 is responsible for groundbreaking medical advances and is committed to translating science-driven research quickly to new clinical treatments. UT Southwestern physicians provide care in about 80 specialties to more than 117,000 hospitalized patients, more than 360,000 emergency room cases, and oversee nearly 3 million outpatient visits a year.