Alto, Tu selected as inaugural Presidential Scholars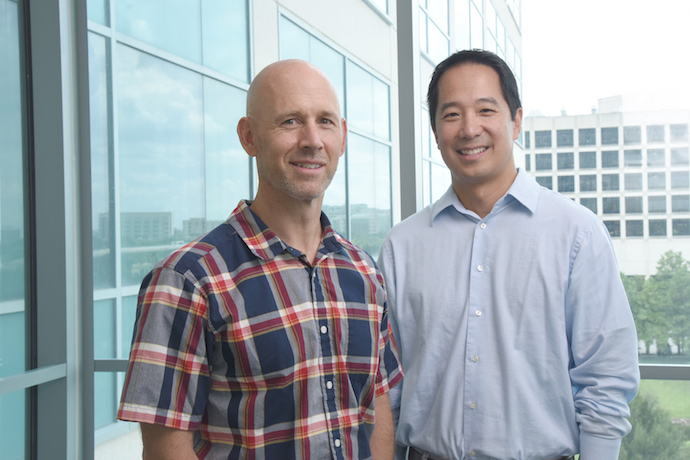 Two UT Southwestern scientists – one investigating the mechanisms that cause infectious diseases and the other seeking to identify metabolism traits that affect cellular growth and survival – have been named the first UT Southwestern Presidential Scholars in recognition of their outstanding research.
The new program recognizes exceptional faculty members who have been selected by external reviewers as finalists in the Howard Hughes Medical Institute (HHMI) biomedical research competition and whose scientific achievements offer promising potential for continued success. The highly competitive and nationally prestigious HHMI competition is open to basic researchers and physician scientists at more than 200 eligible institutions who bring innovative approaches to the study of biological problems.
UT Southwestern's inaugural Presidential Scholars are Dr. Neal Alto, Associate Professor of Microbiology, and Dr. Benjamin Tu, Associate Professor of Biochemistry.
Dr. Daniel K. Podolsky, President of UT Southwestern, said he is very pleased that UT Southwestern is able to further the potentially breakthrough work of these outstanding scientists.
"The work of these innovative researchers reflects the potential to harness important discoveries that bridge the gap between laboratory investigation and clinical advancement," Dr. Podolsky said. "Dr. Alto has adapted techniques in molecular biology, microscopy, systems biology, high-throughput screening, and biophysics to explore new scientific frontiers in antibiotic resistance while Dr. Tu is investigating how diverse biological processes from autophagy to mitochondrial homeostasis are coupled to metabolism and the metabolic state of a cell."
The Alto lab is primarily interested in the mechanisms by which microbial pathogens cause human infectious diseases.
"Our goal is to identify and characterize bacterial toxins that suppress the human immune system using a combination of structural biology, state-of-the-art genomics, and live cell imaging techniques," Dr. Alto said.
His research has implications for new leads into drug development and future treatments for emerging antibiotic-resistant microbes.
The Tu lab is investigating how fundamental cellular processes coordinate with metabolism and the metabolic state of the cell, revealing how small molecule metabolites play underappreciated roles in the regulation of cell growth and homeostasis.
"We use both yeast and mammalian systems to discover fundamental regulatory principles linked to metabolism. Our goal is to utilize knowledge of these mechanisms for improving treatments for cancer and neurodegenerative conditions," said Dr. Tu, who completed postdoctoral training at UTSW in 2006 and joined the faculty the following year as an Endowed Scholar.
The Presidential Scholars receive $300,000 apiece annually for five years in support of their research, which represents a significant institutional commitment to the quality and promise of their work.