Master of Science in Genetic Counseling
What Is Genetic Counseling?
Genetic counseling provides patients with information about how genetic conditions might affect them or their family. The information can be used to determine how likely it is that the patient or a family member has a genetic condition. Based on this information, the genetic counselor helps patients decide whether a genetic test might be appropriate for them or a family member.
About the Program
The full-time, post-baccalaureate, 21-month, UT Southwestern Master of Science in Genetic Counseling program enables successful students to earn a Master of Science in Genetic Counseling degree, complete the American Board of Genetic Counseling (ABGC) examination, and enter the genetic counseling profession.
The UT Southwestern Medical Center Genetic Counseling Program (UTSWGCP) has Accredited New Program status from the Accreditation Council for Genetic Counseling.
Vision
Prepare forward-thinking genetic counselors to benefit their communities and bring change to advance the genetic counseling profession
Mission and Objective
The UT Southwestern Genetic Counseling program is committed to developing students for a career that understands, communicates, and advances the constantly changing genomic/genetic landscape. Learners will have the foundational background and skills to inquisitively approach genetic counseling and have a purposeful impact on patients, caregivers, providers, their communities, and the profession.
To academically develop and prepare genetic counselors, our program:
Delivers rigorous and innovative educational experiences in and out of the classroom that mirror the continuous growth, knowledge, and development of the genetic counseling professional experience;
Integrates fieldwork rotations that reflect the constantly changing landscape of genetic/genomic medicine, spanning clinical, industry, and research settings;
Develops research skills that leverage student interests and strengths, generating impactful knowledge to serve patients, families, and the profession.
Inclusive Environment
The Genetic Counseling Program at UT Southwestern is committed to creating an inclusive environment for learners and contributing to the diversification of the genetic counseling workforce. Read more about our collective initiatives on the School of Health Professions Student Affairs and Engagement page.
The UT Southwestern Advantage
UT Southwestern Medical Center has unique fieldwork, curriculum, and geography that allow for comprehensive, high-quality training.
Affiliations
Location

Situated in Dallas' Southwestern Medical District, UT Southwestern is a large medical center campus that offers outstanding opportunities in our hospitals, clinics, and academic community. As a major medical hub, Dallas boasts numerous genetic counselors who see patients across all specialties and indications, operating in academic, community, research, and laboratory settings, providing students the opportunity for diverse fieldwork experience. Rotations outside the area are also available in the summer.

Broad Education

Our program blends academic, clinical, and research experiences for a comprehensive, well-rounded education. Our faculty members encourage collaboration and continuous growth as students explore and develop their genetic counseling skills and style. Students will complete learner-driven research theses that make an impact on patients, their communities, and the greater profession. These experiences translate into the most up-to-date clinical education available.
Curriculum
Our curriculum focuses on producing excellent genetic counselors with an appreciation for research and a background of diverse fieldwork. Our learners engage in:
Research projects
Clinical experiences on campus and in local clinics
Experiences with patients and communities outside of the clinic setting
Active learning and team-based approaches to education
Graduates will be prepared to function as active members of a health care team, collaborating with other health care professionals to improve the lives of people with known or suspected genetic conditions. They will also be prepared to enter broad career opportunities, including laboratory, industry, and research settings.
Successful graduates will have the necessary skills to pursue research and development in the field and disseminate that research at professional meetings and in multidisciplinary settings.
Key Research Centers
UT Southwestern Medical Center has been recognized as a von Hippel-Lindau (VHL) Clinical Care Center by the VHL Alliance, and is the only medical center in North Texas with this distinction. VHL is a genetic disease caused by an error in a gene that plays a key role in blood vessel development. Patients with VHL have a significant risk of developing kidney cancer as well as tumors of the adrenal gland and pancreas.

UT Southwestern has one of the fastest-growing cancer clinical genetics programs in the country, with expertise in identifying mutations and counseling patients with inherited disease. UTSW also has physicians with significant experience in each of the specialty areas required for the treatment of VHL.

UT Southwestern Medical Center is a designated Rare Disease Center of Excellence and the only center in North Texas. As one of 31 centers in the nation, UT Southwestern contributes to national collaborations generating shared knowledge and innovative approaches to clinical care, treatments, and research. Centers of Excellence provide a lifelong resource for patients to receive clinical care from birth through old age and provide opportunities for trainees to learn from experts who care for patients with rare conditions.

The core research focus of the Gray Lab is to develop adeno-associated virus (AAV) gene transfer vector systems for clinically relevant global gene transfer to the central and peripheral nervous system. This research focus has also included preclinical studies to apply these engineered AAV systems toward treatments for neurological diseases in animal models.
Meet the Program Director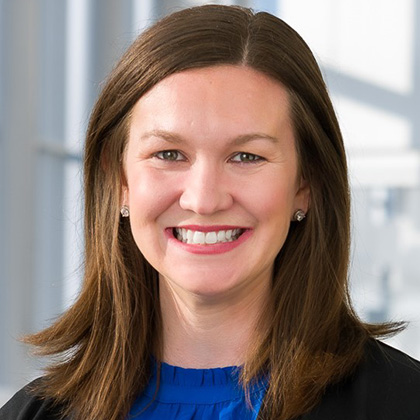 Samantha Greenberg, M.S., M.P.H., CGC
Director, Genetic Counseling Program
Assistant Professor
School of Health Professions
Samantha Greenberg, M.S., M.P.H., CGC, is a certified genetic counselor with a Master of Science degree in genetic counseling and public health from the University of Michigan. She previously served on the faculty at the University of Utah Graduate Program in Genetic Counseling, where she taught cancer genetics courses, directed clinical fieldwork rotations, and chaired research for genetic counseling graduate students.
As a cancer genetic counselor, Greenberg has provided clinical care across a variety of indications and facilitated the development of multidisciplinary teams and genetics clinics for patients with prostate cancer, von Hippel-Lindau syndrome, and paraganglioma/pheochromocytoma.
Her research focuses on access to genetic testing and outcomes, including prostate cancer and paraganglioma/pheochromocytoma. Greenberg is pursuing a Ph.D. at the University of Utah College of Nursing.