Researchers receive grants totaling more than $2.3 million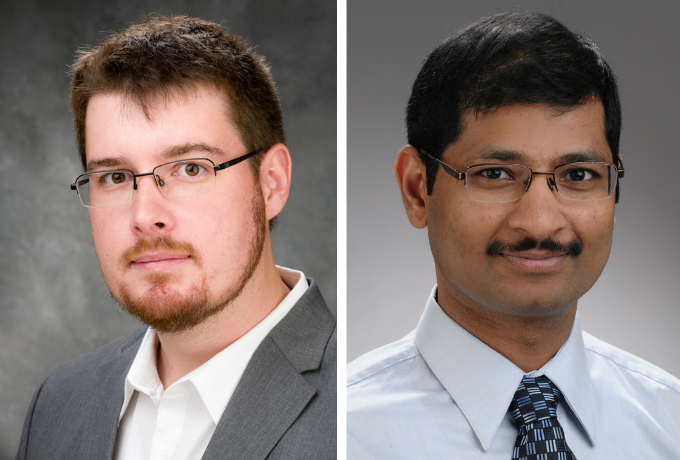 Dr. Jacques Lux and Dr. Ananth Madhuranthakam have been awarded grants from the Cancer Prevention and Research Institute of Texas totaling more than $2.3 million. Dr. Lux will receive $1.2 million over four years to investigate "Improving Safety and Efficacy of Amino Acid Depletion Therapy for Acute Lymphoblastic Leukemia Using Translatable Nanotechnology," and Dr. Madhuranthakam will receive $1.1 million over the next three years to investigate "Noninvasive Detection and Assessment of Therapy Response in Multiple Myeloma Using Whole-Body MRI."
Dr. Lux received his doctorate in chemistry from the University of Strasbourg, and completed postdoctoral training at the faculty of pharmacy in Strasbourg, where he developed activatable optical probes for the detection of viral RNA. He then received training in supramolecular chemistry at the Scripps Research Institute in La Jolla, California, and additional postdoctoral research at the University of California - San Diego. He joined the Radiology Research faculty as an Assistant Professor in 2015.
At UT Southwestern, he develops novel nanomedicine platforms to diagnose and treat disease in vivo noninvasively with the long-term objective of developing theranostic agents that can be used in the clinical setting. He serves as the assistant director of the Translational Research in Ultrasound Theranostics (TRUST) lab, under the direction of Dr. Robert Mattrey.
Dr. Madhuranthakam received his doctorate in bioengineering from Mayo Graduate School in Rochester, Minnesota, and then joined the MR research and Development division of GE Healthcare to develop novel imaging techniques to improve the clinical utility of MRI. He joined the Radiology Research faculty as an Assistant Professor in 2011.
At UT Southwester, Dr. Madhuranthakam serves as the MR Research Director, with additional academic appointments in the Advanced Imaging Research Center and the Department of Biomedical Engineering. He also serves as an adjunct faculty member in the Department of Bioengineering at the University of Texas at Dallas.
He holds nine patents (six issued and three filed).
Dr. Madhuranthakam is also conducting a National Institutes of Health/National Cancer Institute-funded study evaluating arterial spin labeling as a quantitative non-contrast perfusion imaging technique for the assessment of cancer therapy response in patients with advanced brain tumors (glioblastoma) or advanced kidney cancer (metastatic renal cell carcinoma). He is investigating this technique as part of the NCI's Quantitative Imaging Network.