Interventional Radiology Residency program focuses on teamwork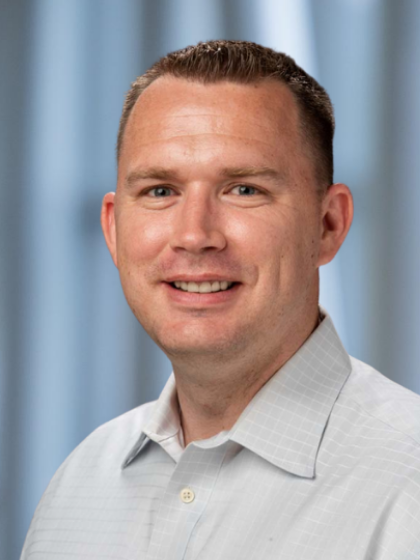 As he continues training in interventional radiology, Shaun Nordeck, M.D., knows that he needs to work effectively as both an independent contributor and team player. That's why he chose UT Southwestern.
"The best thing about training at UT Southwestern is that we are able to take independent call," Dr. Nordeck says. "It's busy and challenging, but simultaneously rewarding to make decisions and to diagnose independently. It's great preparation for the day when my reports won't have an over-read the next morning."
Dr. Nordeck is among the first trainees to participate in the Interventional Radiology – Integrated Residency program. Accredited by the Accreditation Council for Graduate Medical Education, the five-year program provides a well-rounded educational experience with extensive training in the interpretation of diagnostic imaging and the clinical management of patients treated by interventional radiologists.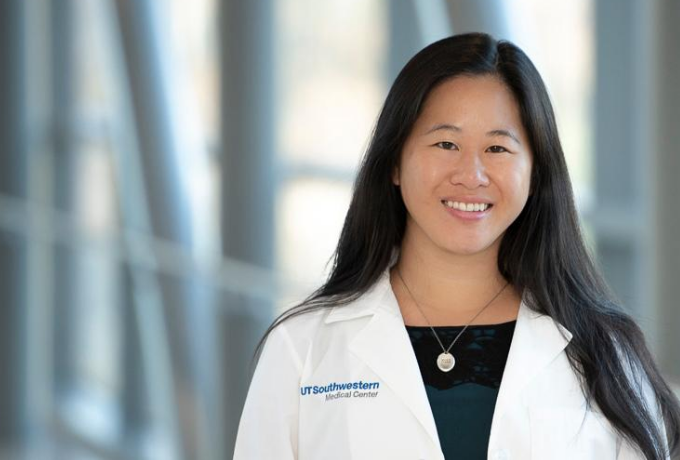 "There are two important components to consider when looking at these types of programs," says Christine Chen, M.D., the program's director. "You have the technical aspect where you want to be somewhere that has a good variety of patients, case volumes, and teachers. The other half is—because you spend a lot of time in the hospital—that you want to have camaraderie with the people around you…almost a sense of family. At UT Southwestern we're really focusing on making sure our trainees feel supported during their residency and that they can count on faculty and staff."
At UT Southwestern we're really focusing on making sure our trainees feel supported during their residency and that they can count on faculty and staff.
Throughout the program, residents develop foundational skills while also receiving individualized mentoring by faculty members who perform more than 10,000 procedures annually at the university's hospitals and clinics, as well as at Parkland Memorial Hospital, Dallas County's "safety net" hospital. The ideals of empathy, compassion, communication, and commitment to patients are consistently emphasized. Moreover, because faculty members are involved in an array of multidisciplinary care teams, trainees have the opportunity to learn oncologic interventions at the Simmons Comprehensive Cancer Center, pulmonary arteriovenous malformation treatments at the Hereditary Hemorrhagic Telangiectasia Center, and advanced endovascular therapies at the Pulmonary Hypertension Clinic.
Residents are required to engage in scholarly activities as part of their training, so the Radiology department provides extensive opportunities to develop academic and research interests in collaboration with clinical and research faculty. Trainees can focus on laboratory or translational research, ongoing clinical trials, analysis of disease processes and imaging techniques, or practice management.
Those who successfully complete the program are eligible for the IR/DR dual certification, positioning them to excel in academic or private practice careers.
"UT Southwestern has an established record of fully preparing trainees to enter practice and thrive," Dr. Nordeck says. "My training is still ongoing, but thus far, it has helped me to be successful on call."
About UT Southwestern Medical Center
UT Southwestern, one of the premier academic medical centers in the nation, integrates pioneering biomedical research with exceptional clinical care and education. The institution's faculty has received six Nobel Prizes, and includes 24 members of the National Academy of Sciences, 16 members of the National Academy of Medicine, and 13 Howard Hughes Medical Institute Investigators. The full-time faculty of more than 2,500 is responsible for groundbreaking medical advances and is committed to translating science-driven research quickly to new clinical treatments. UT Southwestern physicians provide care in about 80 specialties to more than 105,000 hospitalized patients, nearly 370,000 emergency room cases, and oversee approximately 3 million outpatient visits a year.
About the Department of Radiology
As a leading academic radiology department, UT Southwestern Radiology integrates pioneering research with exceptional clinical care and education. The department has more than 135 board-certified, clinical imaging generalists and specialists who are known for their expertise, providing more than 1.1 million reports annually. The department's 30-plus research faculty work in collaboration with clinical and basic science departments throughout the campus. Every year, 14 fellowship programs and four residency programs specific to the department provide training opportunities for up to 111 physicians and researchers to collaborate and further understand imaging sciences. Moreover, 260 students take elective Radiolog​y courses in partnership with the medical school.