Clinician-scientist residency program earns NIH-sponsored training grant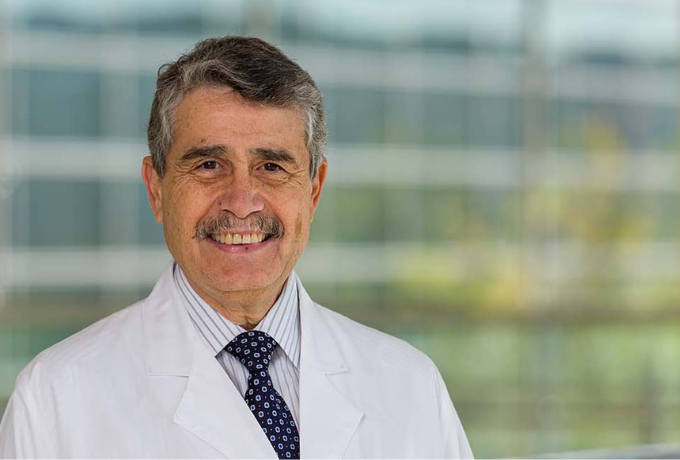 UT Southwestern's Diagnostic Radiology Clinician-Scientist Residency Program is one of only six residency programs in the nation to receive a Ruth L. Kirschstein National Research Service Award Institutional Training Grant (T32) for training clinician-scientists in radiology or biomedical imaging.
Radiology residents trained under this grant will be supported during their research year by the National Institute of Biomedical Imaging and Bioengineering, part of the National Institutes of Health, which conducts biomedical research and supports innovative technologies that address a range of medical needs.
"In earning this NIH-sponsored training grant, our department is now joining the upper echelon of the very few academic radiology departments with T32 awards," said Dr. Neil M. Rofsky, Professor and Chair of Radiology. "This secures our role in training clinician-scientists to lead tomorrow's innovations in imaging sciences."
The grant provides more than $1 million over five years to the program director for recruiting trainees and developing a five-year training program of study and research experiences necessary for radiologists to become successful and potentially fundable imaging scientists in this rapidly evolving field. Other institutions receiving grants for similar training programs include Johns Hopkins University in Baltimore, the University of Pennsylvania in Philadelphia, University of California – San Diego, University of California – San Francisco, and Washington University in St. Louis.
"With this grant, a new generation of radiologists will be trained to translate the latest scientific discoveries to patients' bedsides and back again to the laboratory," said Dr. Robert Mattrey, Professor of Radiology and the clinician-scientist program director. "By bringing together an accomplished team of educators and mentors, we can successfully address an unmet need in the preparation of radiologists for a career in research that will ultimately lead to better care and improved outcomes for all patients."
In the Clinician-Scientist Residency Program, residents train with a group of carefully matched research and career faculty mentors who design individually tailored programs that encompass a base curriculum and specialized training. This approach enable trainees to develop into independent investigators who can be clinically productive while also making contributions to the science of biomedical imaging.
The grant is named in honor of Ruth L. Kirschstein, a pioneering researcher who led the development of improved, safer polio vaccines. In 1974, she became the first woman to direct an NIH institute when she was appointed Director of the National Institute of General Medical Sciences. She went on to serve as Acting Director of the NIH in 1993 and again from 2000 to 2002.
Neil M. Rofsky, M.D., M.H.A., FACR, FSCBTMR, FISMRM, holds the Effie and Wofford Cain Distinguished Chair in Diagnostic Imaging and serves as Co-Director of Translational Research for the Advanced Imaging Research Center.
Robert Mattrey, M.D., FAIUM, FSAR, is a member of the Body Imaging Division and is Director of the Translational Research in UltraSound Theranostics (TRUST) Program.