Vice chair Brewington advocates for CT colonoscopy at Capitol Hill briefing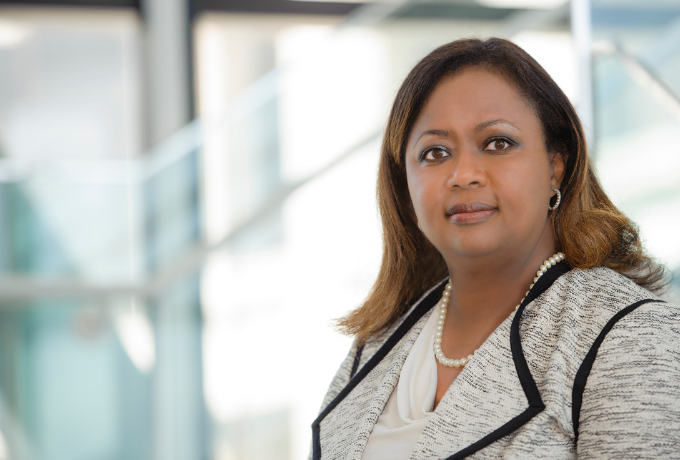 Dr. Cecelia Brewington joined members of the American College of Radiology's Colon Cancer Committee and the Colorectal Cancer Alliance to help members of congress better understand the need for Medicare coverage of CT Colonography (CTC) -- also called virtual colonoscopy -- at a Capitol Hill briefing on September 12. The event was also intended to gather support for the Colonography Screening for Colorectal Cancer Act of 2017, which was introduced by Reps. Brad Wenstrup (R-Ohio) and Danny Davis (D-Illinois) in 2017. The legislation, which would mandate Medicare coverage of CTC colon cancer screenings, currently has 86 cosponsors.
"You never have to get colon cancer if you screen," Dr. Brewington told staff members representing about 30 senators and congressional representatives. "But only 60 percent of those who should be screened are getting screened. It's time to mandate Medicare coverage of virtual colonoscopy, a life-saving, preventive exam."
Dr. Brewington, Professor of Radiology and Vice Chair of Community and Clinical Outreach, spoke about the exam's unique ability to overcome the resistance that certain populations have against colon cancer screening because of social customs and socioeconomic status.
"Give people screening options that fit their lifestyle," she said. "Medicare coverage of virtual colonoscopy could lead to far higher compliance with screening recommendations in these populations."
At the briefing, Dr. Brewington was accompanied by Dr. Judy Yee, chair of the Colon Cancer Committee, Dr. David Bruining, a gastroenterologist at the Mayo Clinic, and two patient advocates.
Dr. Yee, Professor and Chair of Radiology at Albert Einstein College of Medicine in New York, explained the procedure itself and emphasized that private insurers are legally obligated to cover screening colonoscopy because of the procedure's top recommendation from the U.S. Preventive Services Task Force.
Dr. Bruining noted the staffing-related challenges he and his colleagues will face from increased demand for screening colonoscopy, particularly as younger people are examined. CTC is sometimes a better alternative for younger patients because it is noninvasive and doesn't require anesthesia.
In addition to serving on the ACR's Colon Cancer Committee, Dr. Brewington serves as Co-Medical Director of UT Southwestern's CT Lung Cancer Screening Program and Community Radiology Division Chief.