Medical Student Education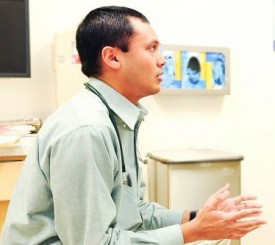 The education of UT Southwestern medical students remains one of the core missions of the Department of Pediatrics. A solid foundation in childhood health and illness has long been recognized as one of the central components of a well-rounded medical education, and we strive to offer students the opportunity to explore the full breadth of pediatric medical care through our many programs.
At the center of these offerings is the core clerkship in Pediatrics. This required element of the medical curriculum consists of six weeks of clinical experience through the many care units housed at Children's Health℠ Children's Medical Center Dallas, in addition to select locations at Parkland Health & Hospital System. Faculty from the Department of Pediatrics also regularly host students in their clinics during students' Ambulatory Care Clerkship.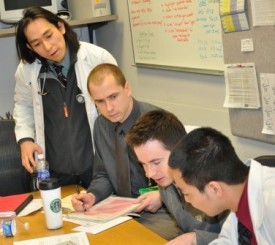 A full curriculum based on the core competencies as published by the Council on Medical Student Education in Pediatrics (COMSEP) is taught through bedside clinical supervision, daily rounds, in addition to various didactic sessions and team-based learning sessions facilitated by faculty in nearly all the divisions in the Department of Pediatrics. The entire curriculum is reviewed on an ongoing basis, based on feedback from medical school faculty, national regulatory agencies, and students themselves. Students rotating through the core clerkship continue to outpace national averages on standardized assessments. Exemplary of that, UT Southwestern students consistently score above the national average for comparable pediatric clerkships on the National Board of Medical Examiners subject exam in Pediatrics.
Along with their compulsory rotations during the Clerkship period, medical students have the opportunity for introductions to the many pediatric subspecialties through two to four week exploratory electives. From Cardiology, Genetics, and Infectious Diseases to our newest elective in Child Development and Autism, these electives can assist students with choosing their future discipline.
Post-Clerkship medical students at UT Southwestern have more flexibility to tailor their academic schedule to meet individual learning goals. Whether students want to gain a more in-depth exposure to pediatric subspecialties in preparation for an eventual career in pediatrics or just to strengthen their foundation in caring for children in advance of another career path, the department offers numerous opportunities to students through the facilities at Children's Health℠ and Parkland. Students can immerse themselves in acute/intensive care experiences via rotations in the Neonatal Intensive Care Unit, the Pediatric Intensive Care Unit, Cardiovascular Intensive Care Unit, and the Pediatric Emergency Department.
Extended experiences in any of the various subspecialty clinics, including Pediatric Hematology and Oncology, Nephrology, Gastroenterology, Endocrinology, and others are available for Post Clerkship students as well. The Department also offers, and continues to strive to increase the number of, international-health elective opportunities for students. Our faculty also mentor a number of students in individual scholarly investigative pursuits throughout their medical school years.
For students wishing to pursue a career in Pediatrics, the Preparation for Pediatric Internship course, or Boot Camp as it is commonly referred to, is designed to provide the essential knowledge and skills for entering pediatric residencies. The course emphasizes core pediatric knowledge and practical skills need for internship, including response to urgent patient care scenarios, daily intern tasks, effective communication, basic procedures, and use of evidence-based medicine.
Medical students rated their experience on their Pediatrics Clerkship as overwhelmingly positive in the past several years. Student feedback from course evaluations has remained consistently positive, specifically as it relates to autonomy, promotion of clinical skills, and preparation for internship. On the 2016 graduation questionnaire, 91.4 percent of UT Southwestern students rated their educational experience as "good" or "excellent."
Faculty from the Department of Pediatrics also participate, often in leadership roles, in the more didactic curricula of the first two years of medical school, including such key courses as genetics, biochemistry, endocrinology and medical ethics. Faculty members in the Department also served as mentors in the Colleges system at UT Southwestern since the system began in the 2007-2008 academic year. As a part of the new curriculum, each participating faculty member mentors a group of six pre-clerkship medical students and deliver curricula such as professionalism and ethics, communication skills, diagnostic and physical exam skills, and clinical reasoning and interpretation skills through weekly small group meetings. Colleges mentoring is continued monthly through the clerkship and post-clerkship periods.
The Department takes great pride in the quality of teaching provided by the entire faculty. At the 2016 Excellence in Education Annual Reception and Award ceremony, Dr. Angela Mihalic was presented with a pre-clerkship teaching award, and both she and Dr. Susan Hupp received Southwestern Academy of Teachers grants for their educational scholarship. Two of our faculty, including Dr. Mihalic and Dr. Dorothy Sendelbach, were inducted into the UT System Kenneth I. Shine, M.D., Academy of Health Science Education.
Perhaps most telling, every year about 30 students from the graduating medical school class choose to pursue careers in pediatrics or some combined program including pediatrics.