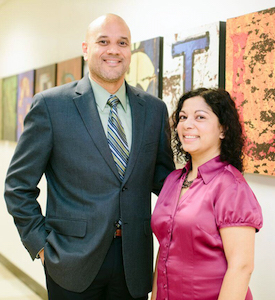 Ranked 6th in the nation by U.S. News & World Report for 2018-2019, the UT Southwestern Division of Pediatric Gastroenterology at Children's Health℠ provides integrated and comprehensive care to children with a range of gastrointestinal illnesses, from the common to the complex. Clinical care in our patient- and family-centered program is provided by attendings, fellows, and a multidisciplinary team of highly trained practitioners and support staff.
Welcome to the Pediatric Gastroenterology Fellowship Program at UT Southwestern Medical Center. Our mission is to provide an environment that encourages the development of the cognitive, clinical, procedural, and critical research skills that are essential in cultivating a successful and productive career as an academic pediatric gastroenterologist. Our training program is fully accredited by the Residency Review Committee of American College of Graduate Medical Education (ACGME).
The clinical services provided by the Division are not dependent upon fellows; rather, the fellowship program is structured primarily as a learning experience. It consists of three years of training: The first year focuses mainly on developing and mastering clinical skills, and the second and third years concentrate on the development of analytical research skills that will guide each fellow in the successful completion of a scholarly project.
Our program consists of 19 faculty members offering expertise in general gastroenterology as well as all subspecialty areas. Our faculty members are nationally recognized experts in the gastroenterology field and actively pursue research in many important areas of gastrointestinal and hepatic diseases. Ongoing research activities are supported by various industry entities and several agencies, including the National Institutes of Health, the Cystic Fibrosis Foundation, and the Crohn's and Colitis Foundation of America.
The core of the training is performed at Children's Medical Center Dallas. Two other institutions, Parkland Hospital and Baylor University Medical Center, are also part of our training program. Consultation in the Neonatology and Newborn Nursery is offered at Parkland; Baylor is primarily used for electives rotations.
Norberto Rodríguez-Báez, M.D.
Fellowship Program Director
Meghana Sathe, M.D.
Associate Fellowship Program Director