From the Fellowship Directors
Welcome to the Pediatric Gastroenterology, Hepatology, and Nutrition Fellowship Program at UT Southwestern Medical Center (UTSW). Our mission is to provide an environment that encourages the development of the cognitive, clinical, procedural, and critical research skills that are essential in cultivating a successful and productive career as an academic pediatric gastroenterologist. Our training program is fully accredited by the Residency Review Committee of American College of Graduate Medical Education (ACGME).
Ranked 9th in the nation by U.S. News & World Report for 2022-23, the UT Southwestern Division of Pediatric Gastroenterology at Children's Health in Dallas provides integrated and comprehensive care to children with a range of gastrointestinal illnesses, from the common to the complex. Clinical care in our patient- and family-centered program is provided by attendings, fellows, and a multidisciplinary team of highly trained practitioners and support staff.
The clinical services provided by the Division are not dependent upon fellows; rather, the fellowship program is structured primarily as a learning experience. It consists of three years of training: The first year focuses mainly on developing and mastering clinical skills, and the second and third years concentrate on the development of analytical research skills that will guide each fellow in the successful completion of a scholarly project.
Thank you for your interest in our fellowship program. This brochure is intended to provide an overview of our program and help you with the application process. Please feel free to contact us directly with any questions you may have. We hope you agree that we provide one of the most comprehensive and competitive training programs anywhere, and we hope you choose UTSW and Children's Health Medical Center for the next phase of your career!
Sincerely,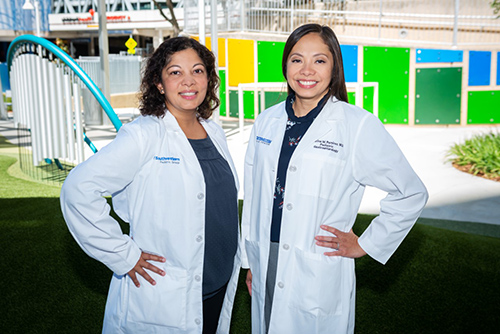 Contact Us

Professor
Director, Pediatric Gastroenterology Fellowship Program

Associate Professor
Associate Director, Pediatric Gastroenterology Fellowship Program

Allison Miles
Coordinator, Pediatrics Gastroenterology Fellowship Program
Phone: 214-867-2058
Mailing Address
UT Southwestern/Children's Medical Center
2350 North Stemmons Fwy., Suite F4500
Dallas, TX 75207
Phone: 214-456-0117
Fax: 214-456-8006