Pediatric Emergency Medicine
The division of Pediatric Emergency Medicine provides service at the emergency departments of Children's Health℠ Children's Medical Center Dallas and Children's Medical Center Plano. The Dallas campus is the only level 1 pediatric trauma center in North Texas. Children's Plano campus is a community hospital staffed with attending physicians and advanced practice providers.
The Dallas Campus is a major pediatric referral center for Dallas County and the surrounding region; we are one of the busiest pediatric emergency medicine clinical services in the country. Our annual volume is approximately 170,000 patients for the two emergency departments combined. The ED hospital admission rate is 20 percent with 40 percent of all hospital admission coming through the ED.
Under the direction of Division Chief Vincent Wang, M.D., M.H.A., the Pediatric Emergency Medicine Division plays a vital role in providing attending physician support and supervising advanced practice providers for the emergency departments at Children's Medical Center Dallas and Plano campuses.
In 2015 the division launched a telemedicine program that connects community ED physicians with a pediatric emergency medicine specialist for consultation. The program has since expanded, and currently provides telemedicine service to 12 hospital emergency departments throughout Texas, 24 hours a day.
Excellence in Patient Care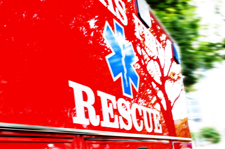 We are an ACS-certified Level I pediatric trauma center providing trauma stabilization and resuscitation for serious and critical injuries. We also provide medical oversight and physician coordination for the Children's Medical Center Transport team and Dallas County EMS system (BioTel). We accept numerous referrals from many emergency departments within the Dallas County region, North Texas, and Oklahoma.
Our patients have a wide spectrum of medical conditions, as well as some unique and complex problems requiring specialized care. Learn more about the excellence of our patient care.
Leadership in Research
We are involved in several clinical research studies designed to advance patient care and knowledge regarding asthma and other respiratory diseases, brain injury, pain management, sedation, injury epidemiology and prevention, and noninvasive monitoring. Learn more about our state-of-the-art research.
Education of Future Leaders
The Division has a well-established fellowship program that provides strong clinical and research training in pediatric emergency medicine and plays a crucial role in clinical teaching of pediatric residents. Our fellowship program accepts three fellows every year and participates in the national match program. We also provide the primary teaching faculty for medical students and other allied health professionals on the acute recognition, evaluation, and management of critically ill and traumatized children. Learn more about our education and training programs.