Virtual Tour
Children's Health℠ Children's Medical Center Dallas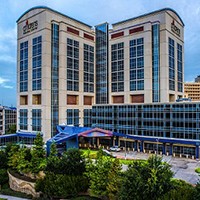 Children's Health℠ Children's Medical Center Dallas is a Level 1 pediatric trauma center and major pediatric kidney, liver, intestine, heart, and bone marrow transplant center. It is staffed for 487 beds and is the primary pediatric teaching facility for UT Southwestern Medical Center and one of the top pediatric hospitals in the country.
Residents participate in the care of patients, under the supervision of experienced general and subspecialty pediatric faculty, in the intensive care unit, emergency department, primary and subspecialty inpatient hospital services, and ambulatory clinics. In addition to integral involvement on general pediatric services, residents can be a part of the cardiology, pulmonology, hematology, oncology, gastroenterology, endocrinology, and nephrology inpatient services.
They may also have educational experiences in up to 50 pediatric specialty programs at Children's Health, including those that specialize in particularly vulnerable populations such as AIDS-Related Medical Services (ARMS), Referral and Evaluation of At-Risk Children (REACH) clinic, Rees-Jones Center for Foster Care Excellence, and Thrive, a clinic for low-birth-weight children.
Residents enjoy working at Children's HealthSM because they can play an active role caring for patients across multiple general and subspecialty services, and because patients are from a variety of racial, ethnic, and socioeconomic groups. Residents can utilize a vast array of ancillary and multidisciplinary services, including social work, clinical nutrition, child life, care coordination, school services, the Medical-Legal partnership (MLP), lactation consultation, physical therapy, occupational therapy, speech therapy, injury prevention, and pastoral care.
To learn more about the pediatric experience at Children's, visit the pediatric residency program and view the 2 videos describing the facilities and training experience.
Parkland Memorial Hospital
Parkland Memorial Hospital is the primary teaching hospital for the Internal Medicine Residency Program, with approximately 60 percent of internal medicine training occurring in this health care system. The only public hospital in Dallas County, it is one of the busiest public hospitals in the nation, with more than 1 million patient visits every year. The patient population is diverse and generally socioeconomically disadvantaged with a high proportion of minority populations.
Teaching teams include numerous internal medicine, MICU, cardiology, and hematology/oncology teams. Ambulatory and inpatient consultation rotations are available in an array of specialties, including rheumatology, endocrinology, infectious disease, pulmonology, cardiology, gastroenterology, liver diseases, general medicine, oncology, hematology, nephrology, palliative care, geriatric care, and neurology. Electives are available in various other disciplines, including global health and outpatient urban health including clinics dedicated to HIV care. Residents are also integrated in the hospital's quality and safety activities.
Residents appreciate working at Parkland because of the immense training opportunities in a variety of general and subspecialty services. They function with supervised autonomy in one of the most unique and rewarding healthcare institutions in the United States and care for an immensely diverse population, including the underserved and disadvantaged.
William P. Clements Jr. University Hospital
William P. Clements Jr. University Hospital, a tertiary referral center for patients with complex disorders, opened in December 2014 in a newly constructed state-of-the-art facility. The building housed 460 single-patient rooms, and contains more than 35,000 square feet of space dedicated to research and learning, including the Education and Conference Center, a high-tech space for conferences, symposiums, and demonstrations. A third tower was added to CUH which opened in December 2020. This increased the total beds from 460 to 750 beds.
Teaching services include general medicine ward, ACE (Acute Care of the Elderly) team, MICU,cardiology, advanced heart failure, GI/liver team (IBD, liver transplant), and hematology/oncology. Residents also participate in subspecialty consult and outpatient clinic services during their hybrid subspecialty experience.
Residents enjoy rotating at Clements University Hospital because of the opportunity to care for patients with complex medical conditions who have exhausted the treatment options available at other facilities. Rotating here also allows residents to experience a different hospital system than that of Parkland, granting them exposure to various aspects of healthcare.