The Internal Medicine Residency Program and the General Psychiatry Residency Program were excited to come together to create this combined program because we both believe that the interface between our specialties is extensive and that there are patients whose complex intertwining of mental and physical illness demand a physician who is expert in both. We also believe that there are great opportunities to advance integrated health care that will have profound public health implications, and that physicians who are board certified in both medicine and psychiatry are uniquely positioned to lead these changes.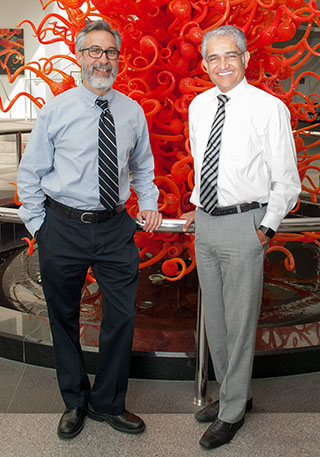 Although our two specialties address different kinds of pathology, we have discovered over the years of collaborating that our programs share a set of bedrock values. We believe that patients deserve care that is patient centered and humanistic while holding to the highest standards of intellectual rigor and evidence. We believe that leadership, scholarship, commitment to social justice, and patient advocacy are essential parts of the identity of UT Southwestern residency graduates. And we believe that residents' wellbeing must be supported in every way we can if our residents are able to pursue these aspirations. Most importantly we believe that residents should never feel alone with their concerns or their stresses - they should always know they are part of a community that cares about them and cares about each other.
This combined program brings together the immense reputation and strengths of the Internal Medicine and General Psychiatry Residency Training Programs. With experiences based in three distinct health care systems, our residents develop proficiency in unique health care settings. These include a safety net hospital, a university hospital and a veterans' affairs hospital. Residents have primary responsibility for their patients with close guidance from a world class faculty.
Our program aims to produce scientifically curious graduates who are clinically excellent and place patient-care, particularly care for vulnerable populations, as their leading priority. We strive to develop future academic and community leaders who will generate new knowledge and serve patients in all fields of internal medicine and psychiatry, regionally and nationally. We endeavor to produce graduates who will help transform healthcare to meet the challenges we currently face - an aging population with multiple chronic health problems, a need for better overall population health at less cost, and a political and economic environment that leads to disparity in health outcomes. Our program fosters a learning environment that values lifelong learning and practicing medicine with a sense of purpose while being cognizant of the importance of personal health and wellbeing. Ultimately, we empower residents to achieve their full potential as physicians and leaders. As a leading residency training program, we are committed to continually advancing our learning environment to enhance resident education. Our residents are committed to lifelong learning and the transformation of health care to achieve the goals of reducing disparity and increasing value.
We look forward to reviewing your application to our combined internal medicine/psychiatry residency training program!