General Psychiatry Residency Program
The UT Southwestern Department of Psychiatry strives to graduate our residents at the cutting edge of all aspects of psychiatry, training outstanding evidence-oriented clinicians and providing excellent clinical care to patients.
Our Psychiatry Residency Program offers an innovative and exciting didactic and clinical/experiential base for training. Faculty and residents work together, balancing clinical service and education. We have a patient base that is diverse in every way: ethnoculturally, socioeconomically, and by clinical service (private, public sector, community, etc.). This variety ensures that our residents will be able to practice psychiatry anywhere with anyone.
Our Mission: HEAR
The UT Southwestern Psychiatry Residency Program trains diverse physician leaders in Healing, Education, Advocacy, and Research. We HEAR our patients from all backgrounds as we champion their recovery.
Diverse Training Sites
Our residents encounter a wide variety of patient populations and systems of psychiatric care.
Our affiliate institutions:
We involve every resident in each setting in a coherent plan that balances patient care and education. Diversity of settings allows residents to care for the widest possible range of patients by diagnosis, ethnic background, socioeconomic status, and location.
Psychiatry Residency Program Structure
We follow the requirements of the Accreditation Council for Graduate Medical Education (ACGME) and provide rotations through different centers of care across the four postgraduate years (PGY) designed to:
Advocacy
Our patients cannot flourish if they are not part of a supportive community. Therefore, advocacy for our patients is an important part of our identity.
We are committed to training psychiatrists who are expert in the brain, mind, and social systems; are highly capable at working in teams and care systems; meet each patient with dignity and the desire to listen; and feel supported by our training community and in turn support each other.
We believe this training can only happen in a community that is dedicated to diversity and inclusion and that pursues social justice and health care equity through vigorous anti-racism efforts.
Research
The presence and involvement of internationally recognized researchers is central to providing our residents the latest, most advanced, evidence-based clinical tools to prepare them to administer treatments yet to come. Our exciting research programs include:
Biomarkers for mental illness
Functional imaging in schizophrenia, depression, anorexia, addictions
Psychotherapy research
Mental health systems and quality improvement
Psychopharmacology
Adult autism
Early psychosis
Molecular genetics of serious mental illness and addictions
Neurobiology of psychiatric illnesses
Neuroplasticity, epigenetics, adult neurogenesis
Dopamine in brains of schizophrenia and Alzheimer's disease
Electroconvulsive therapy, magnetic seizure treatment, and deep brain stimulation therapy in treatment-resistant mood disorder
Neurobiology of genetic vulnerability to stress
Neuronal signal transduction processes
Cognitive/social neuroscience and eating disorders
Sleep and arousal mechanisms, circadian rhythms, and the molecular clock
Dissemination and implementation research, including medication algorithms
Treatment resistance in mood disorders, bipolar disorder, depression, anxiety, substance abuse
Effectiveness of interventions in real-world settings
Psychiatric epidemiology
Neuropsychology
Resident Wellness
We constantly look for ways to support our residents because we believe patient care is best provided by psychiatrists who have balanced and satisfying lives. Our vigorous Psychiatry Residents Organization runs many activities: "Families" program, social activities, weekly lunch meeting, yearly retreat day, regular movie nights. Our residents are leaders in initiating support programs for underrepresented minority residents, Muslim residents, and LGBT residents through the HEAL program (Housestaff Emerging Academy of Leaders). T-Group, an unstructured Training Group that emphasizes mutual support, problem solving, and experiential learning about small group processes, is an important source of peer support led by experienced group therapists. Our residents have access to the UT Southwestern Resident Wellness and Counseling Center and low-fee psychodynamic psychotherapy at the Dallas Psychoanalytic Center.
---
Residency Videos
Psychiatry Faculty and Residents Speak from the UT Southwestern North Campus:
Psychiatry Residency Experiences at William P. Clements Jr. University Hospital:
Psychiatry Residency Experiences at Parkland Hospital:
Location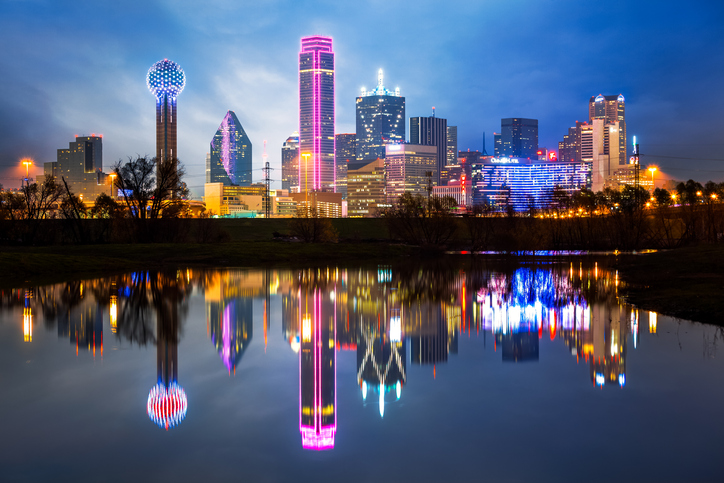 Dallas, Texas, is among the top most diverse cities in the United States and celebrates its mix of cultures, religions, and lifestyles.