Biochemistry Graduate Program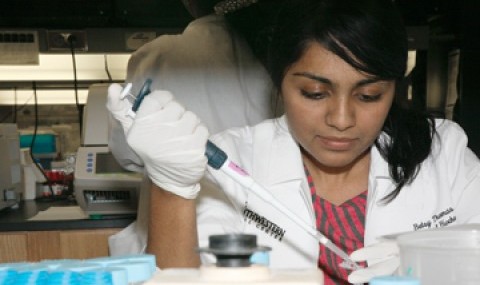 The Biological Chemistry Graduate Program provides state-of-the-art training in biochemistry, synthetic organic chemistry, and molecular biology to prepare students to make significant research contributions at this interface of chemistry and biology.
Faculty within the Biological Chemistry Graduate Program are actively engaged in research focused on a wide range of topics including enzymology, RNA-mediated cellular processes, hormone receptors, metabolism, small molecule control of cellular function, and synthetic organic chemistry.

All students who have performed satisfactorily in the first-year curriculum are qualified to enter the Biological Chemistry Program. The Biological Chemistry Program is broken into two training tracks. Requirements within each track are similar:
Financial support for selected students is available through the Sara and Frank McKnight Fund for Biochemical Research.
For both tracks, didactic coursework is typically completed in the first two years. In subsequent years students are enrolled for research, seminars, or journal clubs totaling full-time enrollment equivalency.