Kern Wildenthal, M.D., Ph.D.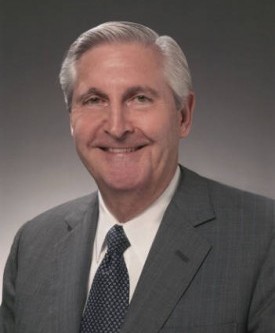 Dr. Kern Wildenthal was the second President of UT Southwestern Medical Center, serving in that position from 1986–2008, and is now President Emeritus and Professor Emeritus. He joined the UT Southwestern faculty as an Assistant Professor of Medicine and Physiology in 1970 and became an Associate Professor in 1971 and full Professor in 1975. From 1976 to 1980, he served as Dean of the Graduate School, and from 1980 to 1986 he was Dean of the Medical School.
Following his retirement as President of UT Southwestern, he became President and Senior Consultant of Southwestern Medical Foundation from 2008 to 2013. From 2013 to 2016, he served as President of Children's Medical Center Foundation and Executive Vice President of Children's Health System of Texas. Since his retirement from those roles in September 2016, he holds appointments as Past President of the Foundation and Consultant for Children's Health℠, as well as President Emeritus and Professor Emeritus at UT Southwestern.
UTSW Emergence
During Dr. Wildenthal's administrative tenure at UT Southwestern, the institution more than quintupled in size and emerged as one of the leading medical institutions in the world. Four of its faculty won Nobel Prizes, 19 were elected members of the National Academy of Sciences, and 50 were named as presidents of national societies of their clinical and research specialties. Under his presidency, more than 250 new endowed chairs and professorships were established; total endowments grew from $40 million to more than $1.3 billion; land was acquired to expand the campus from 65 to 300 acres; two referral hospitals and outpatient facilities totaling 1 million square feet were added to the campus; and the first half of a planned 4-million-square-foot research complex was completed.
Early Career and Achievements
Dr. Wildenthal graduated from Sul Ross College in Alpine, Texas, before enrolling in UT Southwestern Medical School. After receiving his M.D. degree, Dr. Wildenthal trained at Bellevue Hospital in New York, Parkland Memorial Hospital in Dallas, the National Heart, Lung, and Blood Institute in Bethesda, Maryland, and the University of Cambridge in England (where he earned a Ph.D. degree).
Dr. Wildenthal has been a visiting professor or consultant at more than 60 medical schools, universities, and research institutes around the world, and a visiting lecturer and organizer of conferences in 22 countries. The author of more than 120 scientific and medical papers as well as many articles on health and education policy issues, he has served as chairman of numerous medical and research organizations. He was a Guggenheim Fellow in 1975–76, and has been elected to the Institute of Medicine (now National Academy of Medicine) of the National Academy of Sciences. He is an Honorary Fellow of Hughes Hall at the University of Cambridge.
Community Service and Honors
In addition to his academic activities, Dr. Wildenthal has served on the boards of the Dallas Opera, Dallas Symphony, Dallas Museum of Art, Dallas Center for the Performing Arts Foundation, Greater Dallas Chamber of Commerce, Dallas Citizens Council, Dallas Assembly, and numerous local and national foundation and corporate boards. In 2008 he was elected to the Texas Business Hall of Fame.
Dr. Wildenthal was awarded honorary Doctor of Science degrees by Southern Methodist University in 2006 and by Austin College in 2010. Upon his retirement as president of UT Southwestern, more than 300 community leaders and faculty members contributed more than $20 million to establish the Kern Wildenthal Fund to support programs at UT Southwestern. One endowed distinguished chair and two professorships have also been donated and named in his honor.
In 2014, the Board of Regents of the University of Texas System honored him by naming the newest research building on the UT Southwestern campus as the "C. Kern Wildenthal Research Building."