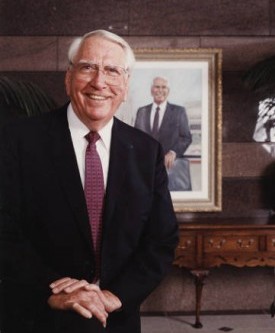 Dr. Charles Cameron Sprague served as the first President of UT Southwestern Medical Center from 1972 until his retirement in 1986, after which he was President Emeritus until his death in 2005 at the age of 88.
Dr. Sprague joined UT Southwestern in 1967 to assume what was then the institution's top administrative position, that of Dean of UT Southwestern Medical School. Five years later, upon the school's reorganization as a comprehensive academic medical center with three distinct schools (medical, graduate biomedical sciences, and allied health sciences), he became the institution's initial President, and continued in that capacity for 14 years. He also held an appointment as Professor of Medicine while at the Medical Center.
Upon leaving UT Southwestern in 1986, Dr. Sprague became CEO of Southwestern Medical Foundation until his retirement from that position in 1997.
Early Career
After graduating from UT Medical Branch in Galveston, Dr. Sprague served as a naval officer in the South Pacific. He went to New Orleans in 1947 as an internal medicine resident at Charity Hospital and as a staff member of Tulane University School of Medicine. Subsequently, he was a hematology fellow at Washington University in St. Louis and at Oxford University School of Medicine in England before returning to the Tulane faculty as Director of Hematology. He was appointed Dean of the Medical School in 1963.
A few years into his tenure as Dean of Tulane Medical School, his plan for the construction of a new medical school campus and university hospital was rejected by the governing board, leading him to be receptive to an offer to become UT Southwestern's Dean, where he led a major expansion and upgrading of the institution.
UTSW Expansion
When Dr. Sprague arrived at UT Southwestern, the institution consisted of three small academic buildings attached to Parkland Memorial Hospital. He initiated a $40 million building expansion, unprecedented at the time in Texas; doubled medical school enrollment within 10 years; and expanded allied health and research training programs. He oversaw the growth of UT Southwestern from a small but promising medical school into a vibrant comprehensive medical and life sciences center. His vision and his ability to build consensus positioned UT Southwestern for future greatness as one of the leading medical institutions in the nation.
In 1985, two months after Dr. Sprague announced his plans to retire as President of UT Southwestern, faculty members Michael Brown, M.D., and Joseph Goldstein, M.D., won the Nobel Prize, the first ever awarded to Texas researchers – a fitting culmination of Dr. Sprague's two decades of leadership.
Honors and Service
Dr. Sprague was an early member of the National Academy of Medicine (formerly the Institute of Medicine), and was elected President of the Association of American Medical Colleges. He played major roles in scores of community task forces, service organizations, and church groups. Three endowed chairs were established in his honor at UT Southwestern, and a new facility, the Charles Cameron Sprague Clinical Science Building, was named for him in 1989.