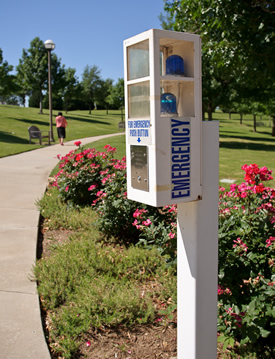 The UT Southwestern Medical Center Police Department takes every possible measure to ensure the safety and security of the campus population as well as both University and personal property. Police Department personnel cannot be everywhere at once, however, and crime prevention efforts cannot be successful without the active involvement and cooperation of the campus population.
The Department urges all students, staff, faculty, and visitors to take an active interest in their environment, and to notify the Police Department immediately about any suspicious persons or activity. The old adage, "an ounce of prevention is worth a pound of cure," applies to crime prevention just as well as it does to medicine.
Emergency Numbers
Call 214-648-8911 (88911 from a campus extension) to report emergencies.
Call 214-648-8311 (88311 from a campus extension) to report non-emergencies or request general information.
The Police Department Dispatch Office operates 24 hours a day, 365 days a year, and can also be contacted by pressing the button on any of the vehicle gate intercoms or emergency call boxes located throughout the campus. All campus elevators are equipped with small compartments containing telephones that directly connect the caller to the Police Department Dispatch Office.