SOAR Writing Accountability Group (WAG)
Scholarly publication is one of the cornerstones of academic success and is key to grant acquisition. Una Makris, M.D., Associate Professor of Internal Medicine (LEAD 2015), started a low cost peer-to-peer writing program as part of her LEAD Capstone project.
The program is called the Writing Accountability Group (WAG). The goal of WAG is to increase scholarly output by increasing the frequency of writing and by developing productive and efficient writing habits. WAG meets for one hour each week for 10 weeks and reinforces peer accountability. The program is modeled after the Johns Hopkins University WAG that has more than 50 groups across its campuses.
The office of Faculty Diversity and Development and the Office of Women's Careers support WAG administratively. David Johnson, M.D., Chair of Internal Medicine, underwrote the pilot phase of WAG. Each participant is provided with the book How to Write a Lot by Paul J. Sylvia.
Results
Since January 2016, there have been six WAG groups. As of December 2016, more than 55 faculty and fellows have signed up for WAG. More than 10 individuals have signed up for multiple WAG sessions attesting to the perceived value for this time investment. Peer support and peer mentoring have emerged as participants troubleshoot the barriers to achieving weekly goals of writing.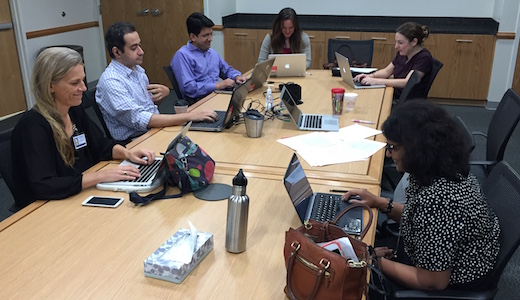 Testimonials
I want WAG forever! It's been tremendous.
WAG has been very effective in improving my output and getting ideas.
… Part of the value of WAG is having a productive peer group.
It was an incredibly productive and beneficial experience. The accountability is really helpful. Even though I know I am not in "trouble" if I don't meet my goals, I feel guilty for not doing so which motivates me.
Good format to work in small, incremental time blocks and increase writing frequency.
FAQ
What is WAG?
A peer-to-peer writing group of 3-7 participants meeting every week in 10-week blocks with a common goal to increase scholarly output.
Who can join WAG?
Anyone can join WAG: faculty, trainees, students, and postdocs.
How often does it meet?
WAG meets once a week for 1+ hours for 10 weeks.
Where does WAG meet?
At a convenient location with writing space for participants. For example, there is a WAG group meeting on Wednesday at 9:30 a.m. on the South Campus; time and day are subject to change.
What is required?
You must commit to attending seven of 10 sessions. Participants also complete three-minute pre- and post-surveys to keep you on track and to track WAG outcomes.
What happens during WAG?
Participants report on goals achieved during the prior week and material to work on during the session (5 minutes), followed by individual writing (manuscripts in any stage, grant sections, abstracts) (50 minutes), ending with reporting back on work accomplished and the upcoming week's goals (5 minutes).
How can I join?
An email will be sent out prior to each 10-week session coordinating the next WAG. For more information please email the Office of Faculty Diversity and Development.
When and where do they meet?
Reserved conference room at a time and place that is convenient for the group.
I can't make it on the day or time when WAG meets.
You can wait for the next WAG or start your own!
Can I start my own WAG?
Yes! This is highly encouraged. You need a champion or leader and 3-7 colleagues who are committed to improve writing productivity. Contact Una Makris for more information about the orientation session.
Does WAG work?
We are in the process of analyzing pre- and post-survey data. Stay tuned!