UTSW researcher receives NIH Director's New Innovator Award
Funding will spur gastroenterologist's investigation into how tumor location affects outcomes in cancer cases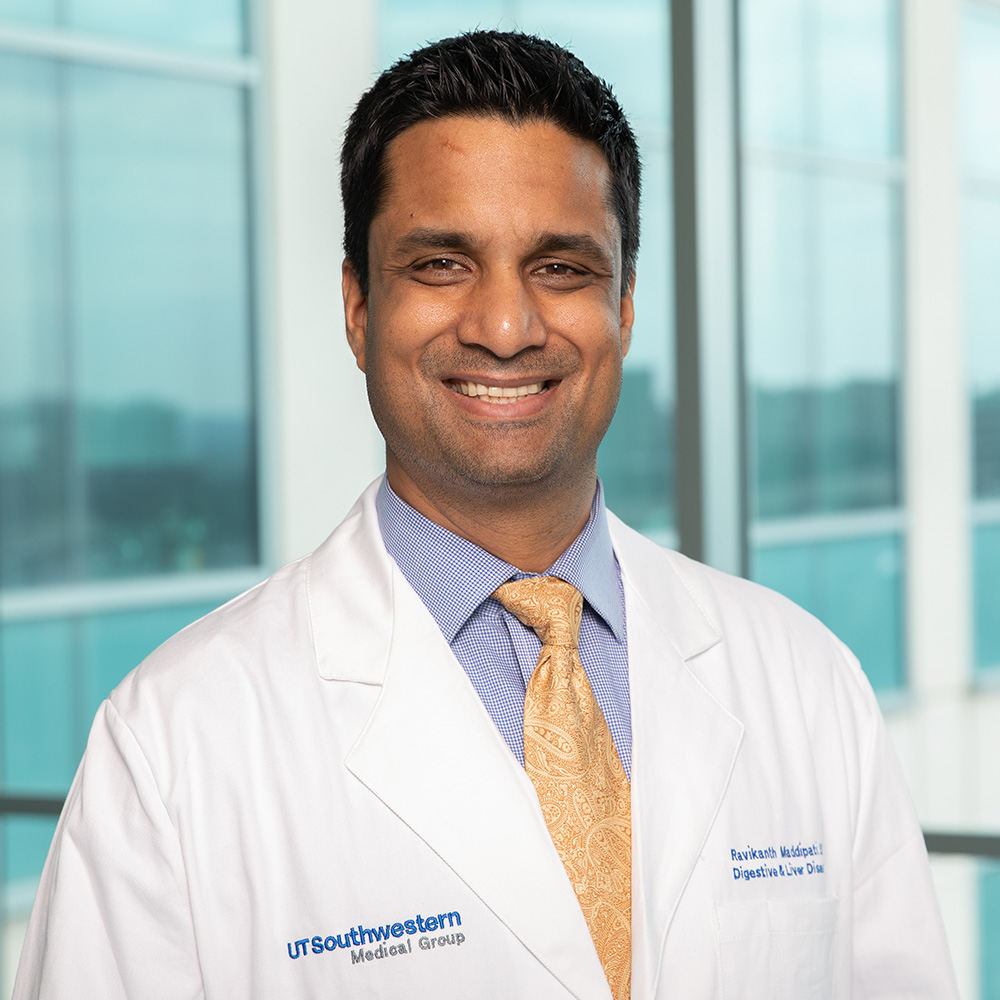 DALLAS – Oct. 03, 2023 – Ravikanth Maddipati, M.D., Assistant Professor of Internal Medicine and in Children's Medical Center Research Institute at UT Southwestern, has been awarded $1.5 million from the National Institutes of Health (NIH) to support research investigating positional heterogeneity in cancer, or how tumors in the same organ can behave differently based on where they form.
The NIH Director's New Innovator Award, disbursed over a five-year period, is from the NIH Common Fund's High-Risk, High-Reward Program. Established in 2007, the program supports early-career investigators pursuing highly innovative research with the potential to have a broad impact on biomedical, behavioral, or social sciences.
"In clinical practice, it has long been observed that the position of a tumor within a tissue or organ affects its response to treatment and patient outcomes. For example, in pancreatic cancer, tumors that develop in the pancreas's head tend to have a more favorable prognosis than tumors that develop in the pancreas's tail. Similar observations have been made in many other cancer types. However, the reasons for these differences have been unclear," said Dr. Maddipati, a member of the Division of Digestive and Liver Diseases and the Harold C. Simmons Comprehensive Cancer Center at UT Southwestern. "By developing mammalian models that mimic this process, we can better understand why this occurs and develop more effective therapies targeted to a tumor's location."
Dr. Maddipati specializes in disorders of the pancreas and management of patients at high risk for developing pancreatic cancer.
Although many animal models recapitulate the features of human cancers, none exist that mimic positional heterogeneity. Building on optogenetic tools used for basic neurobiology, Dr. Maddipati plans to use the funding to design mouse models in which genes can be preferentially activated by exposure to light. He and his colleagues in the Maddipati Lab will use targeted laser beams to turn on cancer driver genes and turn off tumor suppressor genes, spurring cancers to develop in specific places within organs. The researchers then can study how location affects the behavior of these tumors through genetic sequencing and other means.
"I'm extremely grateful for the opportunity to bring this idea to fruition. Developing these new optogenetic models could revolutionize our ability to study positional heterogeneity in cancers and lead to new approaches in personalized medicine," Dr. Maddipati said.
Dr. Maddipati is a Cancer Prevention and Research Institute of Texas Scholar in Cancer Research.
UT Southwestern's Simmons Cancer Center is one of only 56 centers nationwide designated as a Comprehensive Cancer Center by the National Cancer Institute and the only one in North Texas. The Simmons Cancer Center is ranked 19th for cancer care among over 800 cancer hospitals by U.S. News & World Report. Its faculty members treat more than 9,000 new cancer patients a year, participate in over 300 active clinical trials, and have more than $100 million in extramural cancer-focused research funding.
About UT Southwestern Medical Center
UT Southwestern, one of the nation's premier academic medical centers, integrates pioneering biomedical research with exceptional clinical care and education. The institution's faculty has received six Nobel Prizes, and includes 26 members of the National Academy of Sciences, 19 members of the National Academy of Medicine, and 14 Howard Hughes Medical Institute Investigators. The full-time faculty of more than 2,900 is responsible for groundbreaking medical advances and is committed to translating science-driven research quickly to new clinical treatments. UT Southwestern physicians provide care in more than 80 specialties to more than 120,000 hospitalized patients, more than 360,000 emergency room cases, and oversee nearly 5 million outpatient visits a year.