A family faces a cancer crisis together
DALLAS – Jan. 14, 2019 – A lot happened in Catherine Carr Worley's life in a few short years. She relocated her clutter-busting business and her life from Dallas to Austin; met and married Scott Worley, a video producer for an advertising agency; and became pregnant with their first child in the fall of 2017.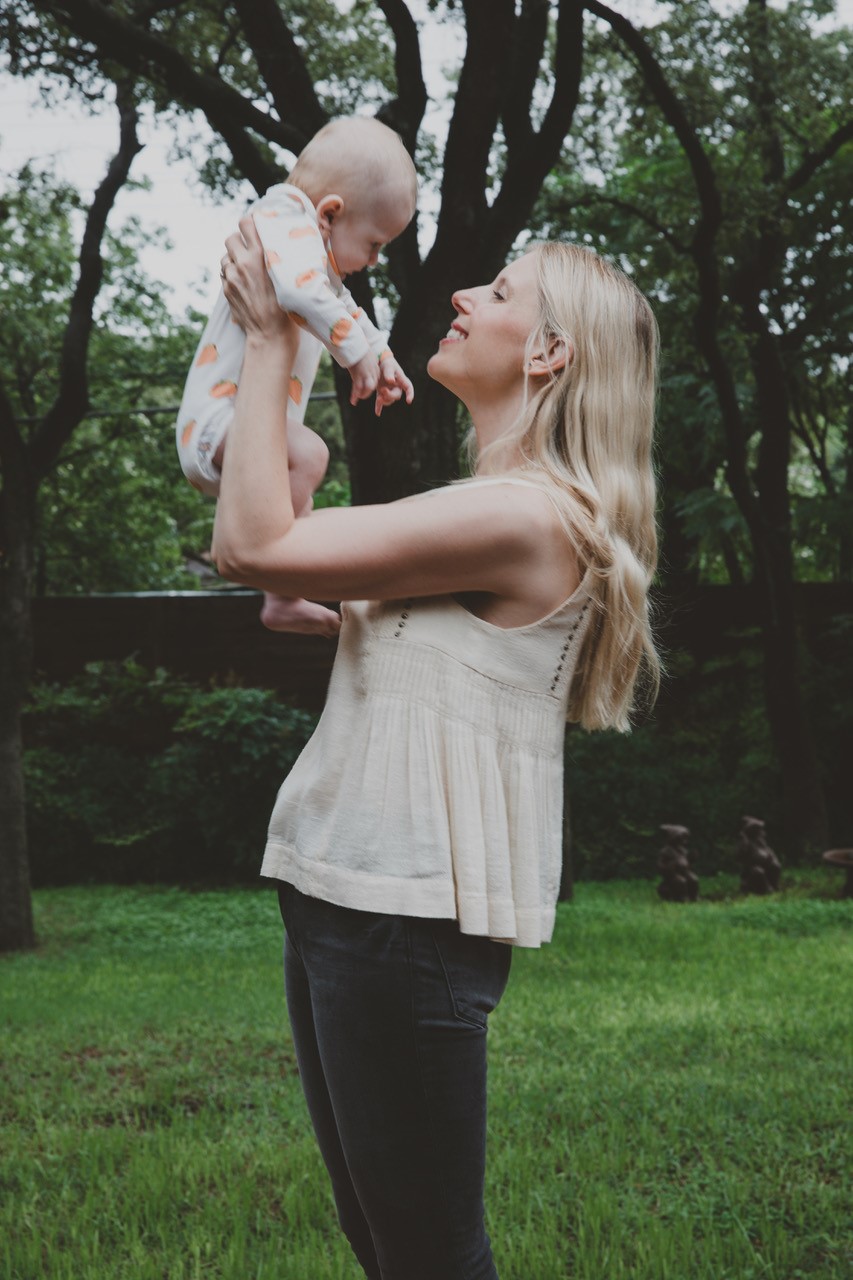 When she first held her blue-eyed son on May 31, 2018, she felt like her heart might burst from all the joy in her life. She named her son Weatherby, after her late father. "We were so excited for the birth of our son. He was just precious."
Catherine knew that lactation issues were common, so she wasn't surprised when, just a week after Weatherby's arrival, she noticed that her right breast felt hard and tender to the touch. "We were doing all of these crazy tricks to get these clogged ducts unclogged."
Her doctor in Austin prescribed medication for an infection.
"It didn't fix it. They sent me to have a mammogram. It came back clear," Catherine recalled.
More consultations, followed by an MRI, and still no relief.
"They said, 'We think it's just the worst case of clogged ducts we've ever seen. When you stop breastfeeding, this is going to go away,'" Catherine remembered.
All that reassurance evaporated a short time later when her family was vacationing in Colorado. Catherine noticed that the breast that had been troubling her had a bruised, discolored look. "Get to a doctor immediately," her lactation expert told Catherine over the phone. This time they headed to UT Southwestern Medical Center.
The diagnosis: inflammatory breast cancer, a rare form of invasive breast cancer.
"We went from three months before, with the birth of our son, being completely elated and so happy to a very intense low," Catherine said.
Like mother, like daughter
It hadn't all been roses before Catherine's inflammatory breast cancer diagnosis. In April, shortly before Weatherby was due, Catherine's mother, Peggy Carr, got the results from a mammogram. There was a spot.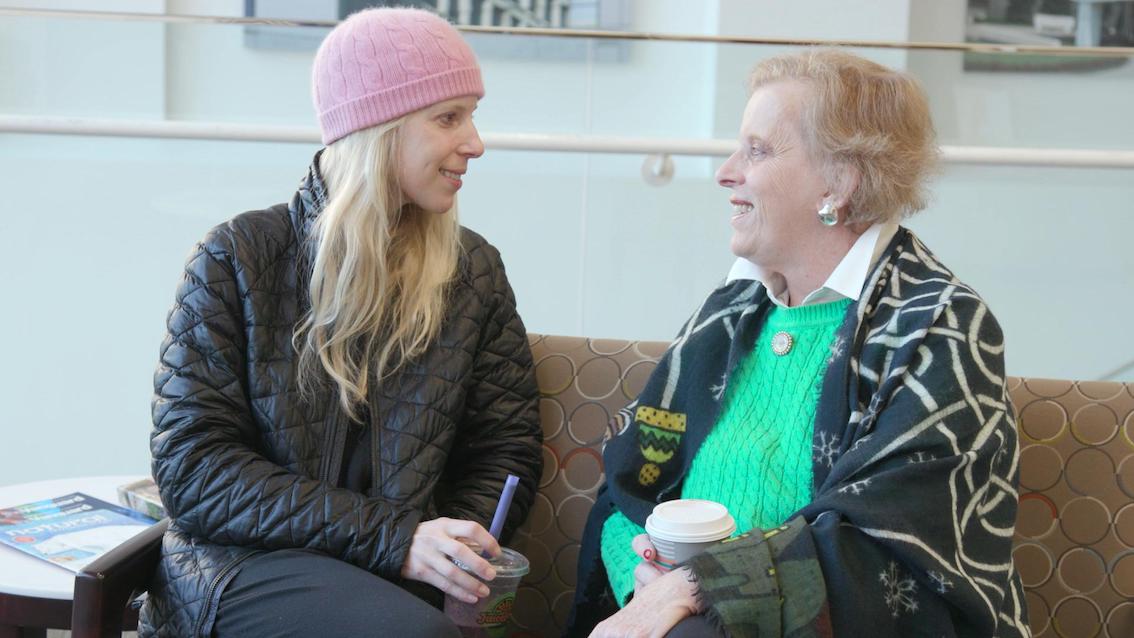 Because Peggy so badly wanted to be there for her only child when she had her baby, she asked her UT Southwestern physician, Professor of Internal Medicine Dr. Barbara Haley, if she could hold off on beginning her chemotherapy treatments till after the baby was born.
Peggy started her chemo in mid-June, two weeks after Weatherby's birth, and completed four rounds of chemo in mid-August. A month later she had a lumpectomy and a sentinel node biopsy. She was declared cancer-free.
Ironically, when Catherine's breast cancer was diagnosed, Peggy was at the ready to help out her daughter – just not with the happy task she'd expected. But she could tell Catherine what to expect with the cancer treatment, help take care of her grandson when Catherine was feeling poorly from the chemo.
"It was really easy to get down on my knees and thank God for my cancer, because that's what he says to do. Thank him for everything," Peggy said.
"But it was very hard to do that for Catherine. She was 41 years old with a 2-month-old. And she hadn't even been married two years. She was diagnosed two days after her 41st birthday and two days before I went and had all my tests and found out that mine was all gone. It was almost like passing the torch – but not a good torch to pass."
Peggy recalled getting a note from a friend about the unusual situation: "She said I've heard of mother-daughter shopping trips, and mother-daughter travelling trips, but I've never heard of mother-daughter chemo trips."
A cool solution to hair loss
One of the aspects of cancer treatment that Peggy was able to share with her daughter was what she had learned about cold capping, a method for preserving hair during chemotherapy.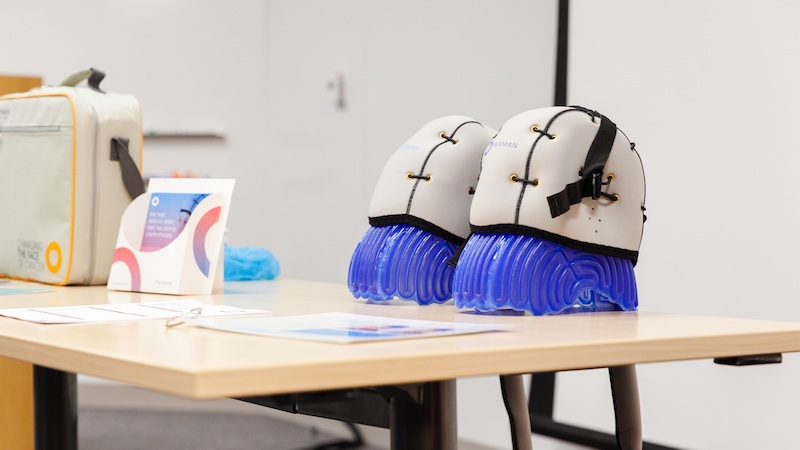 "I didn't know at all about the cold cap until my mom found out about it," said Catherine, who has long, blond hair.
"I think it helps a lot to look as normal as you can look as you go through the process of cancer treatment. Women who are able to retain as much of their normal self-image as possible have less depression, less anxiety," said Dr. Haley, who encourages patients with early stage breast cancer to consider cold capping.
Cold cap systems work by lowering the temperature of the scalp, which causes the blood vessels supplying the scalp to constrict. Think of the way hands lose color when you are cold. With blood flow to the scalp reduced, the hair follicles have less exposure to the toxic chemicals used in chemotherapy.
The scalp is chilled for about 30 minutes before chemo begins, throughout the infusion, and then for some time afterward.
The cold is uncomfortable, and patients will still lose about 20-30 percent of their hair. But for many patients, it is well worth the trouble and discomfort.
"Particularly for the younger women and for women who are still in the professional part of their lives, it's really critical to try to maintain the self-image," said Dr. Haley, who is the treating oncologist for both Peggy and Catherine. "For women with children, it's really helpful for the child to see their mommy as their mommy is, not Mommy who looks ill."
Though Weatherby is too young to be upset by changes in his mother's appearance, Catherine was eager to use the cold cap. "When you are out in public and you see someone without hair and with the scarf on, there's a sympathetic look you give them. This allows you a little more privacy, that sense of normalcy."
A cancer target
Inflammatory breast cancer has traditionally been thought of as a particularly challenging form of cancer. It's rare and it's difficult to diagnose, meaning it's often not caught till the cancer has spread throughout the body. But Catherine's outlook is hopeful.
Cancer treatment today is frequently driven by the genetic mutations associated with the patient's cancer. In Catherine's case, the genetic results were good news.
"Catherine's cancer cells are HER2-positive, which means we were able to treat her with a combination of two targeted therapy drugs blocking HER2 function combined with two traditional chemotherapy agents. Her tumor has markedly decreased in size following therapy. Her future therapy will depend on the results of her upcoming surgery, which will measure any residual disease in her breast tissue and axillary lymph nodes," said Dr. Haley.
Catherine undergoes surgery this month.
"We were very lucky to have found it early," said Catherine. "At the chemo halfway mark, the cancer was gone from the lymph nodes, it had shrunk by more than 60 percent, so we are super hopeful that we are going to be able to nip this in the bud."
Catherine still has a long way to go in her treatment, including surgery, radiation, and a year of infusions with a cancer drug called Herceptin.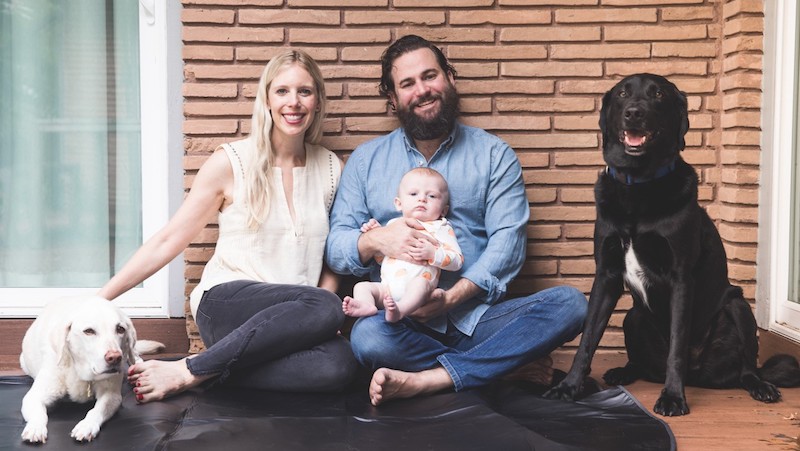 "We are all going to have chapters in our story that are tough, but if you can focus on looking beyond aches, pains, and heartbreak, and focus on the big picture and what you want out of your life, you can keep yourself moving and get yourself out of that," Catherine said.
"I have a 6-month-old baby who I can't wait to watch grow up and have a wonderful full life. I want to be here to see all of that."
Cool heads prevail
UT Southwestern Medical Center is poised to offer a new system of cold capping. The Paxman system, which is FDA-approved, will mean patients won't have to lug a cooler full of dry ice to their chemo sessions. Patients will simply don specially fitted caps that plug directly into the cooling system.
Dr. Haley, who is a member of the Harold C. Simmons Comprehensive Cancer Center, believes the new system will improve hair preservation. "The technology has rapidly advanced recently. The cold cap, which began as a cap loaded with dry ice, is being replaced with an easy-to-operate cooling machine. The system cools the scalp down uniformly, which will improve hair preservation."
Catherine is happy with the results of her cold capping. She says the cold sometimes gives her a headache – "the cold cap is the most intense part of chemo day" – but knowing that her mother endured it helps her stick with it.
A stranger meeting Catherine would never guess that she has been undergoing chemo.
"Cancer treatment is physically and mentally taxing, and when you can look in the mirror and you look like yourself, it's a morale boost."
Having her mother walk beside her on her cancer journey, and having the support of her husband, longtime Dallas friends, a caring medical community, and even the face she sees in the mirror have helped Catherine stay upbeat.
"The No. 1 type of person who beats cancer is a woman with a positive attitude, and that's what we are going to do," Catherine said proudly.
Dr. Haley holds the Charles Cameron Sprague, M.D. Chair in Clinical Oncology. The Harold C. Simmons Comprehensive Cancer Center, is one of 49 NCI-designated Comprehensive Cancer Centers in the U.S. and the only one in North Texas
About UT Southwestern Medical Center
UT Southwestern, one of the premier academic medical centers in the nation, integrates pioneering biomedical research with exceptional clinical care and education. The institution's faculty has received six Nobel Prizes, and includes 22 members of the National Academy of Sciences, 17 members of the National Academy of Medicine, and 15 Howard Hughes Medical Institute Investigators. The faculty of more than 2,700 is responsible for groundbreaking medical advances and is committed to translating science-driven research quickly to new clinical treatments. UT Southwestern physicians provide care in about 80 specialties to more than 105,000 hospitalized patients, nearly 370,000 emergency room cases, and oversee approximately 2.4 million outpatient visits a year.