Clinical Experience and Research
The Clinical Nutrition–Coordinated Program eliminates the need for a separate internship after graduation because it integrates 1,200 supervised clinical practice hours into your two-year experience.
As you progress through the program, you'll spend more time in clinical settings that provide hands-on experience and insight, from 30 hours in the first semester, to nearly 32 hours each week in your second year.
In each rotation, you'll work one-on-one with a registered dietitian preceptor, learning and applying all components of medical nutrition therapy, including completing nutrition screening and assessments, providing nutrition education and counseling, developing individualized nutrition care plans, documenting in medical charts, modifying diets, and administering tube feedings.
You'll work with patients of all ages at all levels of health. You'll also gain direct experience in the other important roles dietitians play, including community outreach, education, research, and food-service management.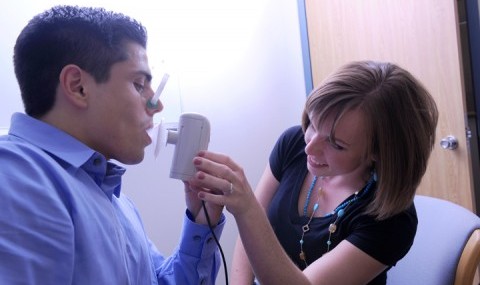 Because we're part of a major medical center, you'll work in a wide variety of settings on and off campus. Here are just a few of the places where you'll broaden and refine your skills:
Diabetes and renal dialysis clinics throughout the Dallas-Fort Worth Metroplex
Women, Infants, and Children (WIC) clinics in Dallas County
School districts of Carrollton, Dallas, Highland Park, and Plano
Research
The faculty of the UT Southwestern Master of Clinical Nutrition–Coordinated Program are actively involved in research, including investigations in human nutrition, and strategies for enhancing nutrition education.
As a student, you will conduct research under the direction of a faculty mentor. You can help with these areas of ongoing research, select an area of investigation from topics offered by faculty, or develop a research question of your own. We encourage you to be creative and seek innovative solutions to clinical problems.