Education and Training
The Department of Radiation Oncology is committed to providing comprehensive and advanced educational programs to train the next generation of medical professionals so they will be capable of providing exceptional care to cancer patients.
Our programs include multi-year, accredited training programs such as the Radiation Oncology Residency Program and the Medical Physics Residency Program as well as nationally recognized training programs in the process of being accredited by CAMPEP such as the Medical Physics Track in the BME Graduate Program and the Postdoctorate Certificate Program.
We also offer shorter, two-day training workshops and CME programs to professionals, with the aim of expanding the knowledge of those already practicing in the field.
Training Programs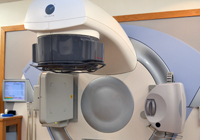 UT Southwestern's Radiation Oncology Residency Program is an ACGME-accredited four-year training program (PGY 2-5). We participate in ERAS (Electronic Residency Application Service) and the NRMP (National Resident Matching Program). Accredited since 2005, it has grown to be one of the top programs in the country for radiation oncology training and research. Radiation Oncology Medical Resident 2017 Program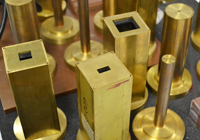 The Medical Physics Residency is a CAMPEP-accredited, three-year program that emphasizes clinical excellence and academic career development in Radiation Oncology Physics. The Residency Program integrates two years of full-time clinical training and one year of research in medical physics. Medical physics residents at UT Southwestern gain uniquely diverse clinical training with access to state-of-the-art technology from nearly every major vendor in the profession and hands-on experience with a full complement of special procedures.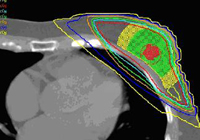 Many of the faculty in our Department advise graduate students enrolled in UT Southwestern's Medical Physics Track. Our faculty are interested in the following research topics: Cloud and GPU-based high-performance computing in medical physics and imaging, automatic radiotherapy treatment planning, image-guided radiotherapy, 3-D/4-D and low-dose and dynamic cone beam computed tomography, Monte Carlo simulation, and tumor tracking and motion compensation in real time.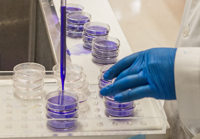 In our Department, the Division of Molecular Radiation Biology (MRB) advises students from UT Southwestern's Cancer Biology Graduate Program. MRB faculty research interests include: Biomarkers of radiotherapeutic response, carcinogenic risk from charged particle exposures in space, charged particle radiotherapy, combined modality radiotherapy via radioprotecting and radiosensitizing compounds, and intrinsic radiosensitivity.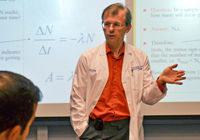 The Division of Medical Physics and Engineering, in conjunction with the UT Southwestern Graduate School of Biomedical Sciences, offers postdoctoral students the opportunity to earn a Certificate in Medical Physics.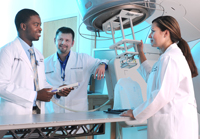 UT Southwestern's Post-Baccalaureate Certificate in Radiation Therapy Program provides world-class training and didactic education to prepare trainees for a career in high-tech cancer treatment. Students gain experience in all major areas of radiation therapy practice, including treatment delivery, medical dosimetry, simulation, and patient care. The Radiation Therapy Program is managed by the UT Southwestern School of Health Professions.
Short-Term Training Courses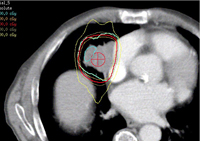 This highly sought-after program is prominent within the radiation oncology community. Professionals in this field looking to implement an efficient practice of stereotactic body radiation therapy at their facilities are encouraged to attend. During this two-day CME course, ample knowledge and guidelines are presented so that a sustainable and successful SBRT treatment practice can be developed.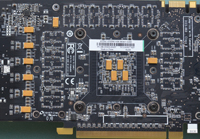 This two-day GPU programming course, taught by faculty and researchers in the Department of Radiation Oncology, is designed to provide the basics of GPU programming with an emphasis on solving problems in medical physics and imaging. Participants will learn CUDA and OpenCL programming as well as code optimization techniques.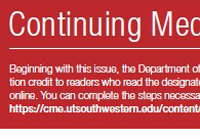 The Department of Radiation Oncology offers free online CME credit to participants who read a designated CME-credit article in our quarterly newsletter The Target and successfully complete a follow-up test online. Up to two AMA PRA Category 1 Credits™ can be earned per year. Visit the CME page.